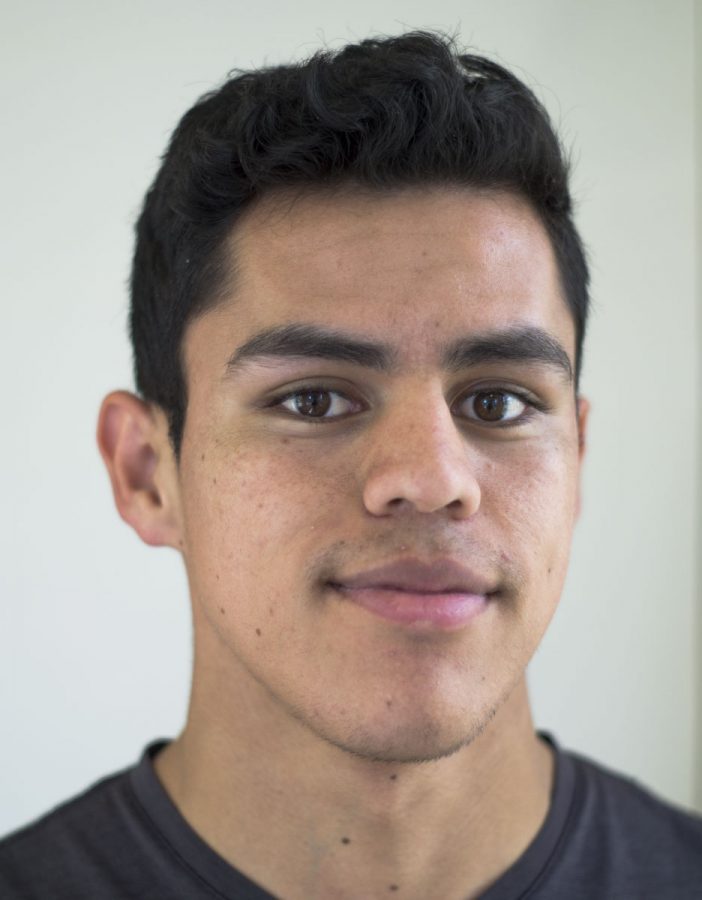 Cresencio Rodriguez-Delgado has led the Rampage for four semesters as the Editor in Chief. Cresencio joined the Rampage on January 12, 2014 and has reported on several topics such as U.S. President Obama's visit to Fresno amid the historic California drought; state legislation on sexual assault on college campuses; beginning coverage on the state's proposal to allow community colleges to offer 4-year degrees as well as many other on-campus reports.
While he continues reporting at the Rampage, Cresencio holds a part-time job as a night reporter for
The Fresno Bee
. He currently lives in Fresno, but was born in the state of Michoacan, Mexico and came to the United States at the age of 5. After earning his AA in journalism, Cresencio hopes to transfer to a four-year university.
Cresencio Rodriguez, Editor-in-Chief
Dec 30, 2016

Can We Avoid an Environmental Apocalypse?

(Story)

Dec 12, 2016

Stricken with Cancer, She Heals Others Battling the Disease with Her Own Faith

(Story)

Dec 08, 2016

FCC and tech leader could bring jobs to students after partnership

(Story)

Dec 06, 2016

Fresno City College remembers a 'movement'

(Story/Media)

Nov 23, 2016

Fresno State student killed in crash was former FCC student

(Story)

Oct 12, 2016

Family History Not Always Related to Breast Cancer

(Story)

Sep 14, 2016

Major crash near Fresno City College

(Media)

Sep 01, 2016

'City Fest' event will celebrate Old Administration Building

(Story)

Aug 29, 2016

President Goldsmith Pledges to Listen to All

(Story)

Aug 29, 2016

After Attempted Burglary, New Police Chief Says Bike Theft is Preventable

(Story)

Aug 26, 2016

Two students nab alleged campus bike thief, become heroes

(Story/Media)

Aug 25, 2016

Fresno City College sees frequent theft since start of semester

(Story)

Jul 11, 2016

District seeks volunteers for its $485 million bond oversight committee

(Story)

Jul 05, 2016

District announces new Fresno City College president

(Story)

Jun 30, 2016

Construction continues at FCC, despite hot weather

(Story/Media)

Jun 22, 2016

District announces new chief of police

(Story)

Jun 21, 2016

40 cadets set to graduate from FCC Police Academy

(Story)

Jun 13, 2016

Construction projects to impact Fresno City College during summer

(Story)

May 19, 2016

This year's commencement ceremony to be the largest in FCC history

(Story)

May 16, 2016

Interim Positions Now a Permanent State of the College

(Story)

May 03, 2016

District Reprimands Dean of Counseling

(Story)

May 03, 2016

New Chancellor Expresses Optimistic Outlook

(Story)

Apr 30, 2016

Cheryl Sullivan to Become Interim President of FCC

(Story)

Apr 29, 2016

Dispute leads to stabbing of FCC student on campus

(Story)

Apr 28, 2016

Journalism Student Invited to White House

(Story)

Apr 27, 2016

City of Fresno to Announce "Collegian Day" in honor of Fresno State's Student Newspaper

(Story)

Apr 21, 2016

Drunk driver arrested for crashing truck that caught fire east of Fresno City College

(Story/Media)

Apr 19, 2016

Students Outraged After Parking Lot Assault

(Story)

Apr 15, 2016

NAACP to hold informational meeting for Measure C

(Media)

Apr 12, 2016

Fresno City College student assaulted in parking lot D

(Story)

Apr 08, 2016

Fresno City College coordinator named winner of statewide award

(Story)

Apr 07, 2016

Smoke billows out of trash can near bookstore

(Media)

Apr 05, 2016

Azari Continues to Work Non-stop, Despite New Job Offer

(Story)

Apr 03, 2016

Have we embraced greed? We should not fight a minimum wage increase

(Story)

Mar 31, 2016

Women in Islam: FCC Counselor Addresses Misconceptions

(Story)

Mar 23, 2016

FCC Interim President Announces New Position at Oxnard College

(Story)

Mar 09, 2016

PASS Coordinator Honored for her "Brain Food" Project

(Story)

Feb 23, 2016

District Denies Requests for Investigator's Report on Cuevas Matter

(Story)

Feb 10, 2016

Don't Blame Me, or My Parents for America's Immigration Problem

(Story)

Feb 10, 2016

Interim State of Fresno City College

(Story)

Feb 04, 2016

Board of Trustees Appoints Two to Interim Positions at Fresno City College

(Story)

Jan 29, 2016

Police: Man Pulls Gun on Victim at Fresno City College Parking Lot

(Story)

Jan 13, 2016

Late-night gun violence spills into Fresno City College

(Story)

Dec 11, 2015

Rampage Reporter A Winner in Beauty Pageant

(Story)

Nov 18, 2015

Forgive Me Mother, for I Have Sinned, but I Don't Believe in God

(Story)

Nov 18, 2015

17-Year Student Activities Employee Terminates Her Employment With District

(Story)

Nov 18, 2015

Chancellor Finalists Explain Vision and Priorities at Open Forums

(Story)

Nov 09, 2015

Police Investigating Two Fights in Free Speech Area

(Story)

Oct 31, 2015
Oct 21, 2015

Investigator's Report on Cuevas Matter Imminent

(Story)

Oct 21, 2015

Woods Reassigned to CTC

(Story)

Oct 21, 2015

New Chancellor Could Be Appointed by December

(Story)

Oct 09, 2015

Yik Yak Post Raises Concerns about Racism

(Story)

Oct 07, 2015

Changes Simplify Financial Aid Application Process

(Story)

Oct 07, 2015

District Launches Campaign for Bond Measure

(Story)

Oct 07, 2015

New Student Equity Coordinator Ready to Tackle Systemic Inequities

(Story)

Sep 22, 2015

Alumna Turned Celebrity — Underwood Entertains Packed House

(Story)

Sep 09, 2015

FCC'S Lee Herrick Recognized as Poet Laureate

(Media)

Sep 09, 2015

District investigating Allegations Against Dean of Counseling

(Story)

Aug 22, 2015

Community Gathers To Discuss, Find Solutions on Immigration

(Story/Media)

Aug 13, 2015

New Leader Welcomed as FCC Kicks Off New Semester

(Story/Media)

Jul 06, 2015

EOPS Applications for Fall 2015 being accepted July 10

(Story)

May 16, 2015

Suspended Student Activities Office Clerk Awaits Fate

(Story)

May 14, 2015

EMLS Students Adapt to US Culture, Life

(Story)

May 14, 2015

FCC Partners with FUSD to Boost Enrollment

(Story)

May 06, 2015

Cinco de Mayo comes to FCC

(Media)

Apr 30, 2015

Azari Recommended for Interim President Position

(Story)

Apr 30, 2015

Sound of Music Returns to FCC

(Story)

Apr 28, 2015

FCC Instructor Holds Sexual Assault and Rape Survey on Campus

(Media)

Apr 28, 2015

College Anxiously Awaits Naming of Interim President

(Story)

Apr 23, 2015

FCC Instructor Holds Sexual Assault and Rape Survey on Campus

(Media)

Apr 22, 2015

New Fresno City College Bell Carillon Officially Recognized

(Story/Media)

Apr 22, 2015

Carillon Bells to Return to FCC, dedication ceremony to be held

(Story)

Apr 20, 2015

Committee Addresses Aging Campus

(Story)

Apr 20, 2015

STUDENT ACTIVITIES CLERK CHARGED WITH BATTERY, SUSPENDED WITH PAY

(Story/Media)

Apr 01, 2015

Police Search for Man in Assault with a Deadly Weapon at FCC

(Story)

Mar 20, 2015

Student Activities Clerk Charged with Assault in Altercation with Student

(Story)

Mar 19, 2015

District Attempts to Solve Parking Woes with Bond Measure

(Story)

Mar 05, 2015

Drought is "Serious Situation"

(Story/Media)

Mar 05, 2015

Equity Task Force Scrambles to Allocate Funds

(Story)

Mar 05, 2015

Breaking the Silence for Undocumented Students

(Story)

Feb 18, 2015

Equity Taskforce to Meet to Prioritize Needs

(Story)

Feb 04, 2015

Veterans Resource Center Opens

(Story)

Feb 04, 2015

Cantu: Obama's CC plan Is 'a move in the right direction'

(Story)

Feb 04, 2015

FCC Not Chosen to Offer Bachelor's

(Story)

Jan 15, 2015

SCCCD Emergency System set to undergo testing Friday

(Story)

Jan 14, 2015

FAX bus shooting leads to arrest of FCC student

(Story)

Dec 04, 2014

Student Veterans Carry Invisible Baggage of Wars Without End

(Story)

Dec 04, 2014

Student Posts Flier Featuring Her Attacker

(Story/Media)

Nov 11, 2014

Students must consider new rules, preferences when registering for classes

(Story)

Nov 04, 2014

Breast Cancer Issues Addressed

(Story)

Nov 03, 2014

FCC Students to Ayotzinapa Students: "You Are Not Alone"

(Story/Media)

Oct 15, 2014

6 Community Colleges to Train Workers Displaced by Drought

(Story)

Oct 15, 2014

District Unsure about Four Year Degree Offerings

(Story)

Oct 15, 2014

Equity Plan Increases Access for Disadvantaged Students

(Story)

Oct 03, 2014

FCC to Increase Class Offerings in Spring 2015

(Story)

Oct 03, 2014

Q & A with Vice President of Student Services

(Story)

Sep 17, 2014

Student Mental Health Becomes Priority

(Story)

Sep 03, 2014
Jun 06, 2014

Repairs in Student Services building

(Story)

May 14, 2014

White House Task Force attempts to end sexual crimes on college campuses

(Story)

Mar 24, 2014

Should unhealthful food be banned in public schools? – PRO

(Story)

Mar 06, 2014

New Gary Soto play may come to FCC

(Story)

Mar 06, 2014

Drought: What's next for CA?

(Story)

Feb 05, 2014

FCC club fights to end deportations

(Story/Media)

Feb 05, 2014