Police Search for Man in Assault with a Deadly Weapon at FCC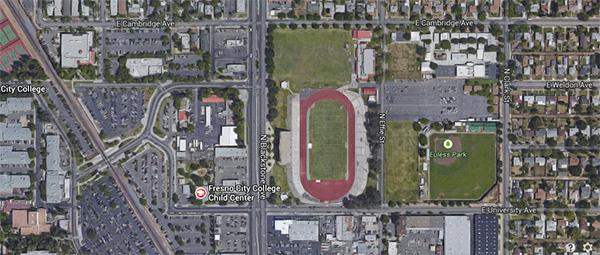 State Center Community College District Police are investigating an assault with a deadly weapon that occurred on the Fresno City College campus.
The incident occurred at approximately 4:30 p.m. on March 31 on the intersection of Effie Street. and University Ave, next to Ratcliffe Stadium on the FCC campus.
According to an SCCCD crime alert sent out through Twitter, the victim had just left a baseball game at Euless Park near the football stadium when a white male riding a bicycle pulled in front of his vehicle causing him to stop.
The victim chose to step out of his vehicle and confront the man. That's when police say the suspect punched the victim about four to five times and then pulled a 12 inch knife on him.
The victim ran away and was not injured. However police say the suspect slashed three of the victim's vehicle tires.
The suspect is described by SCCCD Police as a white male, approximately 30 to 35 years old, wearing a white shirt and a blue baseball cap. He is approximately 6 feet 1 inch tall, medium build, shaved head and a light mustache.
If you have any information, you are asked to call SCCCD Police at 559-244-5911.