Equity Task Force Scrambles to Allocate Funds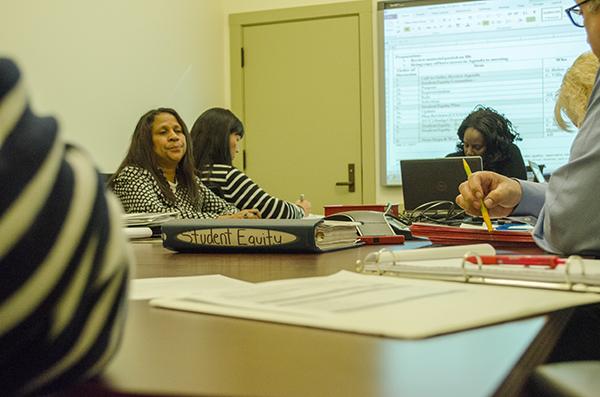 News of additional funds being added to the $1.3 million that Fresno City College received last year from the $79 million allocated for college equity is creating pressure for the task force charged with deciding how best to apportion the original grant.
FCC Vice-President of Student Services, Chris Villa announced the new funding during the first meeting by the task force in the Old Administration Building on Feb. 27.
"We are going to get more," Villa said. "On top of the $1.3 million we got this year."
If the additional funds are approved on July 1, the college will receive a greater allocation for the year ahead, Villa said. But members of the task force are facing "a good problem" — pressure and severe time constraints to apportion the money and spend it wisely.
"We are under a lot of pressure to do this," Villa said. "And we want to do it right." He also said that the focus is not on spending the money as quickly as possible, but rather on spending it right.
The equity funds will be split into three areas — counseling, coordination and instructional support, according to Elizabeth Davitian, accounting technician in the student services office.
Student equity plans have become mandated in California community colleges after a policy was adopted in 1992 by the California Community Colleges Board of Governors to create equal access for students from groups that are historically underrepresented in higher education.
According to Office of the California Community College Chancellor, the goal is to provide American Indians or Alaskan natives, Asians or Pacific Islanders, Blacks, Hispanics, Whites, men, women, women and person with disabilities equal opportunities in access, success and transfer.
This means that the equity plan is made to address and bridge academic disproportionalities with different student groups on campus. The plan ensures students have access to the education and are completing and satisfying their college goals and in the end, transferring or acquiring a degree.
A guideline for state colleges receiving the equity funds is that recipients not return any of it to the state; this leaves the task force with the monumental task of figuring out exactly how to allocate the funds and spend it wisely.
Villa made clear to the task force that if decisions are not made soon, "we are going to return money."
The FCC Student Equity Plan was finalized in November and approved in December of 2014.
Villa presented a proposal, listing certain categories from which college representatives can be chosen from — academic and classified senate, ASG, community members, etc — to create the committee that will make final decisions on how the funds appropriated by the state will be spent.
"We will rely heavily on the advice of this group as to which positions to fill and what to prioritize," Villa said.
Villa also ordered the task force to meet monthly, effective immediately, so "we can move quickly to form the committee."
A position for "equity coordinator" has been created and was recently advertised by the State Center Community College District human resources office. The position will start on May 6 and is funded by the same equity funds.
The selected coordinator is expected to ensure all expenditures within the FCC Student Equity Plan conform with California Community College Chancellor's Office expenditure guidelines and will monitor the plan so that equity outcomes are achieved, among other tasks.
During the topic of ensuring that all disproportionalities are being bridged and equity is being executed, the matter of student success was brought up by Geraldine Santos, counselor at FCC, as to the amount of counselors being hired for African-American students.
She reminded the task force about the disproportionalities among African-American students which was presented in the Feb. 18 publication of the Rampage.
Santos then asked, "How are we bridging that disproportionality in our hiring practices, so that these students can get some benefits of the equity funds?"
Gennean Bolen, English instructor at FCC and co-chair of the task force said both she and Santos understand that "just hiring the same number across the board so that it all looks fair, is not equitable."
Bolen and Santos were referring to a recent hiring of 17 adjunct counselors in January at FCC.
According to Monica Cuevas, Dean of Counseling at FCC, of those 17 counselors that were hired, nine of those hires being funded by student equity funds and the other eight, by Student Support Services Program.
According to a source, out of the 17 adjunct counselors that were hired, none of them were African-American.
At the meeting, Santos raised concerns about not having African-American counselors hired, saying that students may feel more comfortable seeking help from people who "look like them."
Villa responded to that by stating that the current student equity plan which was approved in December contains language about funding a counselor for IDILE and SYMBAA, special programs for African-American students.
According to the plan, the district looks to fund "a full-time counselor assigned to work with the IDILE and SYMBAA students to provide coordination and support."
Villa says that is the only funding given to an ethnic group on the current student equity plan — other groups that were disproportionately impacted that were ethnic, did not get such positions.
Villa said, "There are a lot of groups that need to be addressed."