Veterans Resource Center Opens
A plan years in the making, is finally realized — the Veterans Resource Center at Fresno City College opened in Building A on Jan. 28.
A campus ceremony outside Building A marks the beginning of a new chapter for student veterans at FCC. A ribbon cutting means a Veterans Resource Center is now open for business and the more than 450 veterans attending FCC under the GI Bill have a place to call their own for many years to come.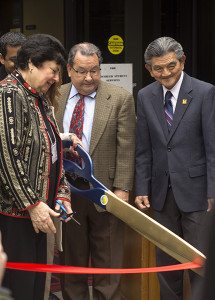 Now student veterans at the college have a 2,200 square foot home away from home. It is a place where all their needs — from academic advising to counseling — can be met by staff who understand their specific needs.
Confusion and uncertainty about when a resource center for veterans would be established and where it would be located, combined with a budget crisis that set the college back, had nearly doomed this project many years ago.
"When we started this whole process, it was about four years ago," said Chris Villa, vice-president of student services. "Part of the problem was we were dealing with a budget crisis."
The college administration's unwavering support and a more stable budget thrust the project forward.
"Fresno City College is proud to realize this dream of providing a first class center for our veteran students," said Tony Cantu, president. "[The college] has always been proud to be a part of the effort to serve veterans by providing comprehensive services."
Doug Sholders, a student veteran said he made a choice to return to college to continue his education and that news of the new resource center on campus made his decision easier and worth it.
"'I'm almost 60 years old," Sholders said. "I've made a choice to come back to school to get a degree in social work."
Sholders, despite not having official certification, says he has been a counselor for 10 years and pursuing a degree in social work will give him that certification.
"I've got a teaching credential through [the City of Fresno] because I've already taught at Cesar Chavez and the Fresno Rescue Mission," Sholders said.
He says that with his experience and the new veteran resource center on campus, he will be able to put his college career on the right track.
Sholders added that he, like most veterans, often return to college with little motivation and that the resource center will provide that motivation.
"A lot of [veterans] come back and honestly, they don't want to do anything," Sholders said. "They got no real direction."
Sholders said with some direction offered by the new resource center, "[Veterans] would be a heck of a better off."
He said that student veterans want the new center to be much more than about receiving guidance and setting their coursework on the right track.
Sholders remembers the long waiting lines, "six people in the lobby and me," Sholders says. "But now, there's a waiting place and they're going to be seen faster because they're getting more than just one veteran representative."
Mario Reposo, a student veteran counselor at FCC and a representative of the veterans resource center, said that the center gives veterans on campus the ability to express themselves and also gives the rest of the students on campus a better understanding of an otherwise forgotten community.
"It's a place for them to heal and connect with the campus," Reposo said. "I hope more veterans on campus will utilize our services."
Reposo says that while people may have a certain perspective of student veterans, "It's not black and white; we're all very different."
According to Reposo, student veterans attending FCC and the State Center Community College District, come from diverse religions, ethnic and social backgrounds.
"They are as diverse as the non-veteran population," Reposo said.
Whether a veteran is Jewish, Muslim, Christian, Mexican, European, Chinese, lesbian, gay, straight or transgender, the only thing that sets them apart, Reposo said, is the fact that they have given years of service to their country, putting their safety and futures on the line.
"They have spent birthdays and holidays thousands of miles away from family and friends," Reposo said. "They shouldn't be pitied, just appreciated."
Reposo hopes student veterans will get well acquainted with the center.
"It's a gathering place for veterans here on campus," Reposo said. "When veterans get together, they talk about veteran issues, they talk about programs that will help each other; they're very close."
This story was contributed in part by Angela Tuttle and Alex Bobadilla.