Story By: Larry Valenzuela, Broadcast Editor
Starting in the fall, students will now be able to use their associated student body ID card to get free bus rides to anywhere in Fresno. Students who are in good standing and purchase an ASB card can ride the Fresno Area Express anywhere in ...
August 8, 2017
Story By: Edward Smith, News/Copy Editor
With more than $500 million in their pocket to spend, the State Center Community College District is exploring ways to proceed with proposed construction projects. To address concerns and conflicting visions for future projects across to...
May 3, 2017
Story By: Makinna Malady, Reporter
Trying to earn your degree while pregnant can be extremely challenging.  Luckily, the Fresno City College Health Services offer many resources for expectant students, according to Lisa Chaney, coordinator of the center.    The Pregnan...
May 3, 2017
Story By: Terada Phengphong, Reporter
Dr. Carl Johansson, biology instructor at Fresno City College is studying the toughest living species on Earth. It isn't the largest or even the strongest in muscle mass; in fact it's so small, you need a microscope to see it. Tar...
May 3, 2017
Story By: Jorge Rodriguez, Sports Editor
'As a comedy "The Hitman's Bodyguard" should be a hit, but as an action movie it leaves audiences wanting more. With big names like Samuel L. Jackson and Ryan Reynolds leading this action-adventure comedy it seemed like it was me...
August 21, 2017
Story By: Noah Villaverde, Reporter
Auditions for the play "Silent Sky" and the musical "American Idiot" will be held on Aug. 21-22  at the Fresno City College Theatre Arts Building. Students who want to audition for "Silent Sky" must prepare ...
August 17, 2017
Story By: Marco Rosas, Reporter
"Atomic Blonde" is an espionage thriller set in 1989 Berlin; it has been described by some critics as the female John Wick, but not this critic. "Atomic Blonde" does a lot of things well, but it is far from the exciting...
July 28, 2017
'Valerian' is This Summer's Sci-fi Delight
When people talk about crowd-sourced independent films, what comes to mind are small budgets and little-known actors; this crowd-sourced film...
'Dunkirk' is Possibly Christopher Nolan's Best Work
Christopher Nolan's "Dunkirk" is both a heroic war epic and a disaster movie; it tells the tale of the evacuation of British and Allie...
View All »
Story By: Frank Lopez, Opinion Editor
Socrates (469–399 B.C.) QUOTATION: The children now love luxury; they have bad manners, contempt for authority; they sho...
May 3, 2017
Story By: Eric Jaramishian, Reporter
The California senate has recently passed a bill called the "California Values Act," which is intende...
May 3, 2017
Story By: Marco Rosas, Reporter
California legislators are currently debating whether California should become a sanctuary state and no...
May 3, 2017
Hollywood and the Native Warrior — an Evolving Story of Stereotypes and Misrepresentation
The symbol of the American Indian  has long been  popular in Hollywood films and television. From the bloodthirsty warriors to the modern hippie Indian of the...
The Model Minority: A Myth destroying Asian Communities
Smart, wealthy, hard working, and "living the American dream" are the western stereotypes put upon Asian Americans.         People of Asian-American bac...
Kanye West is universally recognized as one of the best rappers in the world. He's helped to write, produce and has collaborated on some of the biggest hits in ...
View All »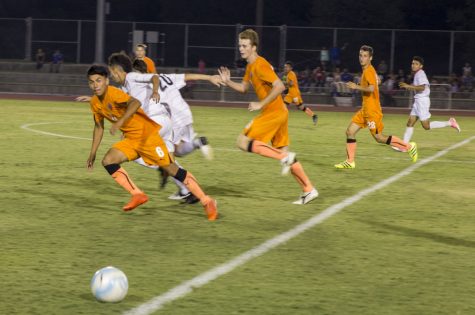 Story By: Jorge Rodriguez, Sports Editor
The Fresno City College men's soccer team defeated Fresno Pacific University 2-1 in a preseason scrimmage that had the Sunbirds hosting the Rams this past Saturday night. The game was a special scrimmage that both t...
August 23, 2017
Story By: Armondo Carreno, Reporter
lOn August 28, 2016, quarterback Colin Kaepernick made a decision that would divide the country. He took a seat during the national anthem in a preseason game against the Green Bay Packers. After becoming a fre...
May 5, 2017
Story By: Michael Mendez, Sports Editor
It has been an ambitious  semester for the Fresno City College athletic program this semester with each team trying to repeat the  success that they achieved last year. Men's Basketball The men's basketball team...
May 5, 2017
  On Cinco De Mayo weekend, two Mexican boxers will face off to find out who is the new face of Mexican boxing. Saul "Canelo" Alvar...
On April 27, the NFL held its annual draft -- its biggest event of the offseason -- in Philadelphia. After two months of mock drafts and specu...
  The second round of the NBA finals kicked off Sunday night. Three teams have already claimed game one victories. The Houston Rockets ...
View All »