Student Activities Clerk Charged with Assault in Altercation with Student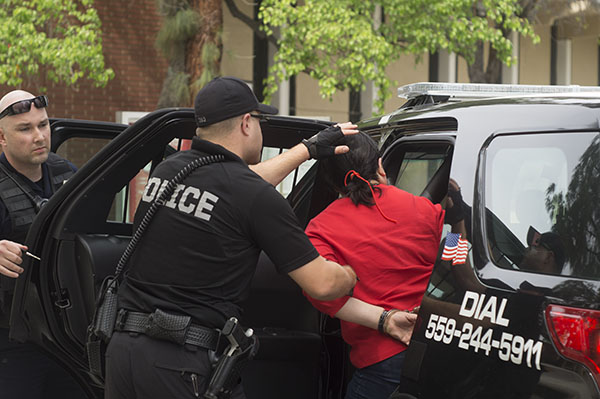 **UPDATED March 23, 2015, 11:01 a.m. : Linda Sanchez has been placed on administrative leave with pay, pending the completion of an investigation into the allegations, according to a letter received by Sanchez from the Vice-Chancellor of Human Resources for the State Center Community College District, Diane Clerou.**
An accounting clerk in the student activities office was arrested Friday, following an altercation with a student aide, according to State Center Community College District Police Officer, Rodney Zumkehr.
Linda Sanchez, a 17-year employee of the Fresno City College Student Activities office was charged with battery against Suzette Freeman, a student aide at the same office.
"She grabbed a student worker today," Zumkehr said. "And she is being arrested for that offense."
Freeman said she was assisting a student in the student lounge when she was asked to leave by Sanchez and then "grabbed" from her backpack and pulled back.
"I don't understand why [Sanchez] was so adamant in me not helping the student," Freeman said. "All I was doing was trying to help."
Freeman admits she and Sanchez exchanged some words  insisting on staying and Sanchez demanding that she leaves.
Sanchez says Freeman was not on duty during that time of the incident and was not supposed to be in the office.
Sanchez maintains that according to the employee handbook, student aides must not be behind the counter or touching office machines when they are off duty.
"I said, 'you are not on duty, someone else needs to help them,'" Sanchez said.
The situation quickly escalated from words to grabbing.
Sanchez said she pulled the student's backpack, but Freeman said her shirt was pulled. Then, according to both women, Sean Henderson, director of student activities office, called the police.
Other students and staff members in the student lounge would not comment on the incident.
Sanchez was handcuffed and escorted into a district police car; then she was transported to the district police department where she was cited and released, according to the police.
The charge will be forwarded to the district attorney for prosecution, according to officer Zumkehr.