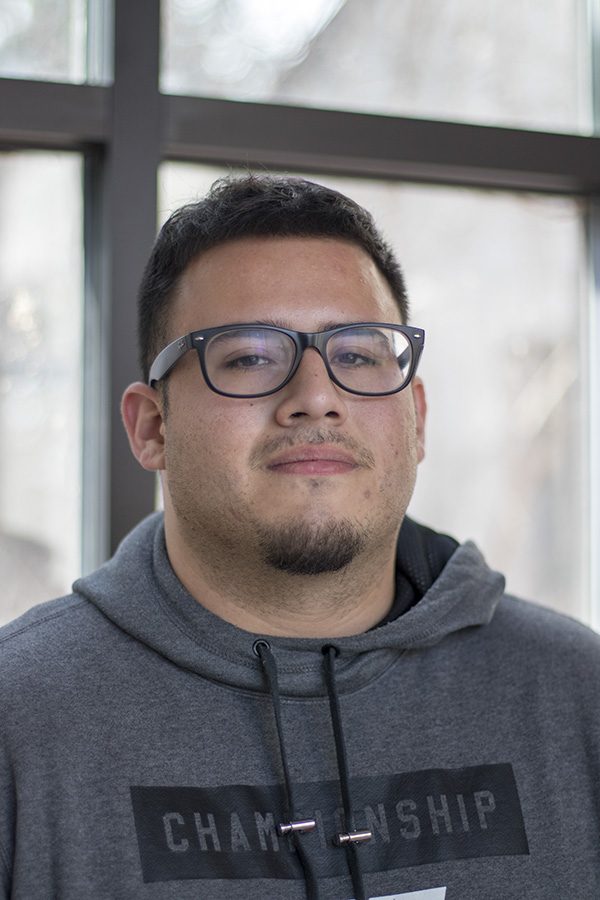 Anthony De Leon is a 23 year old 3rd year Fresno City College student and is starting his third semester writing for The Rampage and his second semester as Rampage sports editor. Becoming a Journalism student in 2014, Anthony has a passion for all things sports, music, and opinion. Born and raised in Fresno, his plan is to finish up his Associate Degree in both Journalism and Communications transfer over to Fresno State in the Spring of 2019. During his time at The Rampage he has covered numerous events including 2018 Grizzly Fest and the WBC world title fight between Jose Ramirez and Antonio Orozco.
Anthony has experience writing articles in music for his blog "Hip-Hop's Passin Me By," where he would write album reviews amongst other topics. In his spare time Anthony frequents music festivals which have included Coachella, Life is Beautiful, Hard Summer, and many others. Anthony has dabbled in amateur photography and has experience in that field. Anthony also received Honorable Mention in Sports Game Story at the Journalism Association of Community Colleges 2018 state competition. When not in the newsroom Anthony has had experience on the gridiron coaching football for both McLane and Sunnyside High School and with 4
 years of coaching under his belt. Anthony's career aspirations include working for a major news organization and being a sports talk radio personality.
Anthony De Leon, Sports Editor
Dec 12, 2018

Hands That Hit, Feet That Fly

(Story)

Dec 08, 2018

Copa Combate Ends Tournament with Thrilling Knock-Out Finale, Although Promotion has Room for Improvement

(Story)

Nov 29, 2018

New Year Same Result, Final Four for Ram Men

(Story)

Nov 29, 2018

Volleyball Preps for Final Four and Looks to Take Championship Crown

(Story)

Nov 29, 2018

Rams Falter in Oakland, but Future Looks Bright

(Story)

Oct 23, 2018

A Haunting of Hill House's Quality Scares Give Horror Genre a Bright Future

(Story)

Oct 15, 2018

Ludacris Brings Southern Hospitality to the Paul Paul Theater…10 Years too Late

(Story)

Oct 11, 2018

NBA Legend Brings Wisdom to the Central Valley

(Story)

Sep 28, 2018

New Athletic Director Looks to Expand Upon FCC's Storied Athletics

(Story)

Sep 28, 2018

FCC Couldn't Revive Offense for Second Straight Week

(Story)

Sep 16, 2018

Growing Pain Cause for Concern as Rams Lose First of the Season

(Story)

Sep 15, 2018

Valley Hero Jose Ramirez Dominates in First World Title Defense

(Story)

Sep 14, 2018

A Feeling of Fear and Uncertainty: The Story of Anthony Stewart

(Story)

Sep 08, 2018

Fresno City College Streak Comes to an End

(Story)

Sep 07, 2018

Nature the Victor of Matchup between Fresno City College and Siskiyous

(Story)

Sep 02, 2018

Fresno City College Dominance Unmatched in 33-21 Victory Over Santa Rosa

(Story)

Aug 29, 2018

Rams Football Has High Hopes for 2018

(Story)

Aug 20, 2018

2018 Wall of Fame Induction Class Takes Their Place Among Fresno City College Greats

(Story/Media)

Aug 19, 2018

Rams Still Finding Footing as Fall Camp Winds Down

(Story/Media)

May 19, 2018

Grizzly Fest Kicks Off with Jhene Aiko and a Diverse Lineup of Artists

(Story)

May 07, 2018

Rams Advance in First Round Weekend, Ron Scott named Coach of the Year

(Story)

Apr 18, 2018

Rams Finish off Lowly Falcons for Series Sweep

(Story)

Apr 18, 2018

Mythological Giant: "André the Giant" Documentary Review

(Story)

Apr 18, 2018

Mythological Giant: "André the Giant" Documentary Review

(Story)

Apr 18, 2018

Ram Athletes Sign Letters of Intent

(Story)

Apr 18, 2018

Five Teams You Can Adopt This Postseason

(Story)

Mar 21, 2018

Best of the West Delivers on Impact

(Story)

Feb 28, 2018

Lady Rams advance in convincing fashion

(Story)

Feb 26, 2018

Rams end weekend with two victories

(Story)

Feb 26, 2018

Rams baseball wins close battle against Cabrillo

(Story)

Feb 21, 2018

Lorenzo Neal to Hold Youth Camp at FCC

(Story)

Feb 21, 2018

Rams battle for victory in Season Finale

(Story)

Feb 21, 2018

Deserving of a Second Chance: The XFL

(Story)

Feb 06, 2018

It's NOT Always Sunny in Philadelphia

(Story)

Nov 29, 2017

From Grassroots to World Champions

(Story)

Nov 20, 2017

Students Leave Judges Speechless at Intramural Competition

(Story/Media)

Nov 08, 2017

Three More Wrestling Legends Added to Hall of Fame

(Story/Media)

Oct 25, 2017

I Will Not Live in Fear of Mass Shootings

(Story)

Oct 11, 2017

Looking for a Summer Internship? The FBI Is Recruiting

(Story)

Oct 11, 2017

The Tale of Kalaupapa and Unity Through Hardships

(Media)

Oct 10, 2017

Postseason Madness

(Story)

Sep 26, 2017

Could Stanton Be The Post Steroid-Era Savior?

(Story)

Sep 20, 2017

Tough Battle Ends in 3-3 Draw

(Story)

Sep 13, 2017

P.A.S.S Offers Pathway towards Student Success

(Story)