Growing Pain Cause for Concern as Rams Lose First of the Season
Hang on for a minute...we're trying to find some more stories you might like.
Growing pains were in full effect Saturday as the Fresno City College Rams were not able to make anything happened against the Butte Roadrunners losing their first game of the season 17-7 moving to a record of 1-1.
Murphy's Law was certainly in effect for the Rams as everything that could have gone wrong did go wrong and the Roadrunners were able to take advantage of every mistake.
The rough and tumble, power running game of the Rams was in full effect, except that Butte was the one executing that game plan. The Rams got a taste of their own medicine as the Roadrunners were able to run all over a defense that was stout in their season opener.
The Rams finished the game allowing 177 net rushing yards at an average of 3.4 yards per play which accounted for nearly two-thirds of their total yardage. This led to the Roadrunners controlling nearly two-thirds of time of possession with 39:29 minutes.
A young Rams team showed their age as the biggest story of the game was the mental mistakes made by this team and opportunities at good field positions were lost and drives stalled due to mental mistakes.
The Rams offense was inept throughout as they were not able to get a sustainable drive and did not have a scoring drive until late into the fourth quarter as running back Leon Young (fr.) scored on a six yard run, finishing with a team high 36 yards.
Freshman quarterback Sam Metcalf was running for his life throughout as Butte was able to get to the quarterback six times and had constant pressure all game.
Metcalf finished a spotty game going 9-19 with 74 total yards. Metcalf looked as if he is still trying to find his footing in only his second career start, but seems as if he missing multiple progressions and focusing on his first options while not looking defenders off.
Metcalf missed a wide open Malik White in the middle of the end zone in the second quarter which would have gave the Rams an early lead and then again in the second half where he missed a streaking White who had his man beat by a couple of yards.
Penalties stalled numerous drives and momentum as the Rams were penalized 11 times which garnered 104 yards in total yardage. By comparisons the Rams' offense accounted for just 145 yards throughout the game.
There were multiple big plays for the Rams taken away due to penalties including an interception by cornerback Xavier Alexander (fr.) wiped away in the first quarter, a long gain taken away due to an ineligible lineman down field and a running into the kicker giving Butte a new set of downs among other penalties.
Towards the end of the game the frustration began to mount both on the FCC sideline with multiple players voicing their frustrations and on the field. While the game was still in reach Rams players were being called for unsportsmanlike conduct penalties.
Not only were penalties stopping the Rams from gathering a sustainable drive, but turnovers were shots in the foot the Rams could not avoid and shots in the arm the Roadrunners needed.
The Rams had trouble keeping a hold of the football losing three of their four fumbles they had during the game, including one during a kickoff return right after Butte scored a rushing touchdown on the previous play setting up Butte right back inside the Rams' 10 yard line.
The Rams have a tough road matchup in store for them on Sept. 22 as the face a tough San Mateo who is 2-0 and averaging 36.5 points per game.
About the Writer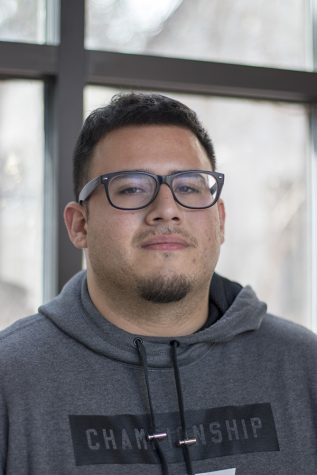 Anthony De Leon, Sports Editor
Anthony De Leon is a 23 year old 3rd year Fresno City College student and is starting his third semester writing for The Rampage and his second semester...