Looking for a Summer Internship? The FBI Is Recruiting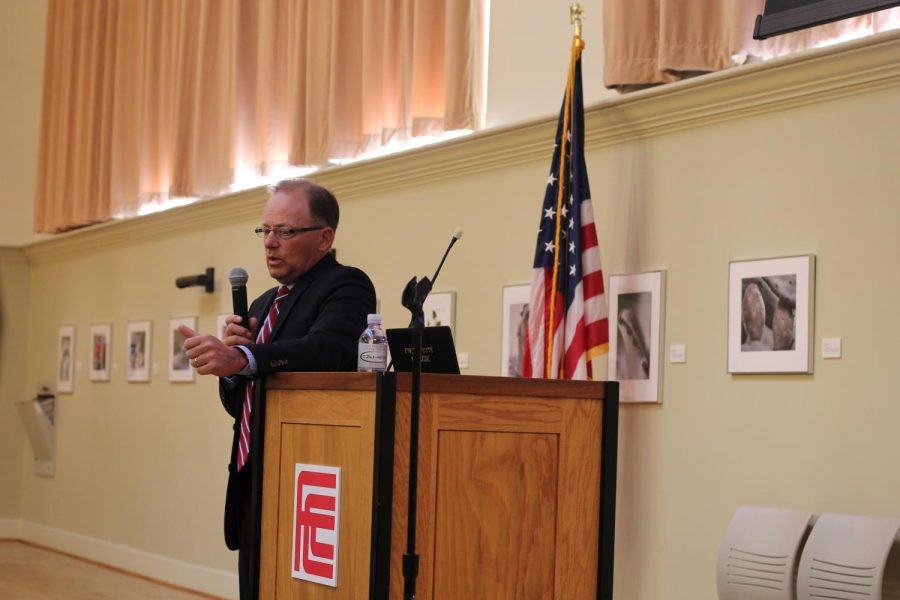 If you are looking for a summer 2018 internship, look no further. The FBI is looking for a few good people, and you might be one of them.
According to Steve Dupre, a special agent, who was on the Fresno City College campus on Oct. 3 as part of his state-wide recruiting trip, the FBI is currently looking for students in all types of majors, not just those in law enforcement or with military backgrounds.
Their main goal is to find students with sets of skills and prior working experience that can give the FBI the best candidates not only for the summer program, but for possible career opportunities beyond the program.
In an hour-and-a-half-long speech to an audience of over 50 students and faculty, Dupre spoke about the FBI's 10-week paid summer internship.
The internship is for the summer of 2018 and Dupre's goal is to start recruiting in the fall. He said that recruiting trips are a great tool to get applicants interested.
"I would say events like this are fairly successful," said Dupre. "I would hope to get a handful of students interested that will actually apply and go through the process."
These recruiting trips have been fairly successful on the FCC campus in the past. FCC has produced two students who have gone through the process of the summer internship program and went on to have careers within the FBI, according to Dupre.
Throughout the event, Dupre went over numerous slides that explained the rigorous process of applying for the internship program.
First, applicants are tasked with filling out the application with a resume attached. The lucky few to be chosen past that point will then interviewed for 45 minutes in front of a panel of three FBI agents.
Applicants will be subjected to answering a 55-page questionnaire with an agent present that gathers information from criminal past to past drug use and even illegal pirating of musical content. There is an extensive list of actions that will make applicants ineligible for this internship and the key is not to lie on the questionnaire because a polygraph test is the final stage of the process.
Dupre's 90-minute presentations during campus visits also cover more than internship opportunity.  The FBI Collegiate Hiring Initiative application period is simultaneous to the FBI Honors Internship application period and is cross-promoted. The presentations explore the Special Agent, Intelligence Analyst, and other job classes so students can begin thinking about potential long-term careers with the FBI.
All this information did not seem to deter the students who felt that they still would like to pursue the opportunity of working for the FBI, including FCC student Molly Xiong. After attending last year's recruiting trip by Dupre, she is ready to apply this year.
"What I got from this info session was that the FBI is for me because the FBI allows its employees to move from position to position and grow within the organization," Xiong said.
If Xiong is chosen for the summer program, she will have an opportunity and the challenge of working full time for the FBI for 10 weeks.
"Students will spend 10 weeks working in our office full time, 40 hours a week, and if chosen from Fresno, they can choose to work in our Fresno office," Dupre said.
Students who are interested in applying have until Oct. 15 to meet the application deadline to have the opportunity to work for the FBI.
"We want to give the experience of the FBI and to see if there might be a fit there," Dupre said. "If they like us and we like them, it might turn into a full time job."
Dupre has been involved with the FBI for nearly 26 years, since leaving his accounting job in 1992. As an agent, Dupre has investigated white collar crimes, counter terrorism and organized crime.
Dupre is now the Applicant Coordinator for the Sacramento FBI and is responsible for recruiting efforts in the office.  Applicant Coordinators visit college campuses throughout the year to educate students about the diverse job opportunities available within the FBI.
Students who are interested in applying can visit the career and employment center on campus or apply online on the FBI website at https://www.fbijobs.gov