Grizzly Fest Kicks Off with Jhene Aiko and a Diverse Lineup of Artists
Hang on for a minute...we're trying to find some more stories you might like.
Woodward Park filled with thousands of music lovers on day one of Grizzly Fest anticipating the performances of acts like Nas, Jhene Aiko and headliner Foster the People.
With day two continuing with rap legend Snoop Dogg closing out the festival, there were many notable highlights from day one of the event.
Day one's lineup had a wide range of genres including the alternative dance rock Night Riots and reggae influenced Soja gracing the Sequoia stage. And psychedelia inspired Chicano Batman (who sounded like a mixture of War and Santana), neo-soul goddess Jhene Aiko and hip-hop legend Nas all performing at the Yosemite main stage.
While the crowd stayed steady for the first few acts of the Yosemite stage, the crowd began to grow in anticipation for fan favorite Jhene Aiko surround by the unmatched floral scenery. A jam-packed crowd idolized the R&B artist singing along with her as she performed music from her latest album "Trip," including songs "New Balance" and radio hit "Sativa," while reaching back into her catalog for hits like "The Worst" and her part in "Post to Be."
As Aiko pulled most of the crowd towards the main stage, many gathered to hear the legendary catalog of Queensbridge native Nas and when the lights dimmed the largest crowd of the night exploded.
Nas took the crowd on a 25-year journey starting out with hits like "The World Is Yours," "New York State of Mind" and "Life's a B*tch" from his quintessential debut album "Illmatic." Grinding through "It Was Written" songs "The Message," "Street Dreams" and the crowd assisted sing-along of "If I Ruled the World (Imagine That)." Rounding out his set was hits like "I Can," "One Mic" and a thunderous rendition of "Hate Me Now" showing his rap prowess and stage presence is second to none.
Although the crowd died down a bit in the lead up to headliners Foster the People, those who stayed were treated to a plethora of good vibes as the Indie-Rock band hit the stage. Playing extended cuts from their recently released album "Sacred Hearts Club" and their debut album "Torches" they were able to keep the crowd dancing well into the night.
Notably, the band omitted their most recognizable song "Pumped Up Kicks," which has explicit lyrics about school shootings, from their set list in the wake of Saturday's tragic shooting of Santa Fe high school in Texas. Instead, the band lit 10 candles signifying and honoring the lives lost in that event.
The sounds of the festival delivered; while the rest of the festival lacked much flare when it came to the booths that were in attendance for the event giving a Fresno Fair-lite vibe equipped with its very own Ferris wheel.
Aside from that, the art installations along the walk into the festival were top notch as they were made by local artists adding a flare of the city to the park. Many local food vendors showed off their festival food skills as the center of the festival was filled with three rows of food trucks delivering deals at very reasonable prices (shout-out to $5 dollar all you can drink lemonade!).
At the end of day one, the consensus from the rumblings and overheard conversations was that this year's festival was able to hit on most cylinders. And with today's lineup, Grizzly Fest is shaping up to be one of the best events in Fresno this year.

About the Contributors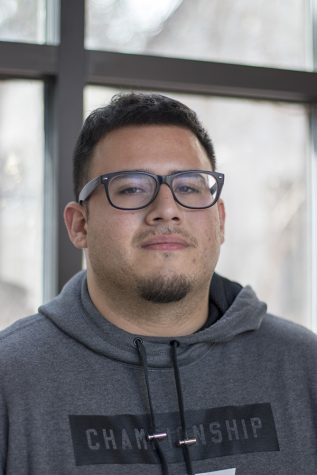 Anthony De Leon, Sports Editor
Anthony De Leon is a 23 year old 3rd year Fresno City College student and is starting his third semester writing for The Rampage and his second semester as Rampage sports editor. Becoming a Journalism student in 2014, Anthony has a passion for all things sports, music, and opinion. Born and raised in Fresno, his plan is to finish up his Associate Degree in both Journalism and Communications transfer over to Fresno State in the Spring of 2019. During his time at The Rampage he has covered numerous events including 2018 Grizzly Fest and the WBC world title fight between Jose Ramirez and Antonio Orozco.
Anthony has experience writing articles in music for his blog "Hip-Hop's Passin Me By," where he would write album reviews amongst other topics. In his spare time Anthony frequents music festivals which have included Coachella, Life is Beautiful, Hard Summer, and many others. Anthony has dabbled in amateur photography and has experience in that field. Anthony also received Honorable Mention in Sports Game Story at the Journalism Association of Community Colleges 2018 state competition. When not in the newsroom Anthony has had experience on the gridiron coaching football for both McLane and Sunnyside High School and with 4 years of coaching under his belt. Anthony's career aspirations include working for a major news organization and being a sports talk radio personality.