Fresno City College Dominance Unmatched in 33-21 Victory Over Santa Rosa
Hang on for a minute...we're trying to find some more stories you might like.
The Fresno City College football team started their season off strong as they routed Santa Rosa Junior College on a night of big plays coming from an explosive run game and stout defense in what turned out to be a deceptive final score of 33-21.
Although the scoreboard showed a two score game as time winded down, the game was decided early on as the Rams rack up a 27 point lead before SRJC was able to get it past the Rams' 40 yard line.
FCC scoring onslaught started on just the third drive of the game as freshman defensive back Xavier Alexander intercepted an errant throw from SRJC quarterback Kaylor Sullivan taking it back for a touchdown as Ratcliffe stadium erupted for the first score of the season.
"The pick six felt amazing, I did not know how to react," said Alexander. "But I can tell you one thing when I celebrated I could not breathe."
Alexander explained he was able to read the SRJC quarterback from watching film knowing going into the game that the tight end was his favorite target.
"It was just a lot of practice film preparation, knowing the opponent and the tight ends tendencies," explained Alexander.
The Ram defense showed out as the for the first three quarters as the SRJC offense was no match for the Ram defensive line as they held them to only 60 net rushing yards and holding SRJC running backs to just 38 rushing yards. 22 of the total yards came from a busted scramble by the SRJC quarterback.
On the other hand the Rams running back had a field day as they were able to rack up 200 yards on the ground with the help of a tough offensive line. The Ram o-line started off slow with some missed block early on, but as the game wore on they were able to wear down the SJRC defense that did not have an answer.
The o-line led the way for Rams running back as they ran the ball 44 times, averaging 4.5 yards per carry. The team leader in rushing was freshman Rico Rosario who broke the century mark in yardage with 107 yards on just 9 carries leading to an 11.9 yards per carry average. His longest carry of the night was 45 yards which resulted in his first career touchdown for the Rams.
Rosario was not the only Ram running back who had success against the SRJC defense as Virginia native and freshman Leon Young gained 69 yards on 7 carries and sophomore Wesley Graves added another 38 yards on his 10 attempts.
With the run game having the hot hand for most of the game, the passing game was able to open up as freshman quarterback Sam Metcalf was able to connect on 11 of his 19 passes for 161 yards and two strikes for touchdowns.
Metcalf's first came on a 9 yards pass to standout receiver sophomore Anthony Stewart and a 50 yard strike to sophomore tight end Jesus Castaneda.
Coming into the season a big question was how the special teams were going to perform; especially in the kicking game as in the final week of the fall camp was still an area of improvement.
Sophomore kicker Evan Rios answered the call as nailing field goals of 42 and 35 yards, while barely missing an attempt of 47 yards midway through the third quarter. Rios was also able to connect on 3 of his 4 PATs.
As the Rams chalked up win number one of the 2018 season, Saturday's Ram victory also marked another milestone for coach Caviglia notching his 150th career victory in his 20th year at FCC.
The Rams hit the road on Sep. 8 traveling to take on a Siskiyous College team who starter their season 0-1 as they lost against San Mateo 42-0 on Saturday.

About the Writer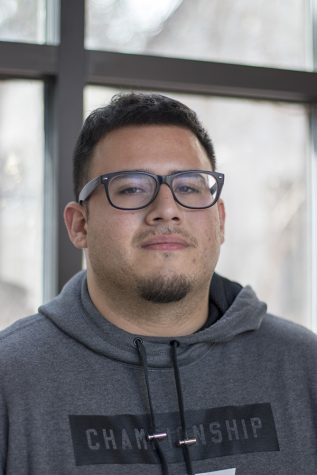 Anthony De Leon, Sports Editor
Anthony De Leon is a 23 year old 3rd year Fresno City College student and is starting his third semester writing for The Rampage and his second semester as Rampage sports editor. Becoming a Journalism student in 2014, Anthony has a passion for all things sports, music, and opinion. Born and raised in Fresno, his plan is to finish up his Associate Degree in both Journalism and Communications transfer over to Fresno State in the Spring of 2019. During his time at The Rampage he has covered numerous events including 2018 Grizzly Fest and the WBC world title fight between Jose Ramirez and Antonio Orozco.
Anthony has experience writing articles in music for his blog "Hip-Hop's Passin Me By," where he would write album reviews amongst other topics. In his spare time Anthony frequents music festivals which have included Coachella, Life is Beautiful, Hard Summer, and many others. Anthony has dabbled in amateur photography and has experience in that field. Anthony also received Honorable Mention in Sports Game Story at the Journalism Association of Community Colleges 2018 state competition. When not in the newsroom Anthony has had experience on the gridiron coaching football for both McLane and Sunnyside High School and with 4 years of coaching under his belt. Anthony's career aspirations include working for a major news organization and being a sports talk radio personality.