FCC Couldn't Revive Offense for Second Straight Week
This past Saturday the Fresno City College Rams received national exposure with their game against the College of San Mateo Bulldogs, but unfortunately the Rams could not take advantage of the national audience, losing 31-3.
In the battle of Top 20 programs FCC came into the game ranked #16 in the latest CCCSIA poll with a (1-1) record after a week three defeat against Butte. And the College of San Mateo (2-1) entered the week ranked #8 in the same CCCSIA poll, after losing last week to American River.
Unfortunately the Rams did not show much resolve after last week's debacle as their offensive woes continued into this past Saturday as their offense was even more anemic than the week prior. In 13 of the 14 drives failed to reach more than 40 yards and were only able to sustain only one drive ending in three points.
A field in the red zone after a 90 yard drive was all that the Rams could muster against a well-rounded San Mateo team.
The turnover battle was a pivotal point in the loss for the Rams as San Mateo were able to forced five turnovers, including three fumbles and two interceptions. Three of those turnovers led to San Mateo point on the next possessions in the form of two field goals and one touchdown for the Bulldogs.
Freshman quarterback Sam Metcalf continued to struggle as he went 14-21 for 138 yards while throwing for one interception. Although his offensive line stepped up their performance giving Metcalf more protection a week after running for his life.
Metcalf was not the only quarterback the Rams trotted out onto the field as sophomore quarterback Chris Dye was plugged into the offense to see if they could get something going.
Coach Caviglia sent in Chris Dye for a few series in the second quarter and also to finish out the game going 5 of 7 for only 22 yards, but Dye's day was not anymore successful throwing two interceptions of his own, including a pick-six going back to the house for the Bulldogs.
One bright spot for the offense that came out of Saturday's game was that the run game still looked formidable racking up 155 net rushing yards while averaging 4.2 yards per rush. Freshman running back Rico Rosario led the team with 80 rushing yards, bringing his season total to 191 yards.
On the other side of the ball San Mateo had the run game working in overdrive as they were able to rush for 205 net rushing yards while averaging 4.8 yards per carry. The defense was wearing down as San Mateo kept the running moving racking up 43 rushing attempts slowly chipping away at the Ram's defense.
San Mateo quarterbacks Terrell Carter and Matt Adamkiewicz combined for 12 of 20 with 149 yards through the air with both adding touchdowns passes.
After two straight weeks of losses where the Rams looked out of whack compared to their season opener, they hope to turn the tide on Saturday, Oct. 6 against the College of Siskiyous. That game will be a make-up game of their week two matchup that was canceled due to wildfires.
About the Writer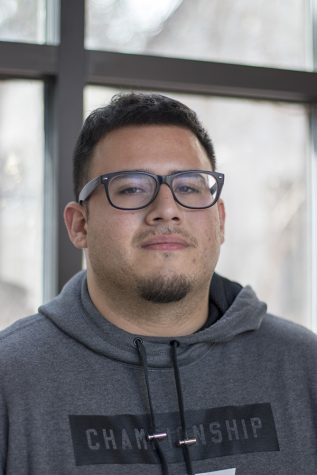 Anthony De Leon, Sports Editor
Anthony De Leon is a 23 year old 3rd year Fresno City College student and is starting his third semester writing for The Rampage and his second semester...