NBA Legend Brings Wisdom to the Central Valley
The San Joaquin Valley Town Hall series welcomed the all-time leading scorer in NBA history and cultural icon Kareem Abdul-Jabbar as guest speaker for their town hall style forum at the William Saroyan Theatre on Oct. 9 addressing topics ranging from professional athlete protest, education and leadership.
The main focus of Abdul-Jabbar's appearance in Fresno wasn't the about the sport that made him famous and his accolades on the court, but the success that he has achieved beyond it.
In his post playing career Abdul-Jabbar achieved success in acting, writing, serving as the chairman of the Skyhook Foundation and even awarded the Presidential Medal of Freedom.
Abdul-Jabbar wants to bring awareness to athletes and teach them that there is life after sports, which athletes should plan accordingly.
"They should know that it is not just about your athletic career, there is much more than that," said Abdul-Jabbar. "They have to have some longer term plans and how they want to affect their community."
In 2017 Abdul-Jabbar wrote a book about his life called "Becoming Kareem: Growing Up On and Off the Court" geared towards youth ranging from the ages of 10-18, showing them the path that Abdul-Jabbar took in order to become an iconic figure.  
"I wanted to give younger people a chance to get an understanding of how I got to be who I am," said Abdul-Jabbar. "The book is really focused on kids from grades 5 through 12, I talked about the mentor that help me and it wasn't all positive there were some negative things I had to avoid."
Abdul-Jabbar spoke fondly of his time at UCLA where he was under the tutelage of coach John Wooden, whom he would later write about in his New York Times bestseller "Coach Wooden and Me: Our 50 year Relationship on and Off the Court" and what he learned from his coach and mentor.
"Coach Wooden stood for more than just athletic excellency, he wanted all of his players to be well rounded and get their degrees while helping their communities."
His attention was brought towards the topic of athletes protesting and his views on Colin Kaepernick protesting for what he believes in and putting him in the vein as Muhammad Ali feeling that he will be remembered as Ali is remembered today.
"What is happening now is really is connected to what was happening during the civil rights movement and there really isn't much break in that," said Abdul-Jabbar. "It took so long people believe there is a gap, there has been progress and there are times that we have slide backwards so we have to understand that the struggles continues."
Abdul-Jabbar talked about the impact that Dr. Martin Luther King had on his life.
"Martin Luther King had a few wisdoms that he implied that really affected our nation and will affect them forever, it is hard to beat that," said Abdul-Jabbar.
With upcoming elections and the ever changing world we live in Abdul-Jabbar's final message was a call to action: to get involved in their communities—especially minorities—to stand up and get involved in trying to make a change.
"For people in minority communities they have to engage and cannot just sit on the sidelines and hope things get better," said Abdul-Jabbar. "They have to register to vote, they have to make their voices heard and talk to those people who represent them so if we have any complaints we have to get into there and explain ourselves."
About the Writer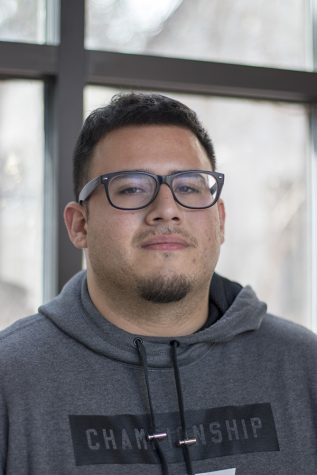 Anthony De Leon, Sports Editor
Anthony De Leon is a 23 year old 3rd year Fresno City College student and is starting his third semester writing for The Rampage and his second semester...