Rams Advance in First Round Weekend, Ron Scott named Coach of the Year
Hang on for a minute...we're trying to find some more stories you might like.
In the first round of the CCCAA NorCal baseball playoffs, the No. 7 seeded Fresno City College took their first round series at Euless Ballpark against the No. 10 seeded Folsom Lake this past weekend.
After falling to Folsom on May 4 in a close game 8-7, the Rams were able to pull away from Folsom on May 5 to take the final two games of the series 14-3 and 6-1 respectively advancing to the Nor-Cal Super Regional next weekend.
In game one of the series, both teams started out strong from the gate, but fielding mistakes led to the demise of the Rams as they were charged with an outstanding seven errors with five of the eight runs given up as a result of them. After falling behind, a late inning surge by the Rams fell just short.
On May 5, with game one behind them, the Rams that stepped on the field locked in as they scored 14 runs with the help from left fielder Nick Sheehan, who finished the weekend 6 for 12 with five RBI, three walks and one home run, and production from right fielder Chet Allison and shortstop Joey Popejoy.
After taking game two of the series, there was no looking back for the Rams as they continued their hot streak at the plate adding six more runs to their weekend and holding Folsom to just one in the deciding game of the first round. Game three was more of the same for the Rams, as pitcher Noah Parsons pitched lights out to pick up his ninth win of the season (9-1), with the help of Sheehan hitting his seventh big fly of the season.
The Rams seemed energized and relaxed in the postseason as video emerged of their dugout dancing in-between pitching changes on Saturday, including third baseman Jacob Paradine jumping onto the dugout fence exuding confidence for both his team and the crowd.
.@FCCRAMSBASEBALL defeated Folsom Lake 6-1 and 14-3 to advance to the next round of the NorCal playoffs. Here's a video of the Rams' dugout during a pitching change and Nick Sheehan's base hit that led to an RBI and two runs scored on an error. pic.twitter.com/GBIUREFVTW

— Anthony Galaviz (@agalaviz_TheBee) May 6, 2018
In addition to moving on to the second round of the playoffs, the Rams made their presence felt with the release of the All-Central Valley Conference baseball awards leading the pack with six All-Conference 1st team selections. Sophomore pitcher Noah Parsons, infielder Fernando Guevara, utility man Jacob Paradine, outfielders Nick Sheehan and Isaac Rivera, who was also chosen as a Gold Glove award recipient.
Designated Hitter Ian Ross was also selected for the All-Conference 1st team as well as selected as Freshman of the Year, finishing the season hitting .345 with three home runs and 35 RBIs. Along with Ross, freshman pitcher Daiveyon White was selected as CVC Pitcher of the Year, finishing his season with a record 6-4 with an ERA of 1.94 and 83 strikeouts.
Finally finishing with a unanimous decision, "Mr. 1K" Ron Scott was named CVC Coach of the Year leading his squad to a 30-13 overall record and 17-4 record in conference play while notching his 1,000 career victory this past season.
With their confidence riding high the Rams look to continue their success in the next round as they take on the No. 3 seeded Sacramento City at Sacramento in the Nor-Cal Super Regional series on May 11, 12 and 13 (if necessary).

About the Writer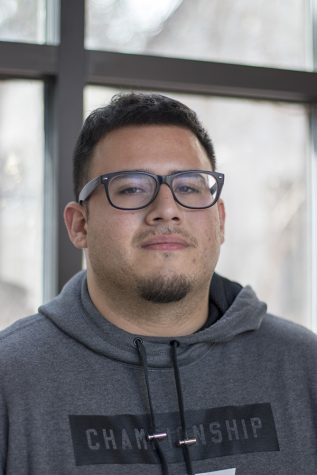 Anthony De Leon, Sports Editor
Anthony De Leon is a 23 year old 3rd year Fresno City College student and is starting his third semester writing for The Rampage and his second semester as Rampage sports editor. Becoming a Journalism student in 2014, Anthony has a passion for all things sports, music, and opinion. Born and raised in Fresno, his plan is to finish up his Associate Degree in both Journalism and Communications transfer over to Fresno State in the Spring of 2019. During his time at The Rampage he has covered numerous events including 2018 Grizzly Fest and the WBC world title fight between Jose Ramirez and Antonio Orozco.
Anthony has experience writing articles in music for his blog "Hip-Hop's Passin Me By," where he would write album reviews amongst other topics. In his spare time Anthony frequents music festivals which have included Coachella, Life is Beautiful, Hard Summer, and many others. Anthony has dabbled in amateur photography and has experience in that field. Anthony also received Honorable Mention in Sports Game Story at the Journalism Association of Community Colleges 2018 state competition. When not in the newsroom Anthony has had experience on the gridiron coaching football for both McLane and Sunnyside High School and with 4 years of coaching under his belt. Anthony's career aspirations include working for a major news organization and being a sports talk radio personality.