A Feeling of Fear and Uncertainty: The Story of Anthony Stewart
The stereotypical image of a football player is an aggressive, animalistic and fearless person who is willing to do anything on game day.
However, sophomore wide receiver Anthony Stewart is anything but stereotypical. He started his last season at Fresno City College strong scoring a touchdown in the Rams season opener.
Originating from Chowchilla, Stewart is one of four children in a house that hinges on football as both of his younger brothers who all follow in their father's footsteps as he was a junior college product just like Anthony.
When interacting with Stewart the image portrayed by him is one of a person who is quite shy and very well spoken. Stewart is a liberal arts major whose goal outside of football is to eventually become an elementary school teacher.
"I get that I am shy a lot, I don't really talk much and I prefer from a far while checking my surroundings."
After taking the time to talk to Stewart you realize that even though he's a pivotal part of a young team he has the same fears and pressures that many face in their everyday life. These anxieties are a constant uphill struggle he fights with every day.
"My biggest fear is just letting my family down when it comes to football and school," explained Stewart. "There was a lot of pressure at first coming to City but now it has kind of subsided, but I still do not want to let them down."
And for those who see him on the field you see an energetic spark plug who is an integral part of the Ram's offense. Stewart feels that once he steps on the field his competition level goes through the roof.
"On the field I am a very competitive person, I like to go hard," said Stewart. "On the field it is just dominant whoever is in front of me."
Stewart spend his youth patterning his game after football talents like Reggie Bush and currently emulating Browns wide receiver Jarvis Landry.
"Reggie Bush use to be my favorite as a kid I wanted to be just like him and now I like Jarvis Landry he is a very good player."
Head coach Tony Caviglia has nothing but high praise for his returning wideout, who is entering into this season with a career stat line of 18 receptions, 280 yards and two touchdowns as a freshman.
"Anthony is a very skilled wide receiver who is a smooth runner and has great balance," said Caviglia. "We call him 'hybrid' because of his versatility."
That versatility showed last season also as Stewart double up on kickoff return duties which saw him have a return average of 24.1 yards per game average accumulating a total of 338 yards and one touchdown of 98 yards.
"He can play every skill position on the offense, which we might have him do this season, also include him on punt and kickoff returns," said Caviglia. "He is on course to have a great sophomore season."
The current coaching staff at FCC has made a great impact on the growth of Stewart both on and off the field.
"Their main focus is school they tell you to stay on the books and make sure that you are experienced in time management which involve very strict schedules," said Stewart. "And on the field they are hard on you and make sure that you get your stuff done, because if you do not they are going to let you know."
Stewart feels that the best piece of advice that he has received was from FCC wide receivers coach Keith Travis advising him to live in the moment.
"He says do not take anything for granted and remember that every inch matters," said Stewart. "And that any wrong step and any right step all matter."
With some buzz surrounding FCC's young roster Stewart has high aspirations for this team as he has now gone from shy, observant role player to de facto leader due to seniority alongside sophomore wideout Malik White and sophomore linebacker Marcus Hawkins.
"We have a lot of young dudes, but I think they are hungry and we have the talent to be great," said Stewart.
As of right now Stewart has not hear back from many universities on the recruiting front, but still has high hopes that the offers start coming in as the season progresses. Stewart feels as though his grades may be the cause for concern for the lack of interest and hopes to turn the tide in that area.
"I have not heard back from anyone and I think it is because of the grades aspect," explained Stewart. "I kind of struggle there and I can get lazy when it comes to the school work sometimes."
Luckily for Stewart he has a support systems of coaches, family and significant other who help he steer the course and stay on him when it comes to hitting the books.
Stewart still has dreams of playing at the division one level and has San Diego State and Arizona State on the short list of schools he dreams of playing for.
There is always a bit of uncertainty on the way a season will play out, but if Stewart has his way he wants his legacy at FCC to be one that has his name etched in record books and seen as a go to guy for his coaches and teammates.
"I just want to break records this year and then I want to be a go to guy and an example for the new guys coming in," said Stewart.
Stewart relishes the fact that he was able to play football at this level and laments the fact that on day it will all come to an end, but the everlasting memories of teammates and cherished victories will stand out with him for years to come.
"Definitely going to miss the teammates because I got really close with a lot of the players on and off the field and for sure the coaching staff at FCC."
About the Writer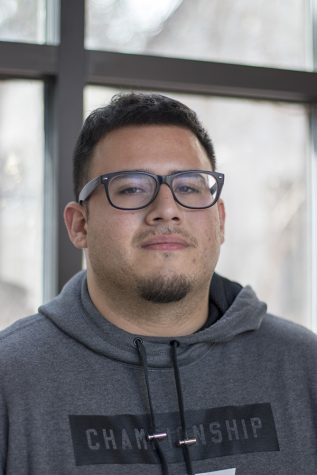 Anthony De Leon, Sports Editor
Anthony De Leon is a 23 year old 3rd year Fresno City College student and is starting his third semester writing for The Rampage and his second semester...