Rams battle for victory in Season Finale
Fresno City College women's basketball finished the season with a hard fought 71-60 victory in their season finale against Merced College.
After Merced taking two of the last three meetings, a hard fought victory a win felt good for the Rams, including guard Julia Cuellar who finished with 10 points, but her greatest contribution came on defense and in the clutch late minutes.
"It felt really nice to be able to come back and fight through adversity, and shows we have some spunk and the ability to go where we want to get to," said Cuellar
Both teams wasted no time out of the gate playing at an extremely fast pace. In the first quarter both teams were scoring at a neck wrenching speed matching each other blow for blow. Neither team wanted to let the other gain the upper hand which led to the quarter ending Merced having a slight lead of 23-20.
The second quarter was more of the same when it came to the pace of the game. Although both teams saw a dip in scoring outputs they were still able to match shot for shot and in a game where both teams were waiting for the other to make the first mistake Merced went into half with a slight three point led.
The Rams' offense was spearheaded in the second half by guard Bria Fernandes who finished the game as the leading scorer with 19 points, four of which came from behind the arc and Jasmine Phoolka who also scored in double digits finishing with 16 points.
Coming out of the half the game was neck and neck until around the 3:05 mark of the 3rd quarter where FCC scored eight consecutive points. The run started with a 3-pointer and lay-up after taking advantage of sloppy inbounding from Merced. And finally another three that seemed to take the confidence right out of Merced and momentum started to shift.
With the crowd growing increasingly louder the Rams took a double digit lead into the half with the score being 62-51, but most importantly they had the momentum behind them and there was no turning back.
Merced had no answer for FCC in the fourth the game was well in hand despite a late run by Merced to close out the game. The Rams played the last 10 minutes with a confidence level that will surely help them succeed in postseason play.
"Confidence is really high and we have the pieces that we need to be successful," stated Cuellar. "So if we keep working our hardest and do what coach tells us we'll be fine."
About the Contributors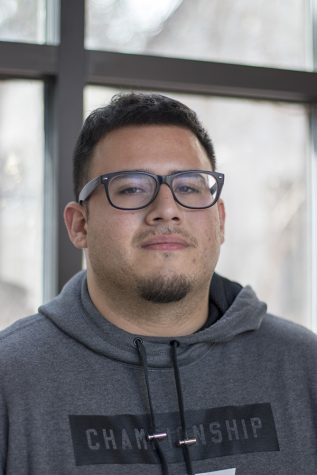 Anthony De Leon, Sports Editor
Anthony De Leon is a 23 year old 3rd year Fresno City College student and is starting his third semester writing for The Rampage and his second semester...