It's NOT Always Sunny in Philadelphia
Hang on for a minute...we're trying to find some more stories you might like.
If there was ever a moment since the advent of "The Purge" trilogy becoming a reality, it would have to be around 11 p.m. in Philadelphia, Pennsylvania on Super Bowl Sunday 2018. Streets were filled with what police estimate as "around 100,000" Eagles fans who were looking to create total chaos and anarchy all in the name of "celebration."
Before the Super Bowl, the prediction of a Patriots repeat may have been off the mark, but the prediction of all-out debauchery by the Philly faithful if the Eagles were victorious was Nostradamus-like.
All eyes were on Philadelphia to see how the fans were going to react and how they were going to take the internet by storm. The craziness did not disappoint.
While the streets of Philly were filled with the huddled masses of a championship-depraved city that decided to release all inhibition and burn their city down, a question arose — can the actions of a fan base go too far?
Post Super Bowl social media was set ablaze, no pun intended, with video of fires around the city alongside the action of petty looting and pole climbing. Poles that were greased beforehand with industrial strength hydraulic grease that would supposedly make it near impossible to climb had no effect on the Philly faithful.
There were scenes of cars being overturned and businesses being looted for the sake of fun with Meek Mill serving as the soundtrack of their night. The day went from a dream to a complete nightmare where, if the fans wanted to, they could have freed Meek from prison themselves.
But instead, chants of "Fly Eagles Fly" and "Free Meek Mill" rung in the air, showcasing the actions of a fan base who told a different narrative to onlookers. It may confuse many as to why citizens of a city they cheer for would cost that same city tens of thousands of dollars in property damage, leaving the city in ruins.
Does the end of the longest championship drought for every major sports city justify the actions seen Sunday night?
As a sports fan, there should be a limit most are willing to go to in "celebration" of your favorite team, no matter how many lifetimes you have been waiting to say that your franchise are world champs.
The passion that is seen in the actions of football fans seem to dwarf those of basketball and baseball fan bases when it comes to pregame tailgates and post game celebrations. Even when it comes to championship wins in those sports, there are rarely cases of anarchy such as was seen on Sunday.
The thought process of most Philly fans was one of justification with the help of inebriation. This was exemplified tenfold when beloved comedian and Philadelphia born Kevin Hart was rejected on national television from walking on the podium during the Lombardi Trophy presentation.
Hart was quoted as saying, "When alcohol is in your system, you do dumb stuff."
And if that was not the rallying cry of the Eagles fans with more than the legal limit of alcohol in their system, the city would not have to clean the 56 years in the making mess left Monday morning.
The city will be hosting an official Super Bowl victory parade on Thursday where an estimated two million people will attend, nearly doubling the attendance of the 2008 World Series parade for the Phillies.
Let us hope for the sake of all small businesses in a 10 mile radius of the parade that fans keep things civil and do not turn another joyous occasion into a scene from "Lord of the Flies."

About the Writer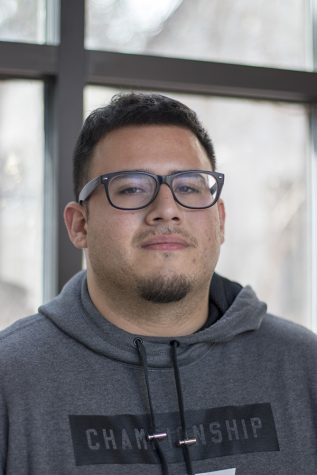 Anthony De Leon, Sports Editor
Anthony De Leon is a 23 year old 3rd year Fresno City College student and is starting his third semester writing for The Rampage and his second semester...