Copa Combate Ends Tournament with Thrilling Knock-Out Finale, Although Promotion has Room for Improvement
The Combates Americas held their second annual "Copa Combate" tournament which pitted eight fighters against each other vying for three professional wins, 100,000 dollars and a gaudy golden trophy at the Save Mart Center on Friday, Dec 7.
Comabates America is the brain child of former co-founder of the Ultimate Fighting Championship Campbell McLaren and has former World Wrestling Entertainment champion Alberto Rodriguez, aka Alberto Del Rio, as investor/ambassador making themselves the first Hispanic MMA sport and media franchise.
Friday's action saw representatives for eight different countries face off in an early UFC/Pride FC style tournament split into two different groups.
Group A matchups included fighters: Pablo "El Gallo" Villaseca (Chile) vs. Daniel Requeijo (Spain) and Bruno "Aquiles" Cannetti (Argentina) vs. Joey Ruqeut (Puerto Rico).
Group B matchups included fighters: Alejandro "Gallito" Flores (Mexico) vs. John Bedoya (Colombia) and Andres "Bullet" Quintana (USA) vs. Marlon Gonzales (Peru).
The first round matchups of the tournament were a mixed bag of decisions, submissions and knockouts due to the ultimately the formatting of the tournament which saw the first round matchups were schedule for one five-minute round .
Even though the five-minute round is implemented for fighters to aggressively go at one another in order to have a definitive winner, when the fights end up going to judge's decisions there is not a enough time to clearly state who was the victor.
Ultimately the formatting back fired as there was not enough time for fighters to give an entertaining bout to the fans, while also giving a highly skilled MMA bout that could be scored accordingly without having a winner by default and lack of analysis.
This misstep led to boos raining down from the crowd calling for more action in the cage and a visibly agitate McLaren wanting more action from the fighters leading him to at one point indicate to press row not to write about the lack of action from the first bout.
Copa Quarterfinals
Villaseca (14-3-0) defeated Requeijo (14-6-0) via decision (10-9, 10-9, 9-10)
Cannetti (7-5-3) defeated Ruquet (6-1-0) via knockout at 1:32 of round 1
Flores (13-1-0) defeated Bedoya (6-0-1) via submission (D'arce choke) at 3:03 of round 1
Quintana (15-2-0) defeated Gonzalez (14-3-2) via unanimous decision (10-9, 10-9, 10-9)
The semifinals of the "Copa Combate" tournament were more of the same, even though the format was now changed three three-minute rounds for each fight.
The Villaseca/Flores bout saw two fighters give more time to feel each one another out properly, although both fighters seemed to be unwilling to go on the offensive leading to the first two rounds being filled with front kicks and body shot being thrown sparsely.
Toward the end of the 3rd round the action picked up between the fighters, but very minimally as the hardest shot of the bout was a groin shot from Flores and a failed takedown attempt from Flores almost leading to a guillotine from Villaseca as the bell sounded.
Crowd favorite Flores moves on to the finals after connecting just enough shots on Villaseca, while giving a decent amount of effort to give himself the unanimous decision.
The next saw a lot more action from both Quintana and Cannetti with both fighters on the offensive including a knockdown from Cannetti leaving Quintana stunned from a straight cross after being set up with leg kicks.
Although all that was undone as the finish of the fight was marred in controversy as Quintana knocked down Cannetti with a good shot, but not a knockout shot by any means and as he followed that knockdown with a few punches as Cannetti sprawling on the ground to gain control of Quintana's leg the fight was called by the referee.
This lead to a chorus of boos from the fans and even Cannetti's corner having to be removed from cage side as they were outraged by the decision to end the match early on what could be seen as a questionable stoppage.
Despite chants from the fans the replay of the finish was smartly omitted from the big screens throughout the arena causing the once cheered Quintana to become jeered by the crowd as a result of the finish.
Copa Semifinals
Flores (14-1-0) defeated Villaseca (15-3-0) via unanimous decision (30-27, 30-27, 29-28)
Quintana (16-2-0) defeated Cannetti (8-5-3) via "TKO" at 2:05 of round 1
Despite all the setbacks in the night the finale of the "Copa Combate" was perfectly set up between both the American representative Quintana and the Mexican representative Flores who each had the adulation of the Fresno crowd and even after two previous bouts in the night both fighter put on a show.
Both fighters held nothing back from the start of the bell trading blows in the first round of the finals and towards the end of the round Quintana was dazed by a few punches from Flores leading to him being up against the cage.
And as the round neared a close, out of pure animalistic behavior due to having his back against the cage Quintana threw a vicious spinning back elbow connecting on Flores knocking him to the ground and following up the brutal elbow with right hooks and a couple of hammer fists to the face resulting in the knockout of Flores.
Copa Finals
Quintana (17-2-0) defeated Flores (15-1-0) via knockout 2:49 of round 1
Copa Combate Featherweight (145 lbs.) Tournament Fight Alternates
Gustavo López (8-4-0) defeated Vicente Márquez (4-5-0) via verbal submission (Von Flue choke) at 0:50 of round 1
Pablo Sabori (8-5-0) defeated Michael Irizarry via decision (10-9, 10-9, 10-9)
Local Preliminary and Featured Results
Corina Herrera (3-4-1) defeated Maria Paulina Buzaglo (1-0-0) via submission (guillotine) at 4:01 of round 2
Paul Elizondo (1-0-0) defeated Nathan Napolitano (0-0-0) via submission (rear naked choke) at 3:52 of round 2
James Porter (0-0-0) defeated Albert "Big Al" Gonzalez (0-0-0) via unanimous decision (30-26, 30-25, 30-25)
About the Contributors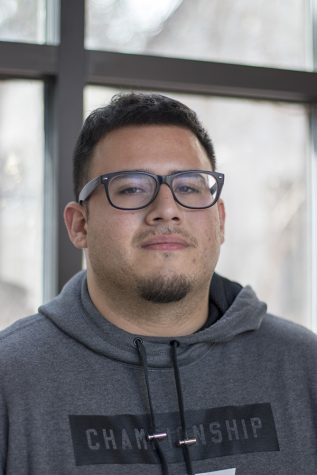 Anthony De Leon, Sports Editor
Anthony De Leon is a 23 year old 3rd year Fresno City College student and is starting his third semester writing for The Rampage and his second semester...