Rams Finish off Lowly Falcons for Series Sweep
Hang on for a minute...we're trying to find some more stories you might like.
Fresno City College men's baseball team (22-11) were looking to sweep West Hills Coalinga (1-25) in the final game of a three game series on April 14. The final game was more of the same for Rams' baseball by continuing their scoring onslaught defeating West Hills 7-3.
After scoring a total of 28 runs in the first two outings, FCC wasted no time getting to West Hills' pitcher Gehrig Taylor earlier in the bottom of the first by getting on base with numerous singles.
While on base, the Rams baserunners' game plan was to test the arm strength of the West Hills' catcher, being able to steal second four times in the first, having three of those stolen bases materialize into runs. First baseman Rickie Garcia got the scoring started by bringing home second baseman Fernando Guevara with a single.
A few batters later, after drawing a walk, left fielder Nick Sheehan came around to score with the help of right fielder Chet Allison with an RBI single. Allison then proceeded to steal second and score on an RBI single himself off the bat of third baseman Jacob Paradine.
On the mound for the Rams was left-hander Zac Whitaker who was looking to improve his record to 4-3 after coming off a loss in his last start against Reedley College.
Whitaker found himself in trouble in the top of the second. After coming off a 1-2-3 first West Hills was able to get to Whitaker before he could settle down, bringing two runs across while allowing three hits. Whitaker was able to find his way out of a bases loaded situation by getting a force out to third.
With both squads adding a run in each half inning, the Rams were able to gain control of the game as Garcia added another RBI to his afternoon, finishing 3 for 5, with two RBI and Sheehan added another for good measure in the fourth.
After adding one more run in the seventh, the Rams' lead was too insurmountable for the lowly one-win Falcons, and the bats of the Rams are heating up just at the right time as they improve to (23-11). FCC now sits tied for first with College of the Sequoias in the Central Valley Conference with half a month left before the playoffs start.

About the Writer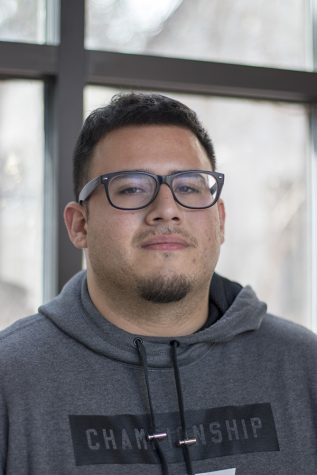 Anthony De Leon, Sports Editor
Anthony De Leon is a 23 year old 3rd year Fresno City College student and is starting his third semester writing for The Rampage and his second semester as Rampage sports editor. Becoming a Journalism student in 2014, Anthony has a passion for all things sports, music, and opinion. Born and raised in Fresno, his plan is to finish up his Associate Degree in both Journalism and Communications transfer over to Fresno State in the Spring of 2019. During his time at The Rampage he has covered numerous events including 2018 Grizzly Fest and the WBC world title fight between Jose Ramirez and Antonio Orozco.
Anthony has experience writing articles in music for his blog "Hip-Hop's Passin Me By," where he would write album reviews amongst other topics. In his spare time Anthony frequents music festivals which have included Coachella, Life is Beautiful, Hard Summer, and many others. Anthony has dabbled in amateur photography and has experience in that field. Anthony also received Honorable Mention in Sports Game Story at the Journalism Association of Community Colleges 2018 state competition. When not in the newsroom Anthony has had experience on the gridiron coaching football for both McLane and Sunnyside High School and with 4 years of coaching under his belt. Anthony's career aspirations include working for a major news organization and being a sports talk radio personality.