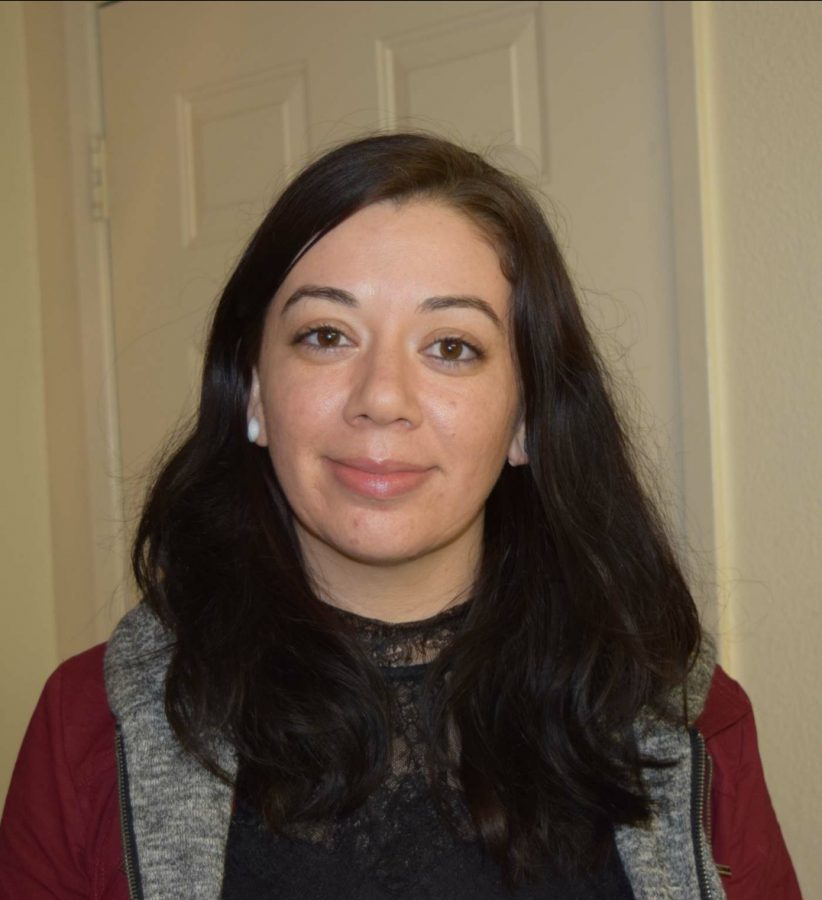 Ashleigh Panoo, 28, is in her fifth semester at The Rampage and her third semester as editor-in-chief. She also works part-time as a student writer at The Fresno Bee. Although originally from Caruthers, she now resides in Selma with her husband and 10-year-old son.
Ashleigh has always been interested in writing and is happy to have gotten the chance to write for The Rampage. It's taken her out of her comfort zone and into things she never thought she'd do.
She hopes to transfer to Fresno State soon to finish her bachelor's degree in media, communications and journalism, with an emphasis in print journalism.
Although she isn't allowed to have pets at her apartment, Ashleigh considers herself a cat person. It's not that she has anything against dogs; she just thinks cats are better in every single way.
She loves going to concerts and traveling around California. Ashleigh doesn't know what "spare time" is, but if she had any and was smart, she'd use it to sleep, and maybe to read more.
Follow Ashleigh on Twitter @ashleighpan
Ashleigh Panoo, Editor-in-Chief
May 03, 2018

Buzzfeed Brings 'More Than Tacos and Chanclas' to Fresno City College

(Story)

Apr 18, 2018

Professor Set to Headline LitHop Pulls Out Amid Twitter Controversy

(Story)

Apr 18, 2018

Ampersand to Feature Creations by Culinary Students

(Story)

Mar 20, 2018

Man Pulls Gun on Students in Parking Lot

(Story)

Jan 24, 2018

Mother of Carole Goldsmith was Creative; an Entrepreneur

(Story)

Jan 23, 2018

Woman Robbed at Gunpoint Near Campus

(Story)

Nov 29, 2017

Ram Pantry Opens Its Doors in New Space

(Story)

Nov 22, 2017

Woman Allegedly Dragged Into Car and Sexually Assaulted on Campus

(Story)

Nov 08, 2017

Part of Parking Lot D is Fenced Off. Here's Why

(Story)

Oct 25, 2017

Water Leak Affects South End of Campus

(Story)

Oct 25, 2017

FCC Earns Top Spot for Increase in Transfer Degrees

(Story)

Oct 25, 2017

California College Promise Offers Free College to First-Time Students

(Story)

Oct 24, 2017

Former Rampage Editor Launches Poetry Book

(Story)

Oct 11, 2017

Student Trustee — Determined to Soldier On, Despite Immigration Status

(Story)

Sep 25, 2017

Don't Have the DACA Renewal Fee? Scholarships Are Available

(Story)

Sep 20, 2017

Undocumented Immigrants: 'We Are Not Bargaining for Our Families'

(Story)

Sep 13, 2017

FCC Community Vows to Stand by DACA Recipients

(Story)

Sep 05, 2017

College Offers Support as Dreamers Wonder if They'll Have to 'Give up School'

(Story)

Aug 27, 2017

Student Appreciation Week is Back with Dutch Bros, Free Food

(Story)

Aug 26, 2017

'It Takes the Action of Ordinary People,' History Instructor says at Anti-Hate Rally

(Story)

Aug 25, 2017

After Winning Supreme Court Case, The Slants are Returning to Fresno City College

(Story)

Apr 05, 2017

Rampage Wins at State Competition

(Story)

Mar 22, 2017

Dance-Rock Band The Slants to perform in OAB

(Story)

Mar 19, 2017

Q97 Hosts Talent Show

(Story)

Mar 08, 2017

Controversy Surrounds District's Solar Project

(Story)

Mar 01, 2017

President Goldsmith to hold open forum on March 2

(Story)

Feb 22, 2017

'Brown Girl Noise' Celebrates Life of Mia Barraza Martinez

(Story)

Feb 21, 2017

Pitch Competition Offers Chance to Win $1,500

(Story)

Feb 21, 2017

Free Dental Care for Kids at FCC

(Story)

Feb 21, 2017

District Gets $1.5 Million for Central Valley Promise

(Story)

Feb 17, 2017

Injured Woman Dies near FCC

(Story)

Feb 07, 2017

Black History to be Celebrated through Song

(Story)

Jan 21, 2017

College to Offer Free Food, Chances for Selfies during Student Appreciation Week

(Story)

Jan 13, 2017

Goldsmith, Payne Attend MLK ceremony in downtown Fresno

(Story)

Dec 15, 2016

Former Fresno County Sheriff's Captain Selected as New SCCCD Police Chief

(Story)

Dec 12, 2016

The Revival of Ruby Red

(Story)

Nov 30, 2016

Educational Leaders Ask Trump to Protect DACA

(Story)

Nov 30, 2016

Outgoing Music Instructor Dedicates Last Concert to Colleagues, Students

(Story)

Nov 11, 2016

Fresno protesters reject Dakota Access Pipeline

(Story)

Nov 04, 2016

District Enacts College Promise to Incoming Students

(Story)

Oct 26, 2016

DevFest Brought Together Google and Tech Enthusiasts

(Story/Media)

Oct 26, 2016

Fall Carnival Provides Safe Alternative to Trick-or-Treating

(Story)

Oct 25, 2016

Canvas Training, Familiarity Growing Ahead of Spring Transition

(Story/Media)

Oct 12, 2016

Unity Walk Marks 100th Anniversary of OAB

(Story)

Sep 27, 2016

Clinton's Health Policy Will Reduce Stigma Surrounding Mental Health

(Story)

Sep 14, 2016

New ASG President Wants to Bridge Gap between ASG and Students

(Story)

Aug 29, 2016

New Interim Police Chief Shares Hiring Goals for Semester

(Story/Media)

Aug 28, 2016

'Pokémon Go' Class Scheduled for Mid-semester

(Story)

May 16, 2016

Juggling School, Work and Parenting — the Making of the New Super Woman

(Story)

May 02, 2016

Student Gets Rare Chance to Interview President Obama

(Story)

Apr 28, 2016

FCC Announces End-of-Year Ceremony Details

(Story)

Apr 25, 2016

Student Art Show runs through May 11

(Story)

Apr 19, 2016

Man and Best Friend Become Big Hits on Campus

(Story)

Mar 24, 2016

New LGBTQ club aims to 'shake things up' at Fresno City College

(Story/Media)

Mar 14, 2016

Summer and fall registration opens soon. Are you ready?

(Story)

Mar 09, 2016

SCCCD Bond Measure to Be on June 7 Ballot

(Media)

Feb 23, 2016

Students Urged to take Advantage of Clubs

(Story)

Feb 23, 2016

Am I A parent? Am I a student? The struggle of being both

(Story)

Feb 10, 2016

Youthbuild Movement Gives Second Chances

(Story)

Jan 27, 2016

Freshmen Give First Impressions of College Life

(Story)