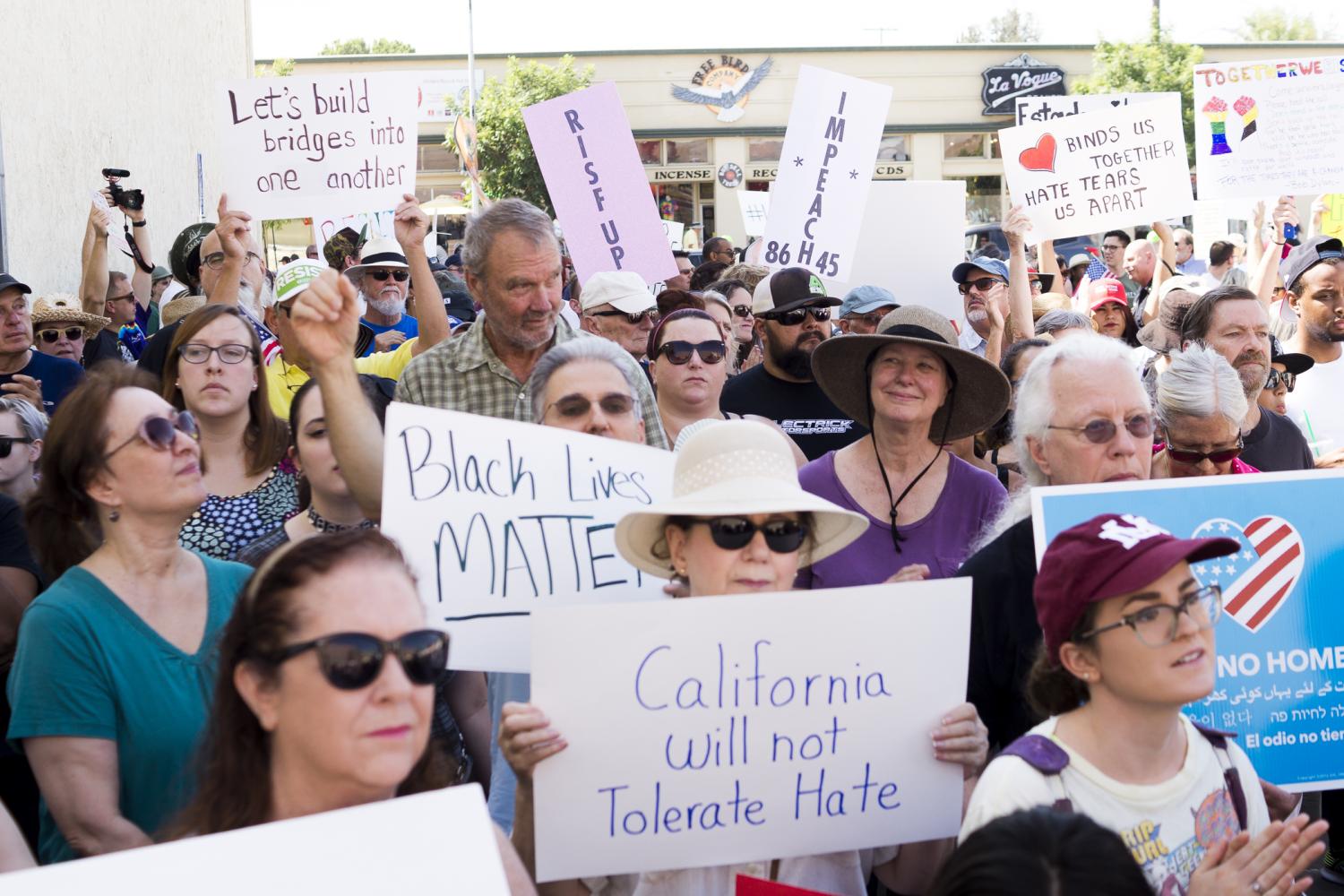 Photo by: Ram Reyes
'It Takes the Action of Ordinary People,' History Instructor says at Anti-Hate Rally
August 26, 2017
A few hundred people, including Fresno City College president Carole Goldsmith, turned out for the "Counter Rally Against Hate" event in the Tower District on Aug. 26.
Amid heavy police presence, the crowd held signs on the corner of Wishon and Olive avenues, cheering and chanting slogans like, "No KKK, no fascist U.S.A!"
Although borne from the violent "Unite the Right" rally and counter protests that took place in Charlottesville Va. Aug. 12, the Fresno rally remained peaceful Saturday morning.
Through the early-morning heat, several people gave anti-hate speeches or read poems, including Assemblyman Joaquin Arambula and representatives from the Dolores Huerta Foundation and the Central Valley Progressive Political Action Committee.
Goldsmith said it made her proud to see students and faculty among the crowd.  "When people start to educate themselves about all the issues about our history, I think it can transform people," she said. "As an educator, it's my job to continually find common ground to stand in the eye of the hurricane."
FCC music instructors Julie and Mike Dana were among those at the rally. Mike Dana held a sign as the two listened to speakers. History instructor Paul Gilmore also attended with his wife.
Gilmore said by teaching history, he sees how the social climate in the nation is mirroring the past. "My own view of history pretty much shows me that you have to stand up to hate when you see it," Gilmore said. "If things are gonna change, people have to make them change."
He said events from the past show how people have "fought to make the world a better place, how the powers that be tried to keep them from doing it [and] how it takes the action of ordinary people to transform their world. That shows up all the time in history class," Gilmore said. "It's how things change a lot of the time. Not so much top down, but bottom up."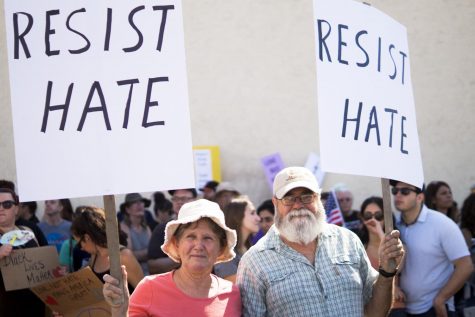 Fresno police chief Jerry Dyer mingled with attendees, and officers posed for photos during the rally.
Dyer said the department was involved in the planning process for the rally, and his presence was to ensure nothing went awry. Barricades were set in place around the rally in hopes of preventing something like what happened in Charlottesville, where a woman was killed and 19 were hurt after a man allegedly drove his car into a crowd of counter-protesters.
"We want to keep a buffer zone in case any counter-protesters came," Dyer said, "but it also serves as a deterrent and protects the crowd in the event that someone, for whatever reason, intentionally or accidentally drove into this crowd."
Police monitored hate groups before the event, but had seen no evidence of any plans to attend. "But sometimes they operate off the radar and we're not aware until they show up," Dyer said. Despite slight concerns, no counter-protesters showed up Saturday.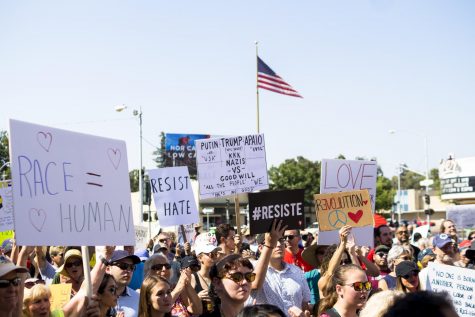 In San Francisco and Berkeley, right-wing rallies scheduled to take place the same weekend were canceled after organizers feared it wasn't safe for attendees, according to the Los Angeles Times. Despite this, large crowds in both cities still took to the streets, rallying and marching against white supremacy.
In Fresno, "Counter Rally Against Hate" organizer Simone Cranston-Rhodes said she believes the right-wing rallies were canceled because of people like herself.
"The many people who have worked hard to organize rallies to let white supremacist[s] know they are not welcome here have paid off," Cranston-Rhodes said in a Facebook post. "I'm so proud of Fresno for stepping up for peace, love and unity."