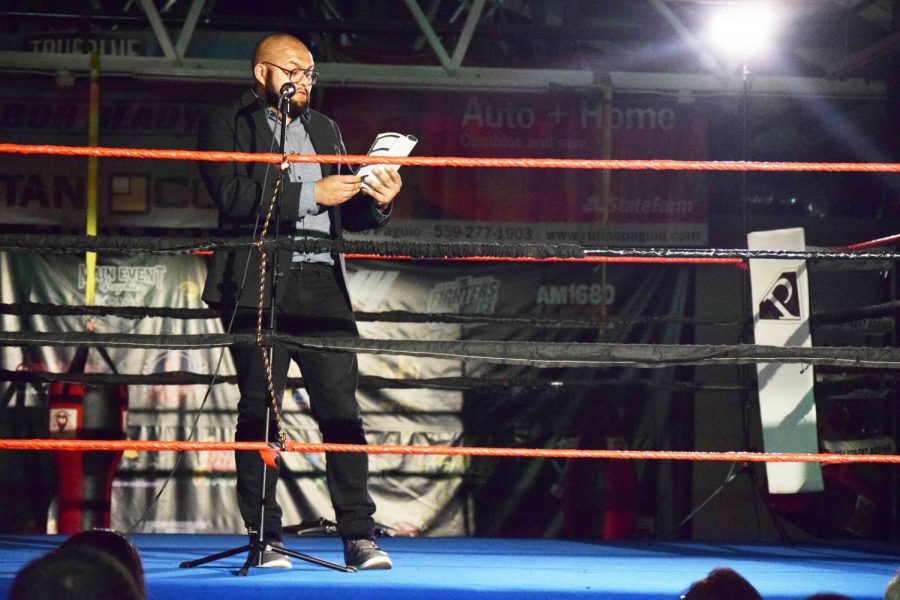 Former Rampage Editor Launches Poetry Book
October 24, 2017
Joseph Rios, a former Rampage editor-in-chief and Fresno City College student, returned to Fresno Oct. 19 for a poetry reading, launching his first book, "Shadowboxing: Poems and Impersonations."
The unique reading took place inside a ring at the Heartbeat Boxing gym in southeast Fresno. Dozens of people gathered to hear Rios, as well as six other poets, including FCC instructors Marisol Baca, Juan Luis Guzmán and Lee Herrick, read.
Rios attended Fresno City College from 2005 to 2010 and went on to graduate from UC Berkeley.
The Clovis native, who now lives in LA, spent some of his day back at Fresno City College, where he visited Herrick's creative poetry class. Rios said he was first introduced to Fresno poetry when he was writing a story for The Rampage in 2008 that led him to Herrick.
"[Herrick] sent me over this list of all the readers that were going to be included in the journal [he was covering], and it became this sort of who's who of California poets," Rios said. "It was the first time I really read poetry intensely that was from Fresno; that was from the valley."
Rios then went to the downtown library and started pulling books off the shelves with all the names Herrick gave him. "It kind of set me off on this long journey," he explained.
"Shadowboxing" follows Josefo, a Chicano adolescent growing up in the San Joaquin Valley, and borrows language from the "Rocky" films, which influenced Rios as a kid.
Rios remembers acting out his writings in the fourth grade and enjoying people's reactions.
"When I was a little kid, my grandpa bought one of those shoulder cameras with the VHS tapes," he laughed. "They would record me doing all the SNL skits and I would stand there and do all the voices."
Since graduating from Berkeley, Rios has juggled odd jobs, but, through that, always found time to write.
"I was always trying to find a gig that would allow me at the time to write, or leave, or take off, or do anything."
Poets who stepped into the boxing ring during the event all congratulated Rios, who said the book was written over several years.
"It feels like so long ago," Rios said. "It's been a long run."