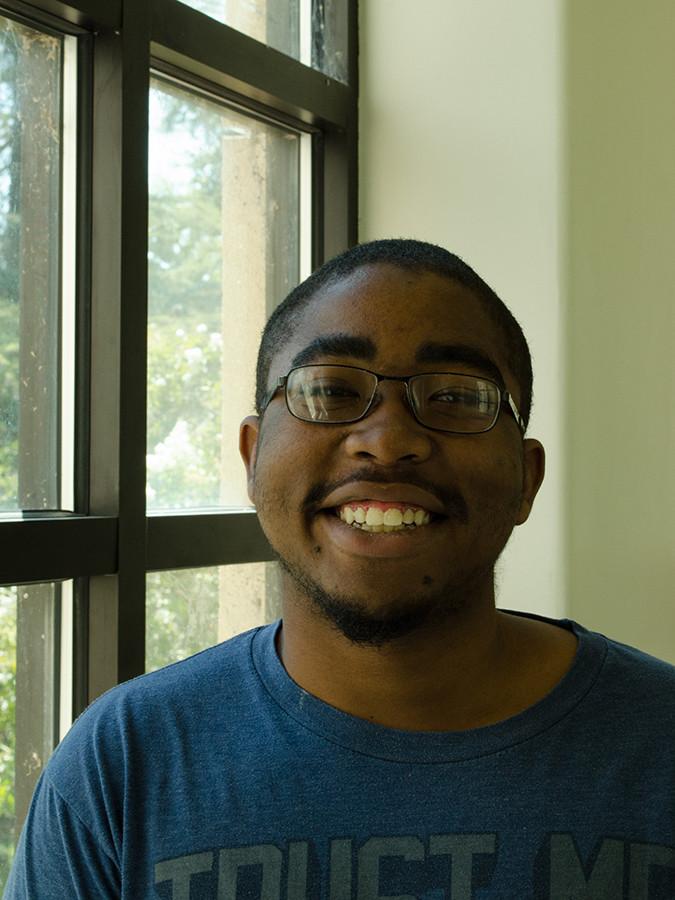 Follow @forrestp8
Patrick is in his fifth semester at Fresno City College and at the Rampage. He was born Feb. 5, 1994 and raised in Chicago his entire life until moving out to Fresno just before starting college.
He has begun to enjoy California since being out here, but is still very often looking for new things to do or see.
With his wide array of interest you can find him talking about anything including movies, politics, sports, comic books and almost everything in between.
He has also been attempting to spread his wings as a storyteller by writing scripts, so if you have an idea for he would love to hear it.
Patrick Forrest, Reporter
May 23, 2016

Bill Clinton visits Fresno to campaign for wife's presidential bid

(Media)

May 16, 2016

'Mr. President': A Day at The White House

(Story)

Feb 10, 2016

FCC Alumna Opens Photo Studio in Downtown Fresno

(Story)

Jan 27, 2016

Sykes looks to the future

(Media)

Dec 10, 2015

Hundreds Receive Holiday Meals, Gifts

(Media)

Nov 18, 2015

Letter to the editor: ISIS and Terrorism

(Story)

Oct 22, 2015

Rossi and Carter Connect for First Conference Win

(Media)

Oct 07, 2015

Ed Lund, Curator of Art Gallery, Dies

(Media)

Oct 07, 2015

"Detroit" Handles Tough Issues: Director Chuck Erven on FCC play

(Media)

Sep 22, 2015

Recent Assault Raises Safety Concerns

(Story)

Sep 19, 2015

Rams Lose Battle of Rams

(Media)

May 14, 2015

Forums to Start Search for Permanent President, Chancellor

(Story)

May 14, 2015

Tony Cantu Memorial Scholarship Fund Meets Target of $20,000

(Story)

May 06, 2015

Dr. Cynthia Azari Named Interim President of Fresno City College

(Story)

Apr 30, 2015

Chancellor Forums in May

(Story)

Apr 30, 2015

ASG ELECTIONS LACK CANDIDATES, DRAMA

(Story)

Apr 23, 2015

Ice Cream Social benefits scholarship fund for former FCC president

(Story/Media)

Apr 23, 2015

FCC Instructor Holds Sexual Assault and Rape Survey on Campus

(Media)

Apr 20, 2015

FCC'S Zombie Survival Speech

(Story)

Apr 20, 2015

Clerk Alleges Cover-up of Funds Missing in Student Activities Office

(Story)

Mar 19, 2015

Questionable Police Practices Cast Shadows on America's Greatness

(Story)

Mar 19, 2015

Doin' Time at Strummer's: Tribute band shows Fresno how Long Beach reggae ska is done

(Media)

Mar 19, 2015

President Pursues Higher Education Reform

(Story)

Mar 19, 2015

ASG Elections Set to Start

(Story)

Mar 05, 2015

Plight of Adjunct Faculty Exposed

(Story)

Mar 05, 2015

Sexual Assault Rules Changed to Meet Federal Guidelines

(Story)

Feb 18, 2015

What Black History Month?

(Story)

Feb 18, 2015

Trustee Punishment Revealed

(Story)

Feb 04, 2015

Students Unaware of Health Benefits

(Story)

Jan 18, 2015

Candlelight vigil remembers King, Kimber [PHOTOS] [VIDEO]

(Story)

Dec 17, 2014

Board Approves Parking Fee, Fine Increase

(Story)

Dec 04, 2014

Caught in the Quagmire of Immigration Politics — Victims, Heroes and the Fight for Survival

(Story)

Dec 04, 2014

Board of Trustees to Consider Increase in Parking Fees and Fines

(Story)

Dec 04, 2014

District Says Farewell to Long-serving Trustee, Dorothy Smith

(Story)

Nov 19, 2014

AB540 Summit Explores Ways to Assist Undocumented Students

(Story)

Nov 18, 2014

Yokuts Plaza Monument Unveiled at FCC [PHOTOS]

(Story)

Nov 11, 2014

Smith, Barreras Lose Trustee Seats

(Story)

Nov 04, 2014

Payne Committee Appointed

(Story)

Oct 15, 2014

Trustee Under Fire

(Story)

Oct 03, 2014

Crime Alerts result in fewer crimes on campus

(Story)

Sep 17, 2014

Students Come First?

(Story)

Sep 17, 2014

Mariachi, Folklorico, Fiesta (VIDEO)

(Story)

Sep 03, 2014

Associated Student Government sets semester goals!

(Story)

Aug 28, 2014

Police called to Financial Aid office

(Story)

May 14, 2014

Meet the new ASG president

(Story)

May 14, 2014
May 13, 2014

"Neighbors" Film Review

(Story)

Apr 30, 2014

Next level of self-expression

(Story)

Apr 02, 2014

Fortress of Fandom: Are Hollywood Adaptations Ruining Comic Book Movies?

(Story)

Apr 02, 2014

Take me to your leader

(Story)

Apr 02, 2014

Back to the future

(Story)

Apr 02, 2014

Garrett Lewis earning his stripes

(Story)

Apr 02, 2014

Should the U.S. legalize physician-assisted suicide? – PRO

(Story)

Mar 20, 2014

Sacramento-San Joaquin Valley Emergency Water Delivery Act still point of discussion

(Story)

Mar 06, 2014

Obama keeps his 'brothers' safe

(Story)

Feb 19, 2014

Is affirmative action fair? – Con

(Story)

Feb 19, 2014

Your friendly neighborhood … Fortress of Fandom

(Story)

Jan 13, 2014

UPDATED:FCC student struck by Amtrak, sustains leg injury

(Story)

Nov 27, 2013

Students take on 'Keller v. EA' in mock trial

(Story)

Nov 13, 2013

Club food drive to benefit Fresno Rescue Mission

(Story)

Oct 30, 2013

Safety forum advises 'Run. Hide. Fight.'

(Story)

Oct 30, 2013

Safety Q-and-A with Tony Cantu

(Story)

Oct 30, 2013

Make some friends, kids

(Story)

Oct 30, 2013

Is social media destroying our social life? – Con

(Story)

Oct 16, 2013

ASG senator fights for country and students: Former Marine balances duty and recreation in his hunger for success

(Story)

Oct 14, 2013

Shots fired on campus

(Story)

Oct 02, 2013

A swinging good time

(Story)

Oct 02, 2013

'Don Jon' is a sweet sensation

(Story)

Oct 02, 2013

ASG Begins Work on Establishing Smoking Areas

(Story)

Sep 23, 2013

PRO/Con: Have fast food companies gone too far with their menu options?

(Story)

Sep 11, 2013

Transfer Day: Helping students look to the future

(Story)

Sep 04, 2013

Jamie's Cockamamie Style

(Story)

Sep 04, 2013

New ASG looks to build framework for change

(Story)

Aug 09, 2013

Elysium disappoints

(Story)

May 24, 2013

The Wolfpack is Back

(Story)

May 08, 2013

Should you use summer break for relaxation? PRO/con

(Story)

May 08, 2013

Dean's Medallions chosen

(Story)

May 08, 2013

Top 10 summer blockbusters

(Story)

May 03, 2013

ASG election cycle comes to an end

(Story)

Apr 24, 2013

Navarro runs to shape future

(Story)

Apr 24, 2013

Should we sacrifice personal liberty for safety? pro/CON

(Story)

Apr 24, 2013

UPDATED: Regal halts 'Iron Man 3' ticket sales

(Story)

Apr 24, 2013

Gang of 8 tackles Immigration & DREAM Act

(Story)

Mar 15, 2013

The average Burt Wonderstone

(Story)

Mar 13, 2013

SCCC Foundation raises $120k at Safari Bash

(Story)

Mar 13, 2013

Muslim students reach out

(Story)

Mar 13, 2013

Softball team prospers in all aspects

(Story)

Feb 27, 2013

Is blogging an unreliable medium? pro/CON

(Story)

Jan 30, 2013

Does our culture overemphasize sports? PRO/con

(Story)

Jan 30, 2013

How to stay healthy during flu season

(Story)

Nov 15, 2012

Affirmative Action faces trial

(Story)

Nov 14, 2012

PRO/con: Should we celebrate Thanksgiving knowing what happened to the Native Americans?

(Story)

Nov 01, 2012

Proposition 35: Harsher penalties for human traffickers

(Story)

Nov 01, 2012

Proposition 32: Union busting initiative

(Story)

Oct 17, 2012

Muslim stereotypes hinder acceptance

(Story)

Oct 17, 2012

DREAM Act Opens Doors 'To Be Something More'

(Story)

Oct 17, 2012

Community College League President explains Prop 30

(Story)

Oct 03, 2012

Audiences thrown for a 'Loop'

(Story)

Sep 19, 2012

College readies recycling plans

(Story)

Sep 10, 2012

Cross country season kicks off at Woodward Park

(Story)

Sep 05, 2012

Athletic program earns national award

(Story)

Sep 05, 2012

Should the country enforce stricter gun control laws? PRO/con

(Story)