Meet the new ASG president
After an election cycle that pitted two current Associated Student Government senators against each other for the office of president, all 369 votes were counted and only eight votes separated Emily Haas from the winner and next semester's president: Daniel Melchor.
Q. Why did you join ASG?
A. It's just something that I have always loved to do, ever since high school. In high school I was involved with Junior representative class, I was the ASB vice president my junior year. I just … really like taking on leadership positions and putting myself in a position where I can best serve people, it's really the best place to be able to get things done for other students. And being new, it really helped me learn the campus. I got to learn a lot and helped a lot of people find their way around while I was with my high school ASB, and I was lost a lot when I first got to college, but once I joined ASG I started figuring out where the T Building is, where the Humanities Building is and stuff like that. But more than all I just really like helping people.
Q. Do you feel like you have gotten to help people?
A. I've tried my best. I'm really the type of person that is never really satisfied with what I do. I push, I'm too hard on myself. I've always tried to do as much as I could, whether that be covering office hours for someone who can't do it, or taking up bills when someone didn't want to or couldn't do it or even welcome week. So I would say I contributed what I could but of course I wish I could have done more.
Q. How do you find the time to do all of this stuff?
A. There's the triangle that everybody talks about that you have to balance: sleep, social life and homework. So my social life is out, that thing is gone. I try and have fun with what I'm doing, in the work. So it's taking away the social life, but I don't get a lot of sleep either.
Q. How do you have fun?
A. Fun is getting to meet new people, I always love meeting new people. People usually tell me that I am always smiling and I guess they're right because I am. But I really love talking to people and getting to know them, especially here at City. And especially older students, having them here is really nice because it gives younger students like myself someone right next to me who embodies that importance of an education and never giving up on it.
Q. What inspires you to do this stuff? Who is your hero?
A. My dad. I mean growing up the son of someone who came to a country with nothing but the clothes on his back and nothing in his pockets, working in the fields, earning documentation through the Reagan amnesty. I would say that I would like to help make my dad's efforts to make this family worthwhile.
About the Writer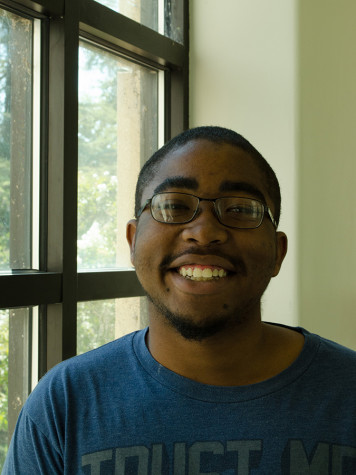 Patrick Forrest, Reporter
Follow @forrestp8
// Patrick is in his fifth semester at Fresno City College and at the Rampage. He was born Feb. 5, 1994 and raised in Chicago his entire...