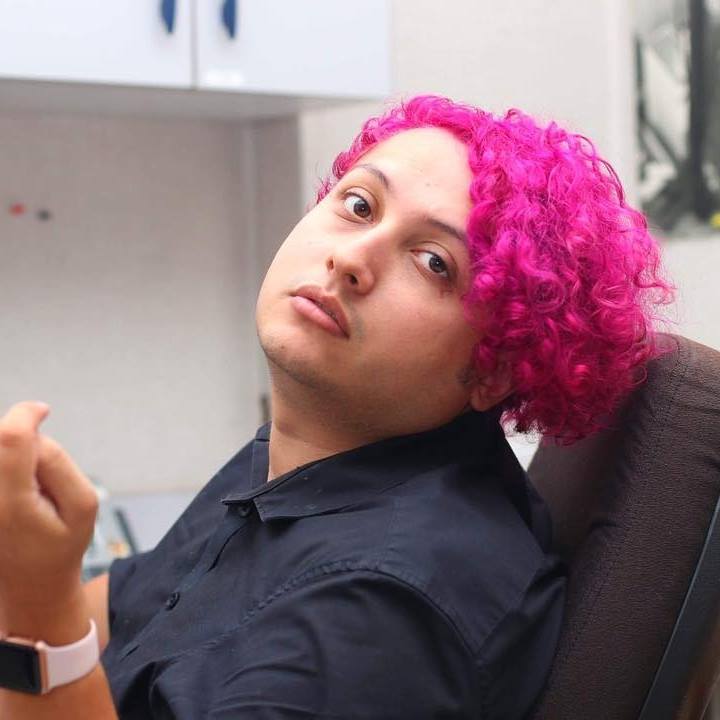 Tommy Tribble is the 25-year-old editor in chief of the Rampage, formerly the opinion editor. Tommy is an English major, a writer, an aspiring novelist, and a Capricorn. He's talented, or whatever, but mostly he's just tired.
Tommy's passion in life is storytelling. He always imagined that passion would take shape as the dragons and swords of fantasy novels, or the androids and supernovas of science fiction. He was shocked to discover that his career at Fresno City College would lead him to fulfill the dream in another way: documenting the lives and experiences of students. Journalism, pure and simple.
Tommy hopes his tenure as EIC will mean a Rampage that is queer, colorful, and welcoming to people of all kinds, especially the marginalized and the forgotten. He wants his legacy to be radical inclusivity.
So basically he's gonna wing it.
He has an orange cat named Sora, and he's working every day to buy him even nicer cat food and toys.
You can reach Tommy at
[email protected]
and on
Twitter
@tomiiwrites.
Tommy Tribble, Editor-in-Chief
May 19, 2020

Free COVID-19 Testing Up and Running in the Gym

(Story)

Mar 11, 2020

The Results: The California Primary is Decided and Matches Are Set For The November Election

(Media)

Nov 27, 2019

Dympna's Garden of Reporters

(Story)

Nov 18, 2019

Bernie Sanders' Political Revolution on the Veterans Lawn

(Story)

Nov 06, 2019

Living Undocumented

(Story)

Oct 02, 2019

Bernie Sanders Underwent Treatment for Blocked Artery, Cancels Appearances

(Story)

Sep 30, 2019
Sep 30, 2019

The Bookstore With No Books

(Media)

Sep 11, 2019
Sep 11, 2019

The Tea: The Darkness—Why We Report the Darkest Stories

(Story)

May 17, 2019

John Wick's Neon Bloodbath Is Just Like You Remember It

(Story)

Apr 11, 2019

Trustee Perea Plans for the Brightest Future

(Story/Media)

Apr 10, 2019

The Tea: On/Off the Record

(Story)

Apr 04, 2019

The Tea: Mistakes, Missteps and Retractions–How Journalists Correct the Record

(Story)

Mar 29, 2019

The Tea: How We Lead with the Lede

(Story)

Mar 09, 2019

Police Warn of 'Disruptive Individual,' Suspended from Campus

(Story)

Feb 13, 2019

Pushed Out? Facing Removal, ASG President Resigns

(Story)

Jan 18, 2019

FCC Teams Up With Kaiser Permanente for New Hybrid Health Courses

(Story)

Oct 11, 2018

Assemblymember Presents $1 Million Grant to FCC's CTE Program

(Story/Media)

Sep 30, 2018

Man Died by Apparent Suicide at McKinley and Blackstone

(Story)

Sep 08, 2018

Table Takes #12: Back-Back-Back-Back-Back Again

(Story)

Aug 29, 2018

Lack of Accommodation for Deaf Students, Faculty Takes Center Stage at Presidential Forum

(Story/Media)

Aug 29, 2018

John McCain, and the Failures of the Death Discourse Online

(Story)

Aug 15, 2018

Construction Activity on McKinley Avenue to Impact Bike and Pedestrian Traffic

(Story)

Aug 06, 2018

Table Takes #10: Spilling the Tea on Alex Jones, Sis

(Story)

Jul 18, 2018

Table Takes #08: The Podcast That Amazon Built

(Story)

Jul 09, 2018

Table Takes #07: #PlaneBae and the Plane Crash of Social Media feat. Paulina

(Story)

Jul 06, 2018

Women's Basketball Has a New Coach

(Story)

Jul 03, 2018

The First Purge is Subtle Like a Flying Brick

(Story)

Jul 02, 2018

Table Takes #06: It's Too Late to Ron Paulogize

(Story)

Jun 25, 2018

Table Takes #05: The Last Evangelion

(Story)

Jun 18, 2018

Table Takes #04: The Thicc One

(Story)

Jun 18, 2018

Seven Honorees Announced for FCC Football Wall of Fame

(Story)

Jun 04, 2018

Table Takes #02: Miss Me With That Asexual Erasure

(Story)

May 28, 2018

Table Takes #01: @ElonMusk What the F#%@ is Pravda?!

(Story)

May 28, 2018

Fresno High's Block Party Was an Eclectic Good Time

(Story/Media)

May 15, 2018

Stuck in Summer School? Here's Where the Food Trucks Are!

(Story)

Apr 20, 2018

LitHop Finds New Headliner

(Story)

Apr 18, 2018

Third Annual LitHop to Light up Tower District and FCC

(Story)

Apr 06, 2018

'Blockers' Brings Sincerity to a Cringy, Tired Premise

(Story)

Mar 21, 2018

Esmeralda Soria is Determined to Inspire

(Story)

Mar 14, 2018

'Tomb Raider' Clears Low Bars, Impresses No One

(Story)

Mar 09, 2018

Goldsmith Talks Budget, Design Science, Counseling Reform

(Story)

Mar 09, 2018

Accreditation Day Arrives Mostly According to Plan

(Story)

Mar 06, 2018

Common-Sense Gun Laws Are Not Enough

(Story)

Feb 21, 2018

Wakanda Forever: Black Panther Serves Something New

(Story)

Feb 14, 2018

Trump Takes Credit for Obama's Economy, Even as it Crumbles

(Story)

Feb 08, 2018

Weed is Legal in California, But What About on Campus?

(Story)

Jan 24, 2018

Are You a College Student Without Health Insurance? This Free Service Could Help

(Story)

Jan 23, 2018

Despite the Internet, Students Still Line up for Books

(Story)