Lack of Accommodation for Deaf Students, Faculty Takes Center Stage at Presidential Forum
The president of Fresno City College stood before an audience of mostly faculty, flanked by a pair of electronic tablets — a "technological solution" to the scarcity of sign language interpreters on campus — neither tablet worked.
The tablets were meant to live stream a sign language interpreter, who would translate Carole Goldsmith's words in real time, for the benefit of a deaf audience member. While a faint echo of Goldsmith's words could be heard from the tablets, no visuals were displayed.
"[The interpreter] didn't see a deaf person in the front row watching them, they thought their services were no longer needed and signed off," Goldsmith said. She wasn't aware of the interpreter's absence until Nancy, a deaf staff member, entered the forum.
It was more than 40 minutes into the forum, just as Goldsmith was discussing "Fresno's Mason-Dixon Line," an article published in the Atlantic about how the history of segregated communities and red lining still impacts marginalized communities in the city today.
"We play an important part in fixing things," Goldsmith said, and then paused. "Nancy?"
Nancy gestured helplessly. She appeared not to understand Goldsmith. "I notice it's not working," Goldsmith said. "Where's my person who can help with technology? Can you get them back on the line?"
"OK. We're going to take a pause. So we can get you ASL. Hold on."
A shortage of sign language interpreters is a common occurrence on campus. "We didn't have enough internal ASL interpreters to be here physically," Goldsmith said. Even reaching out to sister institutions proved unsuccessful.
The tablets were meant to correct for that local scarcity by connecting with a network of interpreters all over the U.S.
"What just happened happens often in our classrooms," Goldsmith said, when the forum resumed.
Goldsmith was joined by a counselor acting as a sign language interpreter. "It's not an easy fix, for lots of reasons," she said. "But I know Nancy and I are going to work together, along with some other folks to try to be able to fix this, because this is not OK."
Goldsmith thanked the counselor-turned-ASL interpreter, and the room filled with applause.
"It's not her day job, but she's up here," the president said. "So that's what collaboration is."
About the Contributor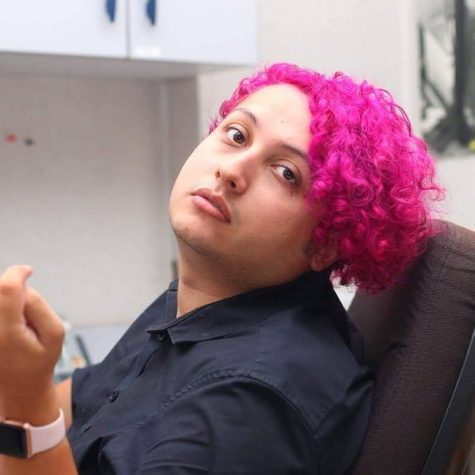 Tommy Tribble, Editor-in-Chief
Tommy Tribble is the 25-year-old editor in chief of the Rampage, formerly the opinion editor. Tommy is an English major, a writer, an aspiring novelist,...