Fresno High's Block Party Was an Eclectic Good Time
Hang on for a minute...we're trying to find some more stories you might like.
Blocking the street between the Ampersand ice cream shop and Fresno High was a market of local vendors and food trucks from all over Tower District, a local band, and some aerial silk artists for good measure on Memorial Day, May 28.
Fresno High's third annual block party started at 11 a.m. and hosted food trucks from Ampersand, Quesadilla Gorilla, Wafflicious, and an assortment of vendors selling everything from commemorative signage to t-shirts.
Block partygoers were greeted immediately with the sight of acrobats climbing suspended, white, twin fabrics. The performers posed and flipped their way through routines to light musical accompaniment.
Scats on the Sly performed a bumping jazzy scat-routine, even as an aerial silk performer danced and spun through the air.
It was a popular event drawing a sizeable crowd of people on a hot sunny day. There wasn't a lot of shade, apart from the visors over the food trucks, driving many people to find refuge–and lunch–in the nearby shops.

About the Contributor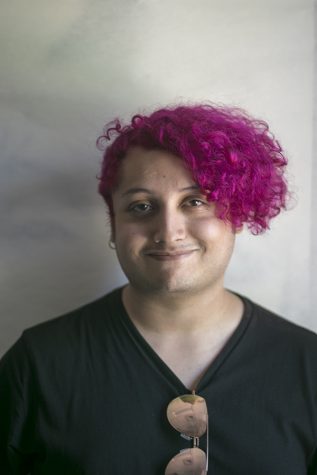 Tommy Tribble, Editor-in-Chief
Tommy Tribble is the 24-year-old editor-in-chief of The Rampage, formerly the opinion editor. Tommy is an English major, a writer, an aspiring novelist, and a Capricorn. He's talented, or whatever, but mostly he's just tired.
Tommy's passion in life is storytelling. He always imagined that passion would take shape as the dragons and swords of fantasy novels, or the androids and supernovas of science fiction. He was shocked to discover that his career at Fresno City College would lead him to fulfill the dream in another way: documenting the lives and experiences of students. Journalism, pure and simple.
Tommy hopes his tenure as EIC will mean a Rampage that is queer, colorful, and welcoming to people of all kinds, especially the marginalized and the forgotten. He wants his legacy to be radical inclusivity.
So basically he's gonna wing it.
He has an orange cat named Sora, and he's working every day to buy him even nicer cat food and toys, and one day an apartment of their own.
You can reach Tommy at [email protected] and on Twitter @tomiiwrites.