Fresno High's Block Party Was an Eclectic Good Time
Blocking the street between the Ampersand ice cream shop and Fresno High was a market of local vendors and food trucks from all over Tower District, a local band, and some aerial silk artists for good measure on Memorial Day, May 28.
Fresno High's third annual block party started at 11 a.m. and hosted food trucks from Ampersand, Quesadilla Gorilla, Wafflicious, and an assortment of vendors selling everything from commemorative signage to t-shirts.
Block partygoers were greeted immediately with the sight of acrobats climbing suspended, white, twin fabrics. The performers posed and flipped their way through routines to light musical accompaniment.
Scats on the Sly performed a bumping jazzy scat-routine, even as an aerial silk performer danced and spun through the air.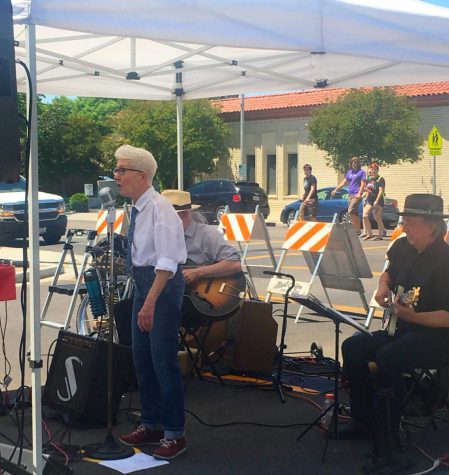 It was a popular event drawing a sizeable crowd of people on a hot sunny day. There wasn't a lot of shade, apart from the visors over the food trucks, driving many people to find refuge–and lunch–in the nearby shops.