Bernie Sanders' Political Revolution on the Veterans Lawn
The Sanders Campaign Hosted a Green New Deal Rally at FCC
Presidential hopeful Bernie Sanders called for a political revolution on the veterans peace memorial lawn at Fresno City College, Friday, Nov. 15, 2019.
"I don't have to tell anyone here tonight that we live in an unprecedented and dangerous moment in history," Sanders began. He called for a political revolution among young people, "the most progressive generation in the history of America."
"I am going to tell you what no other presidential candidate will tell you," Sanders said. "And that is that no president, not Bernie Sanders or anybody else, can do it alone."
Sanders' Green New Deal rally remarks characterized the climate crisis as a global issue, not just an American or a Californian one.
"Climate change is real, it is caused by human activity," Sanders said. While the scientists have consensus about climate change, Sanders said that they underestimated the severity of the crisis. "I don't have to tell anybody here about the drought, and the terrible, terrible fires that have consumed this great state," he said.
Sanders pledged to invest tens of thousands of dollars in solar and wind energy. He promised that his agenda would create millions of jobs retrofitting buildings to make them energy efficient.
"There are millions of people, including people in this area," Sanders said, "who cannot drink the water that comes out of their faucet." Sanders promised to invest a trillion dollars in infrastructure. "And when we talk about infrastructure, we are talking about clean water," he said.
While the speech was billed as a Green New Deal rally by the campaign, Sanders predominantly discussed his classic beats, calling for stronger unions, higher taxes for the rich, and higher wages for the middle class. "We are running on an agenda that tells the billionaire class that they cannot have it all," he said.
He stressed that the infrastructure spending would involve building low-income and affordable housing. "We are talking about building ten million new units," he said. "This is the United States of America, we should not, we must not, we will not have a half a million people tonight sleeping out on the streets in this country," he said.
"It is a disgrace that we have a president that doesn't understand the first thing about climate change," Sanders said, as the crowd booed the almost-mention of Donald Trump's name.
He spoke of the president only in the beginning of his speech, characterizing the Trump administration as uniquely corrupt as well as racially, culturally, and religiously divisive. He called Trump homophobic, racist, and a religious bigot.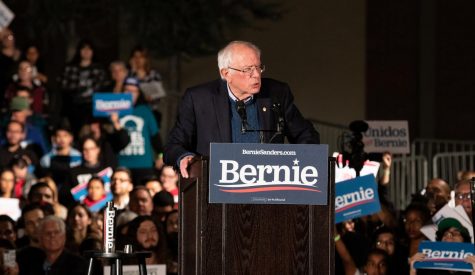 The core of Sanders' speech and his platform was Medicare for All, his signature health plan that would eliminate private insurance, co-pays and deductibles and replace them with a single-payer system. "It is horrific that 30,000 people in our country die every year because they don't get to a doctor in time," Sanders said. "It is disgraceful that half a million Americans go bankrupt because of medically related debt."
"Bernie is the only candidate who embodies that slogan, 'vote nurses' values," Amy Arlund, a registered nurse and board member of National Nurses United—a union that officially endorsed Sanders that day—said on stage. Arlund has worked in Fresno for 19 years.
"As nurses we have been fighting for decades to win healthcare in this country as a human right," she said. Arlund was flanked by fellow union members, their children and nursing students wearing red T-shirts that read, "Save one life you're a hero, save a hundred lives you're a nurse."
She said that Sanders has been standing alongside nurses the entire time, and is the only candidate committed to strengthening union rights.
The Central Valley has the highest level of air pollution in the country, Arland said. She said that she sees its impact on her patients every day. "We live, we feel, we touch, we breathe and we can smell this crisis in our backyard," Arlund said.
Sanders was introduced by Kingsburg City Councilwoman Jewel Hurtado, who endorsed him that day. Hurtado phonebanked and canvased for Sanders in 2016. "This is a very surreal moment for me," she said.
The rally was well attended, and Sanders' pledges drew consistent cheers. A man in the audience yelled, "Guillotine," at any mention of billionaires. Mentions of Trump drew boos and jeers, and there were some sparse anti-Trump chants to, "Lock him up."
Sanders was previously scheduled to speak at FCC in October. The campaign canceled the rally after Sanders suffered a heart attack on Tuesday, Oct. 1, and underwent surgery for a blocked artery. His campaign made good on their promise to reschedule a month later.