Where are the interpreters? Deaf students say lack of interpreters hinders progress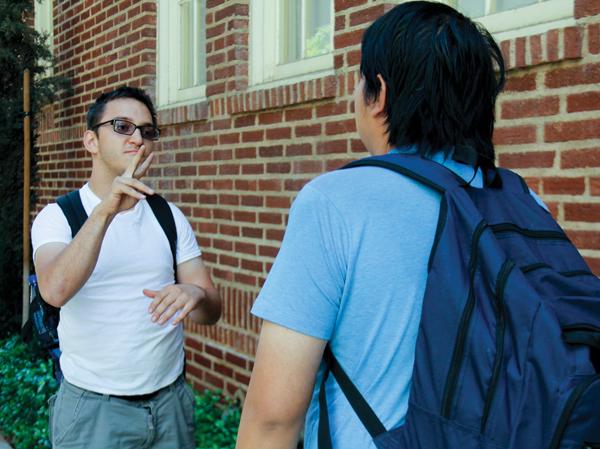 Hang on for a minute...we're trying to find some more stories you might like.
Deaf students at Fresno City College are facing a lack of available sign language interpreters on campus. Without this key resource, the advancement of deaf students' educational careers can be limited.
The deaf students say that the lack of interpreters to accompany them to classes and assist in note taking is most pressing issue they have. Without a doubt, the availability of interpreters for deaf students correlates with their academic advancement and helps them achieve a better grasp of their course content.
At the present time, the State Center Community College District has 19 interpreters, with only one (the district coordinator) being full-time. The rest are permanent part-time or provisional positions. Christine Gough, the district's interpreter coordinator says the interpreter service puts in an average of 325 hours of service per week for deaf students district-wide, but with only 18 part time positions, this translates to 18 hours per week per interpreter.
The interpreter program on campus is experiencing a problem that many departments are currently dealing with: the constraints of a tight budget. The Disabled Students Program & Services at Fresno City College which funds the interpreter program has been hit much harder than most programs and saw a reduction of almost 50 percent to its funding.
"We truly had a 47 percent cut, and we will never come back from that in my lifetime," said Dr. Janice Emerzian, the district director of DSP&S.
Emerzian said that while she understands that the cuts are related to the major funding reduction to California community colleges in 2009 and 2010, but that the decrease of funding for DSP&S impacted essential services to the students.
"Cut us the same as everyone else," she said. "If you're going to cut general 20 percent, cut us 20 percent. Don't cut us 47 percent and then others, 15 percent, or 5 percent or 10 percent."
However, the lack of interpreters is not just a minor effect of budget loss; the interpreters are the conduit for a deaf student's success.
"It can cause delaying and hurts our chance in education, said Robyn Kifer, a deaf FCC student, who has attended classes without interpreters. "We cannot develop in our language without an aid."
At age 53, Kifer has been deaf her whole life. She is now focusing on her education, including learning foreign sign language and web design. Kifer said she also aims to bring attention the issues that not only she has faced, but what all deaf students may encounter, including things such as an absentee interpreter or unavailable note takers.
"I see more than 20,000 students on campus [that can] hear; we have approximately 40 deaf students," Kifer said. "What [does it have] to do with the budget?"
Gough says that the district must do all it can to attract more interpreters. "We need attractive positions that will give the interpreters benefits and hours," said Gough.
She believes the interpreters on campus are more than qualified but that the current positions need to be competitive with other interpreter jobs in the Valley.
"The positions need to support the interpreters themselves," Gough said.
Gough is set to submit an action plan to the district this summer proposing full-time interpreter positions as well as a revision of the current part-time positions. She believes this will help the deaf and partially deaf students achieve their educational goals.
"Our deaf students are motivated, brilliant, and artistic," Gough said. "My main concern is their access to future opportunities."
Students Kou Vang and Diego Guzman, both deaf, praise the interpreters the program provides for them. They said that having the interpreter and note takers in class creates a more cohesive understanding of the topics covered. Deaf students do not have to look back between the teacher and interpreter, so they can focus on either in a given time.
"I wish they would hire more interpreters here; that would make me happy," said Vang. "It would be comfortable; things would be a lot more flexible."
Both Vang and Guzman said that while the interpreters they currently have are excellent at the job, the campus needs more.
"It's very tough to find an interpreter. They are not hiring enough interpreters," Guzman said. "Some schools have so many, and it's just not enough here."
Both the students and DSP&S staff commend Fresno City College officials, especially President Tony Cantu for supporting the program even in very difficult times. They also said that any meaningful change must stem from higher than the campus.
"We need to be heard, but we have not been heard," said Kifer. "Most damaging is the lack of [awareness] in the board of trustees and upper levels. I feel we are being overlooked."
Gough said that a more open communication between deaf students, faculty and other students will help the interpreter situation.
"I encourage staff and students to have healthy dialogue about this situation," said Gough.
She advocates solidarity among students, faculty and campus regardless of age, ethnicity or disability is critical to progress. If one group does not have tools to succeed, it is felt by the entire student body, and a student body collectively can make progress.
Gough hopes her proposed action plan and an open conversation about the problems deaf community on campus faces will change the course on these students' near future.
"Deaf students are not [just] DSP&S students," Dr. Emerzian said. "They are Fresno City College students."