Staying Fashionable on a Student's Budget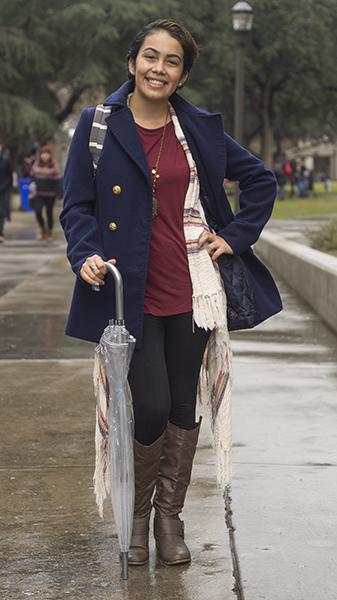 Nineteen-year-old Yajaira Garcia, a Fresno City College student, stands out from the crowd with her great smile and colorful outfit. Dressed in a bright blue Forever 21 jacket you could see the confidence she has walking around campus.
The first-year FCC student pulls inspiration from daily life, from movies to her favorite celebrities. She describes her style as "bohemian and odd." Garcia pinned Vanessa Hudgens as her main style crush, also stating "chic" as a factor in her daily style equation.
Garcia enjoys the fashion forwardness of Audrey Hepburn's character Holly Golightly in from the '60s classic "Breakfast at Tiffany's"; a considerably not-so common name to the average FCC student. "She's so fashion forward, very chic! Especially her hair, clothing and makeup, it's so simple, clean and crisp" said Garcia.
Garcia loves mixing bold colors with any print she can get ahold of. This spring she's hoping '70s aesthetics makes a comeback in nation-wide fashion trends.
As a lover of all seasons, winter takes the cake in her book. Scarves are the liberal studies major's signature item because "you can be comfy and still look cute, especially because of the scarves!".
Garcia will wear them in any color and or print; from tribal to patchwork, nothing is off limits.
Garcia loves looking for new items no one else has. Yard sales and thrift shops are her go-to places for rare fashion finds to discover new pieces to amp up her wardrobe because "finding different things that are probably not in style right now but putting them together with something stylish is the best."
As a student and living on a budget, Garcia says staying stylish is saving up for something you can't live without and advises to always buy clothing that has longevity.
"If you feel like crap of course you're going to want to match that mood. If you wake up feeling like Beyoncé, you're going to be cat walking all day!" said Garcia. "I wish we can just wear whatever we wear and feel comfortable with our own bodies without being judged. You might not have the perfect body but if you feel confident in it then you should wear it!"
Yajaira's Favorites
TV: One Tree Hill, Gossip Girl and Criminal Minds
Movie: the Notebook and the Fault in our Stars
Book: the Fault in our Stars and the Notebook
Magazine: Seventeen
Places in Fresno: Woodward Park and her home
Can't live without: food, makeup, family, music and books