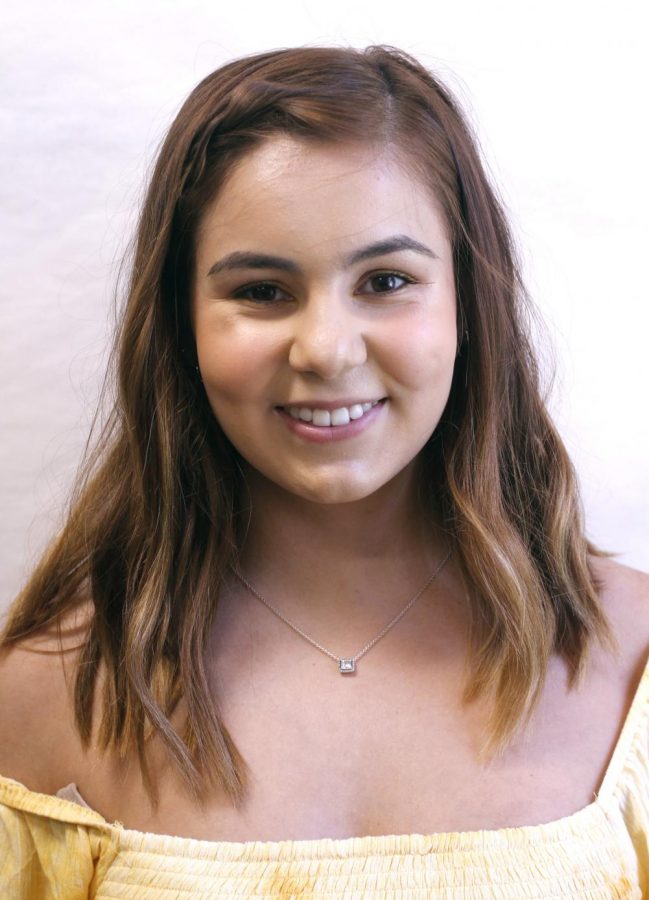 Leticia Leal, 19, is a fourth semester student at Fresno City College. She was born in Fresno and travels to Los Angeles often to visit her family. This is her first semester with The Rampage and she is a newbie. She plans on taking the course to gain some experience for her profession.
Leticia, who graduated from Sunnyside High School, aspires to be a newscaster or a news reporter. She was the sports broadcaster for her high school's weekly broadcast and has fallen in love with this career ever since.
She enjoys conducting interviews and editing videos. She hopes to do some digital work for the Rampage.
Leticia plans to transfer to Fresno State and get her masters degree in journalism. If all goes as planned, she plans to minor in mathematics.
Baby is the name of her one and only pet. A cute blue French Bulldog was given to her by her boyfriend's family. This has been the only pet she's had since the passing of her parrot, Maddison, that she has had since she was four.
Leticia plans to travel the world due to the benefits she receives from American Airlines. Her boyfriend works at the airport so she is able to fly at a low cost. She has not yet been on a plane but plans to use these benefits to her advantage.
She enjoys spending most of her time with her loved ones and she hopes to make her parents very proud.
"My parents are very hard working and I aspire to do my best to succeed."
You can follow her on instagram
@leticiallealnews
You can reach Leticia at
[email protected]
Leticia Leal, Multimedia Editor
Nov 27, 2019

Broadcast Issue 7

(Story/Media)

Nov 06, 2019

Living Undocumented

(Media)

Nov 06, 2019

ISSUE 6 Broadcast

(Story/Media)

Oct 23, 2019

Broadcast Issue 5

(Story/Media)

Oct 09, 2019

Arcy's Hyperrealist Graffiti at The Big Fresno Fair

(Story)

Oct 09, 2019

Broadcast Issue 4

(Story/Media)

Sep 25, 2019

Broadcast Issue 3

(Story/Media)

Sep 11, 2019

The Decay of Time: Memories of 9/11 Are Rotting

(Media)

Aug 28, 2019

Find a Club that Fits Like a Glove

(Media)

Aug 28, 2019

When Can We Stop Writing These Headlines

(Media)

Aug 28, 2019

Students Grapple With Anxiety, Paranoia Following Possible Shooting Threat

(Media)

Aug 27, 2019

Assemblymember Presents $1 Million for West Fresno Campus

(Story)

May 01, 2019

Shame, Stigma, Misinformation Compound Food Insecurity Problems

(Media)

May 01, 2019

How To Get Fit For Summer

(Media)

Apr 11, 2019

ASG Elections: Who Do You Want Representing You?

(Media)

Mar 12, 2019

Native American History 'You Aren't Always Told in School'

(Story/Media)

Mar 12, 2019

Volunteers Give Back to Valley Children's Hospital on 32nd Annual Kids Day

(Story/Media)

Feb 27, 2019

Students Are Teaching Students Through ETC

(Story)

Feb 20, 2019

Parking at FCC: A Survival Guide

(Story)

Feb 13, 2019

Is FCC Still Becoming Smoke Free

(Story/Media)

Jan 31, 2019

Students Are Finding New Ways to Save by Buying Cheaper Books

(Story)