Open Forum: SCCCD Vaccination Mandate, COVID Mitigation Measures at FCC and More
Fresno City College President Carole Goldsmith and other faculty members discussed the State Center Community College District vaccination mandate, COVID mitigation measures at FCC and more during an open forum on Sept. 3, 2021. 
Information on SCCCD Vaccination Mandate, Q&A
Goldsmith began the forum by reading the official response as to why the district is requiring students and staff to be vaccinated by Oct. 15.
The official response, which can be found on the SCCCD vaccine requirement frequently asked questions page, states that, "The district is committed to providing a safe and healthy learning and working environment for students and employees."
It also states COVID protocols have previously been established to ensure cooperation with local public health officials to prevent and control the spread of communicable diseases.
According to Goldsmith, 65 community colleges in California already have a vaccine mandate and seven others are looking towards adopting similar mandates.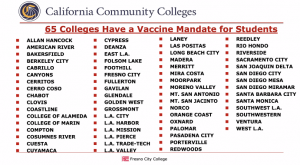 "This brings us to about 65% of California community colleges, which represents over 1.8 million students, and I think it's part of our job to help the state become a safer place," she said. "I suspect that as we work and look at this data, these numbers will continue to increase."
For students who are transferring soon, Goldsmith mentioned that the California State University and University of California systems also have vaccine mandates. 
Fresno Pacific University does not yet have a campus wide mandate but does require student athletes and those who live in the dorms be vaccinated, according to Goldsmith. 
Goldsmith said her purpose in mentioning all these vaccination mandates is that FCC is not unique and that requiring proof of vaccination is the entire state's efforts to keep this pandemic at bay.
Goldsmith then answered a few questions staff and students submitted about the mandate. 
One question asked was: if students only attend online, do they have to be vaccinated?
Goldsmith said no, students who only take online courses do not have to be vaccinated. 
However, if the student plans to come on campus for some reason, they will need to provide proof of vaccination. 
Goldsmith reminds students that services such as FCC's library, counseling and more are available online if they cannot come to campus. 
Goldsmith also encouraged students to visit the SCCCD's vaccine requirement frequently asked questions page, where they can submit their questions and get them answered. 
COVID Mitigation at FCC 
Darren Cousineau, SCCCD director of environmental health and risk management, said current COVID mitigation measures at FCC and other district campuses include: 
Requirement of facial masking indoors for all employees and students, regardless of vaccination status 

Social distancing indoors and outdoors, if possible 

Increase of sanitizer stations on campuses 

Increased ventilation and filtration rates at all of our buildings.

Implementation of  Merv 13 standard filters which are more effective at removing aerosols droplets that come from breathing and talking, which are known to contribute to the spread of COVID-19

Asking staff and students to conduct self-screening health assessments before coming on campus 
In addition, a COVID vaccine mandate webpage was created for students and staff. 
The page shows a vaccine timeline of when students should get vaccinated in order to meet the Oct. 15 deadline. Dates: 
Moderna. Sept. 3: Last day to get first dose, second dose on Oct. 1
Pfizer. Sept. 10: Last day to get first dose, second dose on Oct. 1
Johnson & Johnson. Oct. 1: Last day to receive this one dose and be fully vaccinated by Oct. 15.
The webpage also lists vaccination sites available on campus and others in the City of Fresno. 
Signs of COVID and Personal Responsibility
Dr. Lilli Goishi-Bessey, FCC health coordinator, reminds students and staff there's a wide variety of COVID-19 symptoms from fever, muscle aches, body aches, nausea, vomiting and the loss of taste and smell. 
She added that the best way to determine if they have COVID-19, or are just experiencing allergies, is to get tested. 
FCC offers COVID-19 testing Tuesdays through Saturdays from 7 a.m. to 7 p.m. in the staff dining room. 
Goishi-Bessey said if students or staff develop symptoms, they should quarantine immediately and reach out to their healthcare provider to discuss testing options.
Students should also reach out to their instructors and inform them of the situation. 
In general, she encourages students and staff to wear a mask that covers their mouth and nose, wash their hands or use hand sanitizer, keep up their immune systems, eat well, get plenty of rest, exercise daily and get vaccinated. 
"This all helps, not just you but all those around you. Those who are at higher risk of developing severe symptoms of  COVID-19, it can be your family members, your grandparents, people who are pregnant so I highly recommend it," she said. 
$250 Bookstore Voucher Information 
According to Monica Cuevas, dean of guidance and counseling, approximately 3,500 students have received a $250 voucher to FCC's bookstore.
Cuevas reminds students that vouchers are valid until Sept. 24 and can be used on textbooks, supplies, and more. 
To receive their voucher, students must provide their current FCC Associated Student Body card and vaccination card. 
Past Open Forums
Aug. 26 Open Forum: SCCCD Vaccination Mandate, Wellness Resources and More
Aug. 19 Open Forum: Decline in Enrollment, Class Delivery Methods and More