Ed Madec Faces Administrative Leave, Fights Back in Court
Ed Madec, men's basketball head coach at Fresno City College and his attorney, Ryan Griffith, appeared in a courtroom filled with supporters, including much of the 2019-2020 men's basketball team, in an attempt to overturn the temporary restraining order filed against Madec the previous week, on Thursday, Feb. 27.
The presiding Judicial Officer Kimberly Gaab rejected the appeal after hearing arguments from both sides — Madec's attorney, Griffith as well as Matthew Besmer, legal counsel for the State Center Community College District.
On Feb. 19, Fresno City College administrators notified Madec that he would go on paid  administrative leave on Feb. 21, pending an investigation into potential California Community College Athletic Association rules violations.
In accordance with the California Education Code, employees must be given a two-day notice prior to being placed on administrative leave.
On Feb. 24, Madec filed an appeal to retain his position as head coach of the men's basketball team – a position he has held since 2006, during which time he led the Rams to 14 consecutive titles, two state championships — not counting the numerous student transfers to four-year colleges around the country.
The Complaint
According to court documents, Madec was brought up for investigation by the SCCCD into potential CCCAA rules violations in early 2019. The investigation stemmed from alleged rules violations regarding the providing of special privileges to his players — a violation of the CCCAA decorum policy.
Court documents indicate that Madec owned three properties from 2013 to 2019, allegedly housing numerous students in that timeframe. In the documents, 
"I understand since June 2013, Mr. Madec has owned three different properties for various periods of time in which his basketball players may have resided," Carole Goldsmith, president of Fresno City College, said.
Goldsmith also said she only knew the extent of the violations around Feb. 4, 2020.
The court documents detail the numerous attempts by district investigators to acquire information from Madec regarding proof of legal tenant occupation status as well as tax return information failed.
Madec handed over only rental receipts to investigators, according to statements from both Goldsmith and Besmer.
The FCC administration made the decision to place Madec on leave because of alleged misdirection and noncompliance in the investigation process by both Madec and members of his basketball team.
On Feb. 17, just two days before being notified of his leave, Madec refused to turn over his and his mother's personal tax returns which were requested by investigators. They wanted these documents to ascertain whether or not Madec had provided special privileges to his players in the form of housing.
Court statements indicate that Madec was absent from an investigative interview on Jan. 21. He also refused to cooperate with investigators during a rescheduled investigative interview on Jan. 24, leading investigators to conclude that his responses lacked credibility.
Additionally, many of the members of the 2019-2020 basketball team who were contacted during the investigation refused to cooperate, leading investigators to believe that Madec was influencing potential witnesses not to cooperate with the investigation.
FCC administration placed Madec on paid administrative leave pending the completion of the investigation. Resulting punishment for violation of CCCAA rules can extend beyond the college's basketball team; it could potentially punish the entire athletic department.
Madec, who has been on paid administrative leave since Feb. 21, will remain on leave for up to 90 days, at which time the SCCCD must justify the continued suspension no later than May 21.
Madec's Defense
In January 2019, SCCCD opened an investigation on Madec to determine whether or not he provided special privileges to players.
According to court documents produced by Ryan Griffith, Madec's attorney, the investigators conducted three separate interviews — two in 2019, and one in January 2020. Madec, according to his attorney, did not know why he was being investigated at the time.
Griffith also stated that although the CCCAA Constitution requires that the dates, times, locations and names of those involved must be disclosed to the individual under investigation,   
this information — referred to in court documents as "Form A" — was not  submitted at the time of Madec's leave. 
Madec was placed on administrative leave on Feb. 19.
Madec's attorney claims that the timing of the ensuing administrative leave was not coincidental, but a clear attempt by SCCCD to target the men's basketball coach.
"Based on my review of the investigation to date, it seemed that defendants [FCC/SCCCD] were engaged in a fishing expedition against Plaintiff [Madec]," Griffith stated in motion filed on Feb. 27 to lift the temporary restraining order.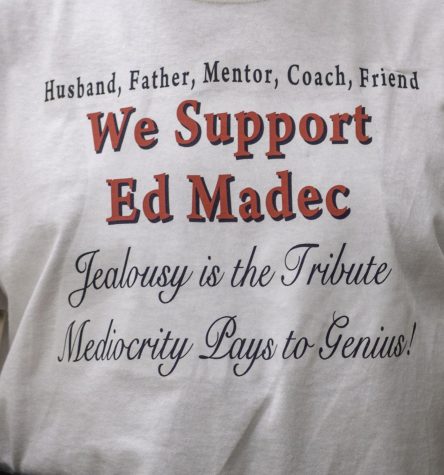 The Fallout and the Students
"I'm devastated for Coach Madec. I'm absolutely devastated," said Interim Co-Athletic Director Paul Keysaw.
The outcry for Madec to be reinstated has grown steadily in the weeks since the news broke. His supporters packed the courtroom during his appearance; several former players and others voiced their support of the embattled coach before the final regular season game on Feb 22.
T-shirts embossed with the words, "Jealousy is the tribute mediocrity pays to genius," were worn by dozens in attendance during that game against Merced College on Feb. 22.
Segments, most notably on 940 ESPN Radio, have been dedicated solely in the interest of raising awareness to the general public.
But the thing that resonates among nearly all of the people voicing either support or condemnation of Madec was the impact of his suspension on the legacy of the athletics department, the students and athletes that make the program what it is.
"I feel so bad for his players," Keysaw said.
"They didn't sign up for this; they're not part of this," he said. "Unfortunately they're pawns caught into this."
This is a developing story.