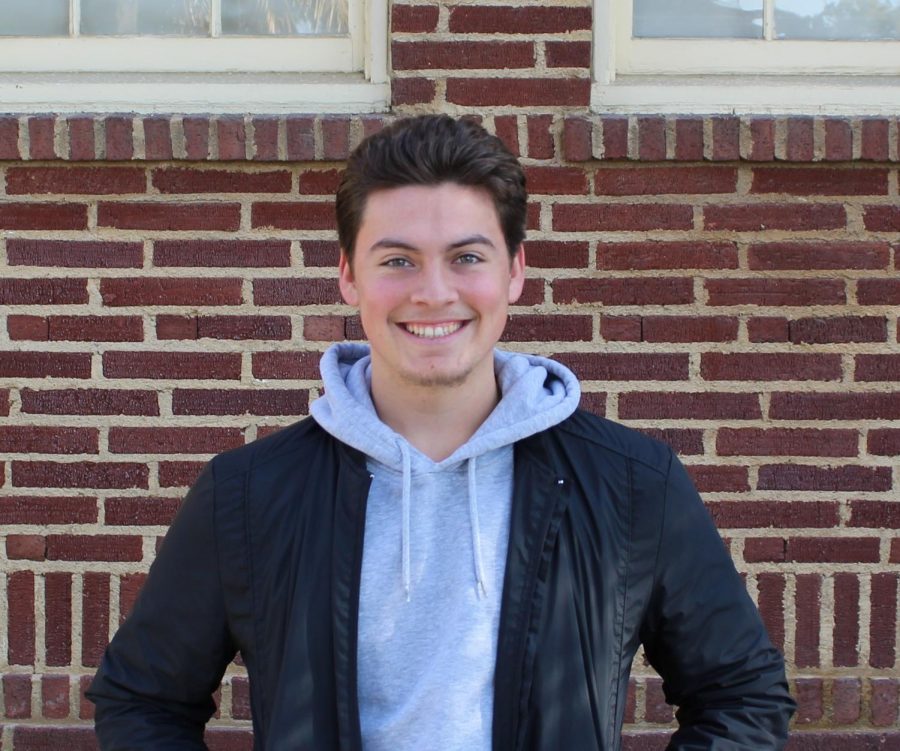 Patrick Henslee is in his third semester at the Rampage, and steps into the role of Managing Editor for the Spring 2020 semester. The 20-year-old is an English major at Fresno City College with plans to transfer to university and double major in comparative literature.
Henslee wasn't always an English major, and started his time at FCC majoring in journalism. He hoped to become a sportswriter, where he'd try to display the compelling characters and narratives that draw people into sports fandom.
He started at the Rampage in Fall 2019 as a reporter, taking every opportunity he could to write. In Spring, he took on the Sports Editor position with a mission to communicate the most interesting factors in sports to all audiences.
Recently, Henslee decided to instead pursue teaching, where he feels he can make the most difference by helping young people discover who they are and where they fit with others in the world. Despite the transition, he wants to stay involved in the projects taken on at the Rampage.
Henslee also has a part-time job, which he mostly likes because it's flexible and it pays him money. He spends his free time reading everything he can, watching and playing sports or anything enjoyably competitive, watching all kinds of movies and spending time with his friends, family and loved ones.
He loves new experiences, like traveling to places he hasn't been, trying foods he's never tasted and experiencing other peoples' ways of living. What he most enjoys is a good story, like the ones he hopes to be a part of this semester.
Patrick Henslee, Managing Editor
Oct 19, 2020

Rampage Editorial Staff Weighs in on the Importance of Voting

(Story)

Oct 04, 2020

FCC Forensics Breaks Down First Presidential Debate of 2020

(Story)

May 08, 2020

COVID-19 Cuts Marcelo Saldana's Season Short

(Story)

May 06, 2020

The Herd Episode Three- Coping With COVID-19: Meet the Team

(Story)

Apr 28, 2020

Coping With COVID-19: Getting the Ball Rolling Again

(Story)

Mar 11, 2020

Rams Start Building Momentum with Victories over Porterville

(Story/Media)

Mar 11, 2020

Ed Madec Faces Administrative Leave, Fights Back in Court

(Story)

Feb 27, 2020

Ortiz's Electrifying Attitude: An Homage to His Heritage

(Story/Media)

Feb 26, 2020

Rams Complete the Comeback Against Coalinga

(Story/Media)

Feb 18, 2020

Rams Defeat Chabot, Keep Rolling in the Young Season

(Story)

Feb 13, 2020

Rams Defeat Chabot, Keep Rolling in the Young Season

(Story)

Feb 13, 2020

The Pulse Of The Game: Betts Trade Reflects Modern MLB Ownership Objectives

(Story)

Jan 31, 2020

Meet Haley Janzer, the Future of Rams' Softball

(Story/Media)

Jan 31, 2020

Spring 2020 – A Sitdown With President Goldsmith

(Media)

Jan 29, 2020

Rams Split Opening Series Against Skyline

(Story/Media)

Jan 22, 2020

Women's Basketball Heating Up In the New Year

(Story/Media)

Dec 12, 2019

Champagne Showers Fall on Rams Again After Championship Victory

(Story)

Dec 02, 2019

Rams Down Delta, March Toward State Semifinals

(Story)

Dec 02, 2019

Rams Keep Rolling After Flipping the Switch

(Story)

Dec 02, 2019

Competitive Speech Moves Students to Tears

(Story)

Dec 02, 2019

Laduke Calls for New Paradigm

(Story)

Nov 27, 2019

Lebron James and The Decision

(Story)

Nov 24, 2019

San Mateo Bulldogs Shutout Rams in Conference Semifinals Matchup

(Media)

Nov 18, 2019

Galvan Shines in Victory Against Reedley

(Story/Media)

Nov 13, 2019

Wildfires Attack California and the Valley Can't Breathe

(Story)

Oct 30, 2019

Rams Underperform in Win Against COS

(Story/Media)

Oct 29, 2019

Segura Steers FCC Toward Win Over Folsom Lake

(Story/Media)

Oct 24, 2019

The Nationals Aren't That Far From the Astros

(Story)

Oct 23, 2019

Parks Are a Safe Place, or At Least They Should Be

(Story/Media)

Oct 19, 2019

Rams Edge Past Modesto for Seventh Straight Win

(Story/Media)

Oct 09, 2019

Rams Dropped by American River, Suffer Second Straight Loss

(Media)

Oct 09, 2019

Morey's Comments Leave Future of NBA in China Uncertain

(Story)

Oct 02, 2019

FCC Soccer Routs Crosstown Rival Clovis

(Story/Media)

Oct 01, 2019

San Mateo Hands Rams First Loss of the Season

(Story)

Sep 30, 2019

Dead Film Society Very Much Alive

(Story)

Sep 25, 2019

Champions of the October Push – An MLB Playoff Preview

(Story)

Sep 25, 2019

'I Am Done,' Bookstore Privatization Outrages College Community

(Story)

Sep 25, 2019

Vang Dominates Student Activities Ping Pong Tournament

(Story)

Sep 11, 2019

Women's Soccer Beats Bakersfield, Make it Five-Straight

(Story)

Sep 11, 2019

Rams Soccer Gets by Rio Hondo for First Win

(Story)

Aug 30, 2019

Energized Rams Have Work to do Heading into Season

(Story/Media)

Aug 28, 2019

Key for Women's Soccer: Hard Work

(Story)

Aug 28, 2019

Rams in Distress Over Parking

(Story)