The Fight For Fax
Yonas Paulos came into the Rampage newsroom the second week of the spring 2020 semester on behalf of his disabled step-son, Joshua Rodriguez, who is a welding student at Fresno City College in distress over the upcoming suspension of the free bus pass program.
"Have you guys gotten to the bottom of it?" he asked. 
"[My son] was deflated, angry, I've never seen him like that," he said. 'I can't believe they took my bus away, it worked for me,'" said Paulos.
Paulos was not the first person to bring their concerns to the Rampage after the news broke.
Over the summer, the State Center Community College District decided to reallocate funding for the FCC Free Bus Pass Program that was offered to all enrolled students and faculty with the purchase of an Associated Student Body card for $5. 
The program has existed for three years, and will expire at the end of the spring semester. 
How It Started, and Why It's Ending  
The district used funding from parking revenue to implement the bus pass program in the fall of 2017 to help students and faculty navigate the lack of parking due to the solar panel construction.
During the first semester the bus pass was offered, 9,336 FCC students took advantage of the program, resulting in a total of 221,247 rides. Last semester 9,817 students obtained the pass and 270,181 total rides were calculated, according to the Office of Institutional Research at FCC.
"We thought, 'We'll do this for a year and then address the parking issue,'" said SCCCD Vice Chancellor of Operations Christine Miktarian. "It was very successful. Then the next summer rolled around and we said 'Do we want to go for another year?'"
The bus pass was never meant to be something lasting. It was a temporary solution for the loss of parking due to construction, she said. 
Last summer the district opened communication about the program, ultimately deciding that they could no longer fund it out of the parking revenue.
"[The parking revenue] is supposed to be paying for our parking maintenance. We can't sustain [the bus pass] through that fund if we are going to maintain our parking lots through that same funding as well," said Miktarian. "So that is why. It was supposed to be a year. Then we did two years. This is supposed to be our last year of the program."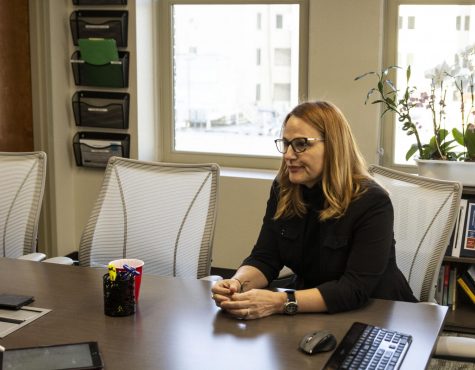 Miktarian said the request for an increase of funding for parking revenue was a controversial issue between the district and the board in 2015.
The funding for the free bus pass program comes from the parking revenue, which is generated from parking tickets, meters and parking passes which increased from $19 in 2015 to $30 in 2020.
The revenue has been stretched thin for the last three years due to the funding of the bus pass, pulling away from necessary services such as increasing police services and student patrol workers.
Student patrol workers are funded through the parking revenue. Additionally, one quarter of the salary for campus police officers and public safety staff comes from those funds, according to Miktarian.
The number of student patrol workers have also been increased in an effort to keep the campus safe, Miktarian said.  
"Based on a need and request from everyone district wide, all of the active shooter things that were going on. It was a necessity, a feeling of safety," said Miktarian. 
The Task Force
"[The bus pass program] is our top priority," said Miktarian.
"A lot of people do want to keep it," said Associated Student Government President DeRon Walker.
"Not everybody knows what is at stake," said FCC President Carole Goldsmith.
The administration is either frustrated or motivated by the suspension after students expressed their concern. But overall great efforts are being made to resolve this before students at FCC have to be without it.
"There is a desire from faculty who want to help," said Goldsmith. "Since this has come out, I have been approached by a number of faculty and administrators who have said 'I'd be willing to pay a little more as long as I knew that those dollars would go to a fund to help students,'" said Goldsmith.
Walker explained that in an ASG meeting on Tuesday, Feb. 4, Dean of Students Sean Henderson presented alternative funding options for the students to fund the program themselves.
In the presentation, Henderson estimated that a $5.50 fee per semester from 24,000 students  would cover the costs of the program. 
Dean Henderson could not be reached to comment on this presentation.
"The administration here has talked to various grant programs to see if funding bus passes for various individuals would be an allowable expense," said Goldsmith.
Miktarian explained that the district is in the process of establishing a group of students, faculty and college presidents to create a task force.
"The chancellor has recently put together a task force. There has been a lot of work done by myself and President Bennett from Clovis," said Goldsmith.
Clovis Community College is the only other college in the district that is being affected by the suspension, but "their situation is different," said Goldsmith. "Their ASG is concerned."
The bottom line is that "students are being impacted," said Goldsmith.
Students Set Adrift 
"There are a lot of students here," Benny Jimenez, a student, said. "Some don't have transportation at all and this is the only way for them to get from point A to point B." \
Abigail Urich, a studio arts major, is one of those students. She has been using the bus as her primary mode of transportation to the college for about 3 years. 
"It takes about an hour to get here from the bus," said Urich. She felt shocked when she heard about the decision. "I might change what college I go to because I actually looked for colleges that offered this. Transportation is a big deal to me," said Urich.
"It's a poor decision, it's taking away aid from needy students, chopping away the aid a little bit at a time," said Tyesha Buggs, an African American studies major. 
"I'm struggling to go to school everyday and now that's going to be taken off," said Marcos Zepeda, an education major, who was irritated when they heard about the news.
Zepeda uses their bus pass every day.
"A lot of us are going to have to pay $1.25 to get on the bus which stems from our pockets, the money we could use for books, money we could use for the rent, the PG&E bills," said Zepeda. "It's a big deal to save up as much money as we can to pay for those things."
Zepeda explained that they use their bus pass for so much more than to go to school and back. "It helps me also to get to church, home, the store or even to work," they said. 
The initial goal of the program was to alleviate parking issues, but it soon became a primary means of transportation at FCC. 
Zepeda believes it is important that students do not lose hope. 
"For those people that are trying to find a way to get to school, there is a way. Keep on trying, don't give up," they said.
Others see the value of public transportation as a means to save the environment. "I do want to be more conscious about my carbon footprint," said Joyce Yang, an art major. "That's why I take the bus on Tuesdays and Thursdays."
Solidarity With Their Students 
Eight members of the faculty were interviewed for this report, all of whom expressed concern for the suspended bus pass program.
"I've asked some of my students, 'How do you think this will impact you?' and some students have said, 'I won't be able to get here without that bus pass'," said Kathleen Fernandez, a criminology instructor.
"I'd like the readers to know that we [faculty] also care deeply about this issue and are not happy with the thought that some students might have to literally drop out of school because they simply can't get here," Fernandez said. "All we want is for them to succeed and it's frustrating." 
Fernandez also worries that the loss of the free bus pass will contribute to the parking issues on campus.
Mark Trezza, instructor of political science, is also concerned for students and disappointed about the decision. 
"You have reserves for situations like this, it affects students who can't make it to get an education," said Trezza. "What are you waiting for?"
"Even if it's 10 students that are using it, that's 10 students that aren't making it to school, that aren't showing up for classes, that's 10 students too many in my opinion," said Nick Hernandez, political science instructor. 
Department Chair of visual media technology, Carolyn De Anda, was very disappointed when she heard about the news.
"We are hurting our most vulnerable students or the ones that are more financially insecure by taking away this community motive transportation to help them get to school," De Anda said. 
"You don't kick someone when they're down by taking away a very basic need, so this needs to be reinstated," said De Anda. 
Finding a Permanent Solution
Since the news got out that the bus pass was 'being taken away' from the students at FCC, action has been taken.
Students have made petitions and flyers; posting them around the campus to raise awareness of the fault on the district's end.
Faculty have talked with students, empathizing with the thought of them losing a primary form of transportation.
Administration is seeking funding elsewhere.
The FCC community is moving to prepare for the storm, rather than waiting for it to hit.
"This was always temporary," Miktarian said. "Hearing students and the need to continue it is helping to try to find a way to fund it."
Above all else, the district wants FCC to know that they are in support of the bus program, she said.
A temporary solution for a parking fiasco in 2017 resulted in a program in popular demand, that ultimately became a necessity for 42% of the college community.