West Fresno Campus Construction Update, Overview of Some Buildings
Fresno City College President Carole Goldsmith and other faculty members gave construction updates of various projects at FCC, including the West Fresno Campus, during a virtual forum via Zoom on April 23, 2021. 
Population Growth Calls for Improvements, New Projects at FCC
During the forum, Goldsmith cited population growth in Fresno County as one of the reasons why FCC is continuing construction for its projects during the COVID-19 pandemic. 
According to Goldsmith, over the last five years enrollment has increased by 11%, despite enrollment currently being down at FCC, which is why FCC needs to improve their facilities and make room for future students. 
FCC currently has seven construction projects with work on them expected to continue through 2023, according to Christine Miktarian, State Center Community College District Vice Chancellor of Operations.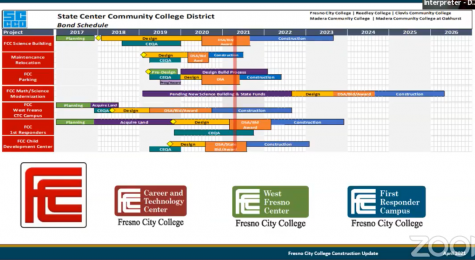 "I doubt there are very few colleges in California that have seven major construction projects going on that are all related to the growth and betterment of a community," Goldsmith said. 
West Fresno Campus Introduction 
The first project discussed was FCC's West Fresno Campus, which has a total budget of $86.5 million. 
This new campus will be located on Church and Walnut Avenues in West Fresno.
Construction began in October 2020 and steel is currently being erected. Those who are interested in seeing construction of the campus can watch here.
Don Lopez, Vice President of Instruction at FCC, said the new campus will offer a broad range of courses that meet general education and certificate requirements.
This includes Associate Degrees in medical assisting, cultural studies and more. 
According to Miktarian, the plan is to complete construction in 2022 and open the institution in 2023. 
West Fresno Campus Advanced Technology Center and Academic Building 
Becky Barabe, FCC's Dean of Applied Technology, said her division will have two structures, the advanced technology center and an academic building, at the new campus. 
The first floor of the academic building will house student services, a business office, a welcome zone, large instructional training rooms and a multipurpose cafeteria/tutorial space for students.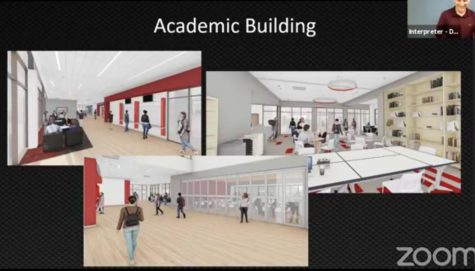 The second floor will be a medical assisting facility, science labs and an interactive library/tutorial learning center. 
The Advanced Technology Center coming to the West Fresno Campus will be the largest ATC west of the Mississippi and will specialize in automotive, diesel and advanced technology vehicles, according to Marty Kamimoto Instructor-Coordinator of FCC's Automotive, Diesel, Advanced Vehicle Technology Department. 
Kamimoto said his team is ecstatic about the new center because it will give them over 1200 square feet of space to work and be three times the size of their existing facility on Blackstone and McKinley Avenues. 
With the new location, Kamimoto hopes to expand on existing educational partnerships with General Motors, Fiat Chrysler Automobiles, Ford Lincoln, Subaru, Toyota and Volvo Mack Trucks. 
The new center will also partner with Proterra, a company that designs and manufactures electric transit buses and electric charging systems, and host one of their training facilities, according to Kamimoto. 
There are also conversations of partnering with Tesla and Honda once the center expands.
The new ATC center will be equipped with electric vehicle charging stations, alignment lifts, classrooms with computer labs, a section dedicated to maintenance light repair, a powertrain engine room and more. 
West Fresno Campus Art Installation 
Among the features of the new campus will be a waterfall with a small walkway.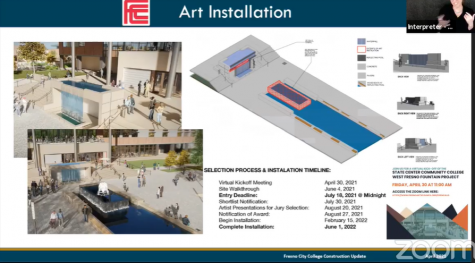 There will be a call for artists competition to find someone who would be willing to fill in the walkway space, according to George Cummings, SCCCD Director of Facilities Planning. 
The virtual kickoff meeting for the call for artists will be April 30 and the entry deadline is July 18, 2021. 
In preparation of the construction of the campus, Goldsmith said FCC officials have met with students, leaders and even pastors in the surrounding neighborhoods to discuss the plans and take their concerns into consideration. 
Other services coming to the West Fresno Campus
Student services available will include admissions and records, application assistance, counseling, financial aid and other special programs such as the Ram Cupboard, which is similar to FCC's Ram Pantry.