Men's Basketball Team Advance to State Championships
Story By: David Chavez, Copy Chief/Managing Editor
March 8, 2016
BJ Shelton scored 27 points and the Fresno City College Rams beat the Contra Costa College Comets 100-89 on March 5 to clinch a spot in the State Championships.
The Rams will travel to Las Positas College on March 12 and will play against Saddleback College.
The game against Contra Costa was tight for a while in the first half until the defensive pressure and constant full team substitutions by the Rams began to wear down Contra Costa.
The Comets tried to slow down the game halfway through the first half and were able to bring the margin to two with a score of 19-17.
"We've got a lot of sophomores; we've got a lot of guys who are invested in the program. We have a lot of pride and our brotherhood is strong," Rams head coach Ed Madec said. "There was never a doubt we weren't going to win the game."
Along with Shelton's 27 points, sophomore forward Jaffrey Stillman recorded a double-double with 11 points and 14 rebounds.
Sophomore guard Aaron Cameron also provided solid leadership throughout the game with his aggressive play and nonstop hustle.
"We brought a lot more energy. We knew what we were going to get," Cameron said. "Overall,  we had a pretty good game, focus-wise."
At the half, the Rams led 63-44. Karjuan Brown was the biggest contributor for the Comets scoring 25 points to lead Contra Costa in the first half alone.
"You've got to give credit to the other team; they're in the regional final for a reason," Madec said. "They made a great run at us."
The Comets went on a 10-0 run to begin the second half and make the score a more manageable 63-54.
"Effort was the big difference of the game," Shelton said. "Even though we had some mistakes–turnovers, missed rebounds–going into the second half, we had effort for a full 40 minutes."
The Rams were able to outlast Contra Costa's effort and win the game 100-89.
"We work harder than anybody in the country. We have a brotherhood that I couldn't explain to you,"  Madec said. "it's a whole other level. It's just bigger than basketball to us."
Saddleback College will enter the matchup against FCC with an overall record of 30-1 and going undefeated in their respective conference.
"We've got to stay focused all week and clean some things up," Shelton said. "It's going to be a war."
About the Contributors
David Chavez, Reporter
David Chavez is 25 and is in his sixth semester taking classes at Fresno City College. He is a journalism student and he plans to finish with a bachelor's...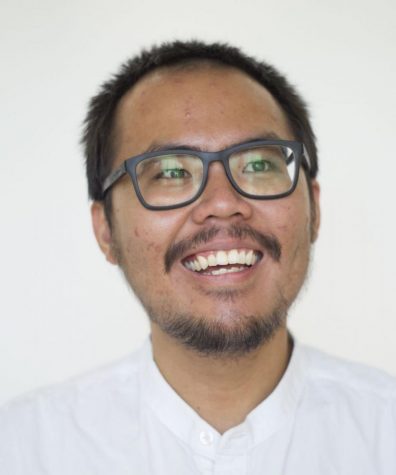 Ram Reyes, Art Director
Ramuel Reyes is a 23-year-old, currently living in Fresno, California. He was born in Lucena City, Philippines. After living five years in the United Arab...