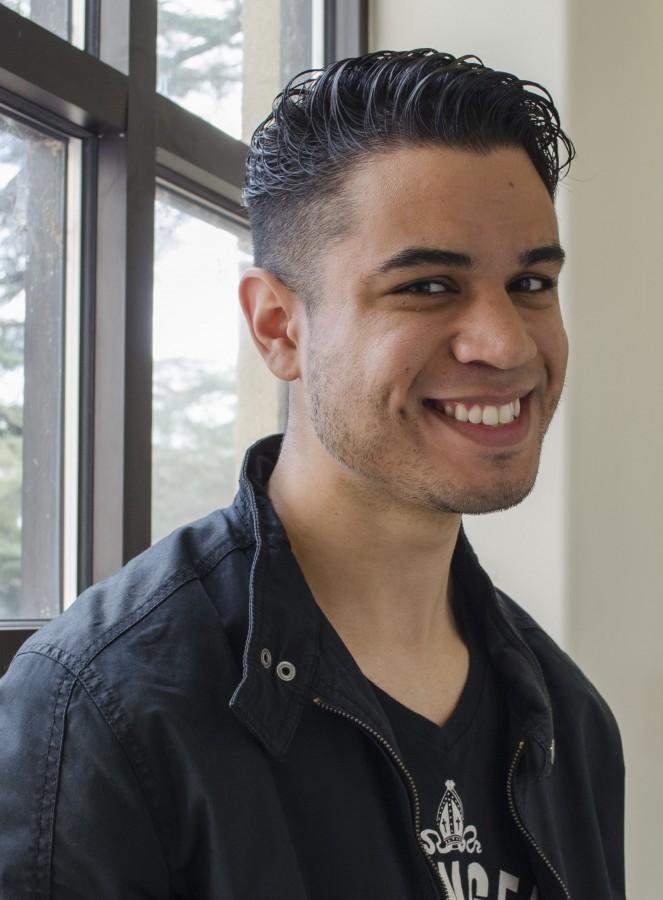 David Chavez is 25 and is in his sixth semester taking classes at Fresno City College. He is a journalism student and he plans to finish with a bachelor's degree in Mass Communication and Journalism.
This semester he is the Managing Editor and Copy Editor for The Rampage. His focus will be on reminding reporters and editors of deadlines and he will be assigning stories as well. He will also do his best to ensure that the paper has the least amount of typos as possible. He will also contribute as much as he can with helping the first-time student writers with whatever they need.
He also loves listening to music. He loves going to concerts and he also enjoys playing music as well. He also writes songs. David plays the bass in his local church's worship band. He's been playing for about 3 years now.
David also enjoys watching sports. His favorite sports teams include Lakers, Raiders, Dodgers and Club Leon F.C.
David can say the alphabet backwards.
David Chavez, Reporter
Jun 10, 2016

Radio Personality Kimberly Marquez Finds Inspiration Through Listeners

(Story/Media)

Jun 09, 2016

REVIEW: 'Now You See Me 2' almost makes you a lover of magic

(Story)

May 24, 2016

Hillsong United Stops By Fresno

(Story/Media)

May 24, 2016

For Today, Memphis May Fire Bring Bands VS. Food Tour to Fresno

(Story/Media)

May 16, 2016

Fresno Offers Entertainment for All Ages and Tastes

(Story/Media)

May 03, 2016

Luke Bryan Brings Party to Savemart Center

(Story/Media)

Apr 30, 2016

Zoua Vang Tells an American Story of Hardship, Resilience and Survival

(Story/Media)

Apr 29, 2016

Joe Bonamassa Brings Blues Rock To Fresno

(Story/Media)

Apr 19, 2016

"The Little Mermaid" at Roger Rocka's Is Magical

(Story)

Apr 19, 2016

District Pushes Measure C

(Story)

Apr 15, 2016

Kobe: The Michael Jordan of Our Generation

(Story)

Apr 15, 2016

Paul McCartney's Historic Stop Inspires Fresno Fans

(Story/Media)

Mar 28, 2016

Mexican League Soccer Teams Clash at Chukchansi Park

(Story/Media)

Mar 27, 2016

"Batman v Superman: Dawn of Justice" Film Review

(Story)

Mar 09, 2016

Candidates Make Their Pitch for Presidency

(Story)

Mar 09, 2016

Men's Team Advance to State Championships

(Story)

Mar 08, 2016

Women Advance to State Championships

(Story)

Mar 08, 2016

Men's Basketball Team Advance to State Championships

(Story)

Feb 23, 2016

Language Arts Building Infested with Rats

(Story)

Jan 24, 2016

Dolores Huerta Honors MLK, Wife at FCC Vigil

(Story)

Jan 15, 2016

Online Video Places Fresno City College Men's Basketball Program Under Scrutiny

(Story)

Dec 11, 2015

P.O.D: 'We love playing Strummer's 'cause it's just a tight, small sweaty club'

(Story/Media)

Dec 10, 2015

We all have our ways of dealing with issues

(Story)

Dec 10, 2015

Thurston Says He's Pleased with 'Safe Space Ally Program'

(Story)

Nov 06, 2015

Society Is All of Us: Categories. Labels. Races. Ethnicities. Gender.

(Story)

Oct 07, 2015

Ed Lund, Curator of Art Gallery, Dies

(Story)

Oct 07, 2015

Police Looking for Suspect in Kidnapping Cases around Campus

(Story)

Oct 07, 2015

Skipping to Sex Can Ruin Relationships

(Story)

Sep 22, 2015

"Listen to the Kids, Bruh", FCC Students' Take on Kanye's Presidential Run

(Media)

May 14, 2015

FCC Advances to Sectional Regionals

(Story)

Apr 30, 2015

Consider Degree and Plans When Registering

(Story)

Apr 21, 2015

Badminton Team Eager for Success in 16th Season

(Story)

Feb 18, 2015

Different State of Mind

(Story)

Feb 05, 2015

Campus Voices: Should Community College be Free?

(Story)

Dec 04, 2014

Sports Betting, Should it be legal?

(Story)

Nov 04, 2014

Wifi Connection on Campus

(Story)

Nov 04, 2014
Sep 17, 2014

FCC – Broadcast Yourself

(Story)

Sep 03, 2014

Obama In the Public Eye

(Story)

Aug 25, 2014

Film Review: If I Stay

(Story)