New Vaccination Site at Fresno City College
A new vaccination site at Fresno City College opened Tuesday, March 23, 2021 in partnership with University of California, San Francisco, Fresno. 
The clinic moved from their previous Shaw Avenue location to FCC in hopes of being able to vaccinate more people. The Shaw location is now being used as a COVID testing site. 
Dr. Kenny Banh, Assistant Dean of Undergraduate Medical Education at UCSF Fresno, says the prior location was only able to vaccinate about 500 people a day, but when the FCC location is fully staffed, they should be able to see 2,000 people in a day.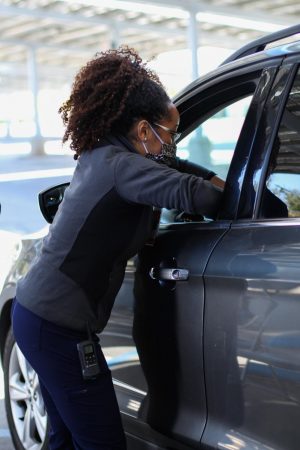 The clinic is primarily drop in, but some can reserve their spots on MyTurn, a website used to check patient eligibility and schedule COVID vaccines. 
Banh said the clinic is focused on equity in the community. 
He hopes that the more central location will help reach communities that are struggling to get vaccinated. 
Alex Chavez, a 2015 FCC graduate who later transferred to Fresno State for his PreMed Biology degree, was working at the site, helping to take down registration information. 
"I want to give back to those who don't have the ability to get help, and also give back to the community what I want to practice eventually," Chavez said.
Also at the site for its soft opening was U.S. Rep. Jim Costa and FCC President Carole Goldsmith. 
Goldsmith said FCC has plans for about 30% capacity going back to school for fall 2021, but is hoping for up to 50% if the numbers of COVID cases continue to decrease. 
FCC nursing students will be involved at a later date in order to help administer vaccines or gather information, according to Goldsmith. 
Costa and Goldsmith also discussed potential plans to open a medical school in Fresno in partnership with UCSF and acquire more funding for the nursing program.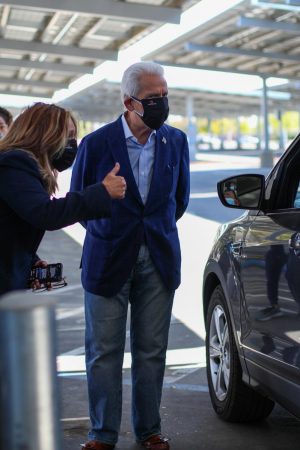 The vaccination site at FCC will operate on a first-come, first served drive-thru basis. 
Hours of operation are Monday through Thursday from 8 a.m. to 2 p.m. and Friday through Saturday from 10 a.m. to 2 p.m. and closed on Sunday. 
At the moment, the clinic is administering first and second doses of Pfizer and only second doses of Moderna. 
Hours, eligibility and which vaccines the clinic is able to offer may change, according to Brandy Nikaido, Director, Public Affairs, Communications and Government Relations at UCSF Fresno.