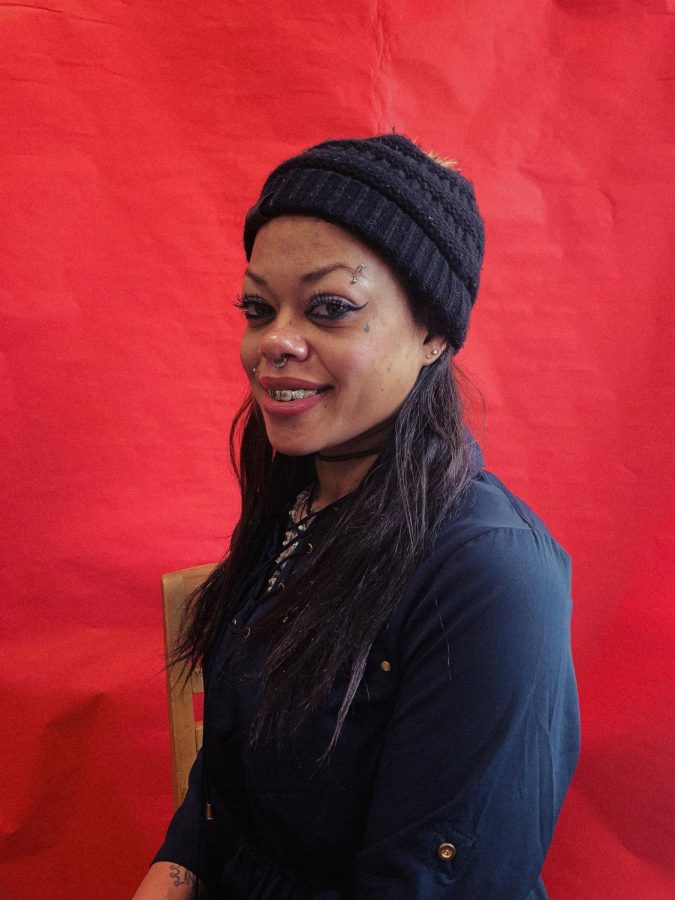 Tamika Angie Rey is a 32-year-old second year college student who is striving to become a professional journalist. She is currently majoring in journalism and communication at Fresno City College, and from what I hear she absolutely loves the courses she is taking toward her degree.
Tamika was born on July 8, in San Francisco, California. She later commuted to Fresno, California to settle and attend school, but her heart will always be in Frisco! She often spent her summers growing up in Los Angeles which has thus given platform for her to develop a very interesting personality, seeing as all these different geographical locations have very diverse cultures.
Her favorite football team, aside from the FCC Rams is, of course, the San Francisco 49ers. Her favorite color is electric pink which can be reflected through her aura as very vibrant and luminous.
Throughout her grade school years she competed in many contests wherein she received many awards for her communication, speech, and writing abilities which hence sparked the beginning of a promising career as a protagonist.
She feels none the more satisfied with life than when she is reading a book and digesting its contents. She is often moved by music and lives for the dance floor.
Tamika likes to report her information, honest, raw, uncut, and on the record. She thrives and excels in information gathering, research, data collection and investigative reporting.
Her favorite topics to cover include race and gender issues, and she also has a passion for disproportionately disadvantaged youth. She feels a deep rooted connection to those within her community and hopes to be the 'Voice for the People.'
She has been on the Dean's List multiple semesters and pulled a 4.0 more than a few times while at FCC. She thoroughly enjoys the campus life and will graduate with her AA in both journalism and communication, this May of 2019.
She hopes to transfer to a CSU in the Bay Area to continue and complete her educational endeavors, and most importantly she plans to use all the valuable skills that she develops therefrom and her omnipresent reach to leave a lasting ethical mark on the world.
Tamika Rey, News Editor & Business Manager
Jun 07, 2019

Fans Left Disappointed After Headliner for East to West Summer Jam Refuses to Perform

(Story/Media)

May 01, 2019

Combs Holds Her Own at Poverello House

(Story/Media)

May 01, 2019

Shame, Stigma, Misinformation Compound Food Insecurity Problems

(Story)

May 01, 2019

A Legacy of Hunger and Homelessness

(Story)

Apr 11, 2019

Trustees Approve 1,000 New Parking Spaces with New Structure

(Story/Media)

Mar 28, 2019

Why Social Media is Essential

(Story)

Mar 28, 2019

Group's Visit to Campus Prompts Abortion Debate

(Story/Media)

Mar 26, 2019

'Sisterhood' Brags Victory Over Women's Issues

(Story)

Mar 26, 2019

Foster Youth Provided Hopes for Their Educational Future Through NextUp

(Story/Media)

Mar 13, 2019

Dr. Herrera Professor of Chicano and Latin American Studies Visits FCC

(Story)

Mar 13, 2019

Collaged Text Gives Human for Scale Life

(Story)

Mar 12, 2019

FCC Celebrates the 22nd Anniversary of the Wall of Honor

(Story/Media)

Mar 12, 2019

PASS Center Marks International Women's Day

(Story/Media)

Feb 28, 2019

Fresno Tattoo Expo Provides Platform for Central Valley to Express

(Story/Media)

Feb 27, 2019

Open Letter to Once-Hailed Wesson Prosecutor: Your Bias is Showing

(Story)

Feb 27, 2019

Ronda Kelley Presents Body Temple at FCC During Black History Month

(Story/Media)

Feb 27, 2019

Participants Reminded of History in Rites of Passage Ceremony

(Story/Media)

Feb 13, 2019

Choral Groups Celebrate Memory of Dr. Martin Luther King

(Story/Media)

Feb 13, 2019

Local Medical Pioneer Speaks at Opening Ceremony for Black History Month at FCC

(Story/Media)

Feb 13, 2019

FCC Ram's Remain Optimistic for Season After Loss to San Joaquin Delta

(Story)

Jan 29, 2019

Womxn 2 Womxn Instruments Change through Art

(Story)

Nov 29, 2018

Why Concern for CTE Isn't 'Hoge-Wash'

(Story)

Nov 29, 2018

Three Rampage Reporters Share Their #MeToo Stories

(Story)

Nov 07, 2018

Black Awareness and Inclusivity on the FCC Campus

(Story)

Oct 24, 2018

Common Calls for Social Justice Reform Through Acts of Love in Speech at FCC

(Story)

Oct 18, 2018

DSP&S — Raising Awareness about Disabilities

(Story)

Oct 16, 2018

Ram's Women's and Men's Basketball Teams Hold 6th Annual Red & Black Fundraising Dinner

(Story)

Sep 26, 2018

Wellness Center Strives to Reduce Stigma of Mental Health

(Story)

Sep 06, 2018

Blowout for Women's Soccer against American River

(Story)