Common Calls for Social Justice Reform Through Acts of Love in Speech at FCC
Hang on for a minute...we're trying to find some more stories you might like.
The Old Administration Building Auditorium was packed with students, staff and other members of the community anticipating rapper, actor, film producer, poet and activist Common on Oct. 11 to gain knowledge about his Imagine Justice Campaign.
Guests lined up as early as three hours before the 11 a.m. showtime and their enthusiasm about seeing the Emmy, Grammy, Oscar, and Golden Globe achiever was evident. They were crowding, arguing with the ushers over seats, running over toes to rush to the front rows and bumping others back and forth unapologetically.
Lee Herrick, English instructor and Emcee introduced Common. The echoes of the screams and applause bounced off the auditorium walls.
Common first graced the mic with thoughts of how, "Love is important, the black community is important, being American is important."
He thanked the California Endowment for sponsoring the event. He then went on to thank the Anti-Recidivism Coalition, a coalition also in attendance committed to reducing the return of youth to the prison system through mentorship offering encouragement, guidance and resources along with his Imagine Justice Campaign which also focuses on reforming the mass incarceration pandemic affecting today's youth.
"We live in a crazy time. We live in a crazy world," Common said. He criticized the U.S. Supreme Court for separating families through the prison system and compared their actions to families being separated at the border. He also called for claiming this time as ours and changing the narrative.
Common challenged everyone to go out and, "Do the work, build the communities, build ourselves, build our loved ones and build our world."
He made it a point to tie everything he spoke on back to love. Find your purpose and be of love. Be willing to serve, but let love be the intention he said.
Common said through these steps, we will "rewrite [our history], are rewriting, are finding purpose, are of love and are serving." He said that for 25 years, he has been writing for love and doing it all for love.
Common said people who ask the universe about their individual purpose are great. He added when we know our intention and purpose, "It's a beautiful thing."
Common said Oprah told him that the, "Greatest thing you have is your intention." This has led him to reflect on a scripture about the power of love.
Through self-actualization, he was able to understand that although he was saying a lot about activism, he was not doing the activism part. Frustrated, he had to become actively engaged and "Live for it everyday."
A specific line from one of his live rhymes that morning was, "Mass incarceration, The New Plantation," a suiting and deep-rooted emotion provoking reference to a revitalized and camouflaged form of new-aged slavery.
Through his Imagine Justice Campaign, he has been able to visit prisons and encourage those incarcerated because they are dealing with, "external battles and moral ethical fights."
The Imagine Justice Campaign's objective it to highlight how the black community is disproportionately profiled and thus placed under the unrelenting fascist rule of the government in the form of mass incarceration.
He says visiting these prisons led him to his present belief that "we all deserve rehabilitation, redemption, and another chance."
Additionally, through his Common Ground Foundation, Common is able to assist underprivileged high school youth to make it to college through active engagement in the students' lives and therapy.
Common encourages the black community to not feed into the social stigma of addressing mental health because utilizing mental health services is not a sign of weakness.
"For us, talking about mental health is taboo," and after seeking therapy himself, he realized, "many in our community are grappling with mental health and don't even know it."
"It's a form of leadership to rewrite our history through acknowledgement of mental illness," he said. He said he firmly believes in spirituality and getting in tune with God and in the tools of mediation through art. "Meditation is self-activism," said Common.
Beverly Russ says after his speech she feels, "encouraged to not only finish writing my book, but also help others along their journey."
She said he made her feel she was, "doing the right thing by giving back in love."
About the Writer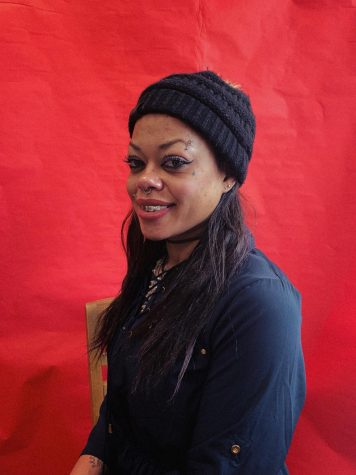 Tamika Rey, News Editor & Business Manager
Tamika Angie Rey is a 32-year-old second year college student who is striving to become a professional journalist. She is currently majoring in journalism...