Participants Reminded of History in Rites of Passage Ceremony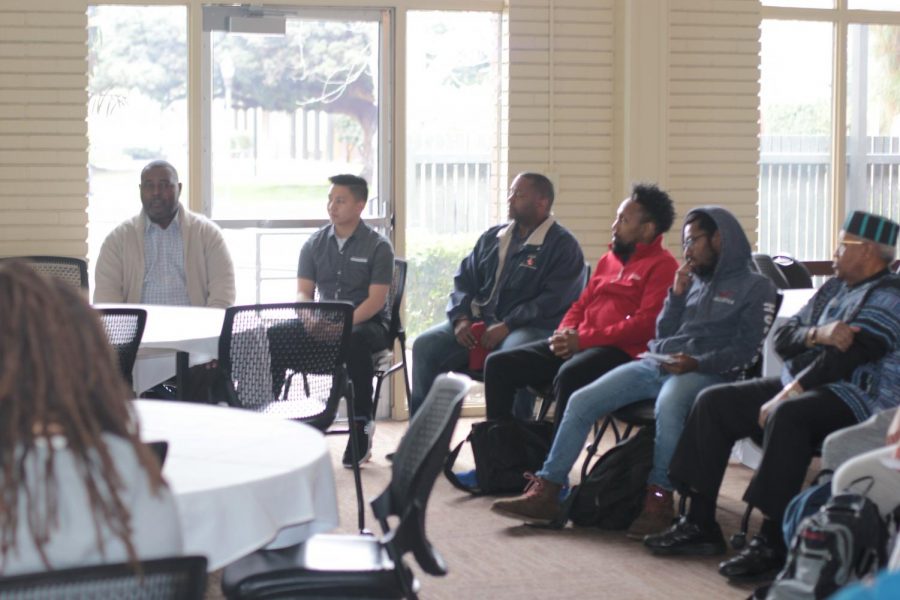 Fresno City College students and staff participated in FCC's annual Rites of Passage ceremony, a part of the Black History Month celebration, on Feb. 21.
The event, hosted by the campus' Strengthening Young Men by Academic Achievement (SYMBAA) and Idile programs, provided a chance for African-American students and faculty to hold a conversation about the black experience.
The 2019 theme — This Too Shall Pass — focused on helping participants find mechanisms for coping with adversity.
Kehinde Solwazi, instructor of African American studies, explained the benefits of the rites of passage to African Americans.  He said it was an opportunity to reconnect with rituals they had lost because of slavery.
Following Solwazi's introduction, the men and women were separated into different rooms, to hold separate conversations.
Dympna Ugwu-Oju, journalism instructor, explained the separation.
"Traditionally, male and females go through different types of ceremonies in Africa," Ugwu-Oju said. "There's no way to get away from it."
In the women's session, several black female staff members shared their stories loss, struggles, but ultimately, triumph and success.  They encouraged the students to stay strong, no matter the situation.
Ugwu-Oju suggested focusing on, "what's important to you and use that to lead you."
Ria Williams, adviser to the SYMBAA and Idile programs which are designed to emphasize the achievement of African American students, said she was was determined to create a, "place for young women to talk about their space and life. This will help you overcome obstacles."
The participants anonymously wrote their concerns — suicide, broken relationships, fears — on a piece of paper which were drawn from the pool and discussed.
"When dealing with anxiety, identify the source," said Ms. Keys, a therapist with Psych Services.
Venita Lee spoke about the sudden death of her husband and how she was able to receive her masters in psychology after overcoming addiction and losing him.
"Life has to keep going," Lee said about moving forward despite one's strife.
Williams said she gave up her power when she, "allowed others to dictate how she lived her life. I encourage you to look at who you are and love yourself with the best love you've got."
Keys told participants to, "Water ourselves or we will die," and to be mindful of self, not suicide.
Professor Solwazi and Rodney Murphy, coordinator of SYMBAA, led the men's discussion with a focus on family.
"Classroom begins with the family," Solwazi said. "And we need to have a conversation about black families without fathers."
Solwazi said one of the largest obstacles facing the black community is the lack of strong family structures. "Black men have to be the leaders of the family," he said.
"If you want to destroy black people, break black families," he said, citing welfare payouts that applied only to fatherless homes and mass incarceration.  Solwazi also said the society is engineered to weaken and break the family structure.
"Take the father out of the household, and now sons don't see why they need to be present fathers themselves," Solwazi also said.
"We're in a state of war," he said. "When we came out of slavery, we built our own towns. What happened?"
"Nearby Allensworth was one of those towns," Murphy said.
"If we had been left alone, we'd probably be the second most powerful racial group in the country after white people," Solwazi said.
"We can not allow the destruction of black communities to happen again," Solwazi said.
The discussion also touched upon issues of the criminal justice system. Though the 13th Amendment legally abolished slavery, Solwazi says, "the prison system is just a form of modern day slavery."
Solwazi points out how the proliferation of drugs helped put black men in jail.
Gender and the concept of masculinity was another topic in the discussion. Murphy said, "We, as black men, can't adopt sexist ideology towards our women, as some have."
Murphy explains that women shouldn't be seen as lesser than, "Men and women share a bond and should work as a team."
Murphy also explored the lack of male role models in black communities, citing the single mother homes and female-centric elementary school systems. "The lack of role models leads to false manhood" says Murphy.
Solwazi said, "Every elder looks at his community and asks, what is the future for my community?"
In the closing ceremony, participants stood in a circle, holding hands and spoke positive affirmations aloud. Most whispered encouragements; others merely uttered, "I love myself."
About the Contributor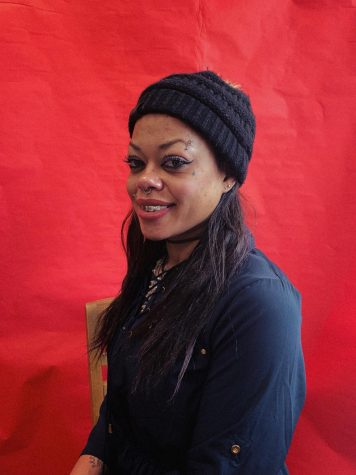 Tamika Rey, News Editor & Business Manager
Tamika Angie Rey is a 32-year-old second year college student who is striving to become a professional journalist. She is currently majoring in journalism...