Oakland Raiders are Bad… Again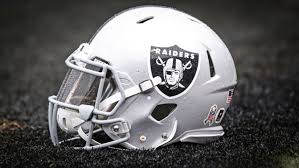 Story By: Peter Lopez, Reporters
October 12, 2018
Raiders Quarterback Derek Carr addresses the media post game and explains the communication between himself and Coach Jon Gruden as progress but "early on" in development. Image captured via ESPN video.
Despite their one and only victory, the Oakland Raiders team is best compared to a steaming hot pile of garbage.
The Oakland Raiders, 1-4, were not able to defeat the Los Angeles Chargers, 3-2, on Sunday, Oct. 7.
It pains me so to admit this, but are we as Raider fans all that surprised?
Year after year I always manage to stay optimistic, saying things like, "This year is going to be our year!" The sad part is, I've said that for roughly four years in a row and things have yet to change for my beloved Raiders.
When it comes to the current season, most of the heartache is best attributed to the unfortunate loss of former Raider linebacker Khalil Mack who was recently traded to the Chicago Bears. He's truly a force to be reckoned with, as Mack possesses a career total of 45.5 sacks, ESPN reports.
Five of those sacks, unsurprisingly, have occurred since his start in the 2018 season with the Bears. Pair that with being on pace for 20 season sacks, 16 forced fumbles and a 3-1 Bears' team on pace for their first division title in 8 seasons, and you could say Mack is on pace to have a career year.
Others might think our new, old coach, Jon "Chucky" Gruden, might be the reason why the Oakland Raiders dive right into the stinky crap-fest each and every week. Just by viewing the post game press conference after the Raiders beat the Browns on Sept. 30, Gruden addresses the media mostly with his head down as if he's riddled with shame and guilt taking the Raiders to the cleaners after receiving a 10 year, 100 million dollar contract.
But in all reality, it's really an amalgamation of poorly executed throws, the inability to hold onto the freaking ball–case and point Sunday's fumble during the end of the second quarter–neutral zone infractions, multiple false starts, and ultimately running out of steam towards the latter half of each and every game.
As sad as it sounds, according to ESPN, Carr has thrown eight interceptions in the 2018 season and has been sacked 11 times, and the team has collectively received a total of 36 penalties which has resulted in a loss of 343 yards.
The supposed saving grace and player who was going to get the Raiders over the hump, someone we have been working endlessly right down to the bone, is Marshawn Lynch who at 32, according to ESPN, has rushed for 331 yards this season, along with 3 touchdowns on 4.3 yards per carry.possesses a total of 331 rushing yards this season showing his age look all of 32 years old.
When it comes to the team's quarterback, Derek Carr continues to hold the ball like a clueless chicken with his head cut off. Although he's proven to have guts in the past, cutting through defenses akin to his college days, the guy manages to successfully throw the ball to the other team as if he's playing a friendly game of catch.
For instance, according to ESPN, he has thrown eight interceptions to start the 2018 season. Carr sports a modest 52 career interception pass total, but this season he has turned the ball over way more than his usual self. To his credit, however, Carr has passed the ball for a total of 16,331 yards in his career and as a gunslinger that comes with the territory, but come on.
These instances sadly occur right when we're close to scoring a touchdown – for example, the play action pass to Lynch at the end of the third quarter on sunday which zoomed right into the hands of the Chargers. This terrible play, unsurprisingly, manages to upset Lynch and causes him to scream right into his helmet expressing the sentiment of Raiders fan around the world.
Let's face it my fellow die-hard Raider fans, even though our team sucks like no other this year, as long as we beat the San Francisco 49ers on Thursday, Nov. 1, that's all that really matters.