Mexican League Soccer Teams Clash at Chukchansi Park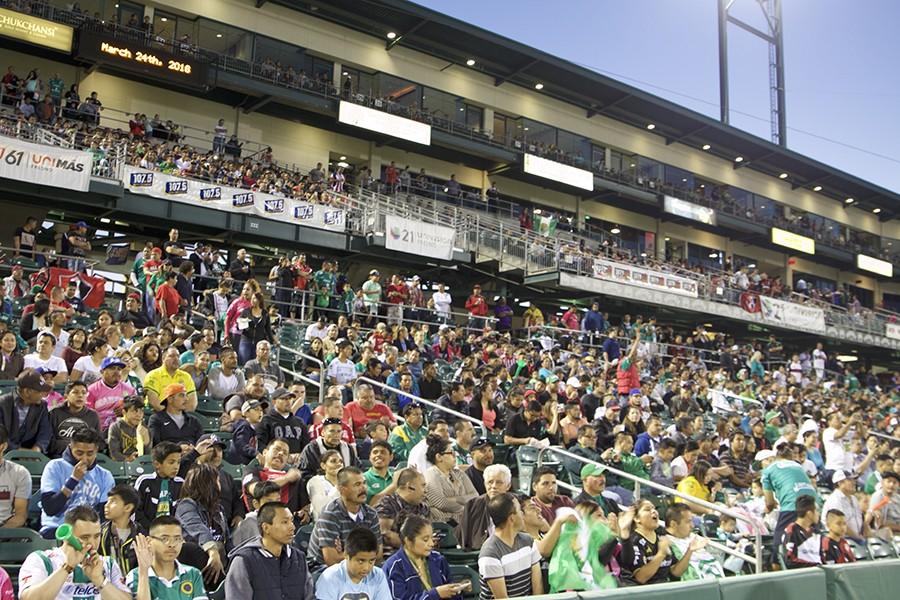 Story By: David Chavez, Managing Editor/Copy Chief
March 28, 2016
Club Atlas defeated León FC 2-1 when the two Liga MX teams came to downtown Fresno to battle it out at Chukchansi Park on March 24, 2016.
Chukchansi Park played host to a crowd of nearly 8,000 in attendance. Waves of green and red filled the stadium as fans of both clubs donned jerseys and shirts of their favorite soccer teams.
Juan Ezequiel Cuevas opened the score up for the game at the 42nd minute giving Leon a 1-0 lead going into halftime. Fans of La Fiera (León) roared with enthusiasm as they saw the ball go to the back of the net.
The second half got underway when at the 50th minute Gonzalo Bergessio of Atlas scored tying the game 1-1. The fans of Los Zorros (Atlas) responded back with cheers and screams of their own. Another goal scored by Franco Arizala in the 58th would give Atlas a 2-1 lead and would be enough to secure a victory for Los Zorros.
In an interview with The Fresno Bee following the match on March 24, León defender Jonny Magallón explained why he and his teammates appreciate coming to the U.S. even if it sonly to play in a friendly game.
"It's an experience that as professionals we really take to heart because we know there a lot of fans here (in the United States) that can't go to Mexico and watch their favorite players and favorite teams," Magallón said.
In the heart of downtown Fresno, sits Chukchansi Park. The state-of-the-art baseball stadium opened in 2002 and seats up to 12,500 people. Chukchansi Park is home to the AAA minor league baseball team the Fresno Grizzlies and soccer team the Fresno Fuego. However, the stadium offers the city of Fresno much more than baseball, it also holds community events, concerts and even brings games and matches from international teams.

Full Gallery Available At: https://wakethefaithup.wordpress.com/2016/03/29/mexican-league-soccer-teams-clash-at-chukchansi-park/
About the Contributor
David Chavez, Reporter
David Chavez is 25 and is in his sixth semester taking classes at Fresno City College. He is a journalism student and he plans to finish with a bachelor's...