Different State of Mind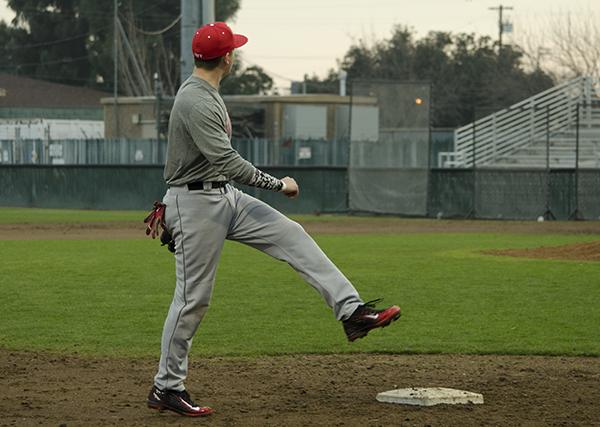 Hang on for a minute...we're trying to find some more stories you might like.
Led by Ace pitchers Jorge Alvarado and Connor Brogdon, Head Coach Ron Scott looks for 19th conference title
The Fresno City College baseball team is looking to take this season to new heights with a tougher state of mind and a different approach from seasons past.
On the young season the Rams are sitting at 5-2, with a crushing extra-inning loss to Modesto College on its resume.
"I expect to be a tough team which doesn't want to lose, who plays to the best of their abilities every game and hopefully become league champions, if not, state champions," Coach Ron Scott said.
The Rams are coming off a 23-16 season and a 17-7 second-place finish in the Central Valley Conference.
"Winning the league championship is our first goal," Scott said.
The Rams open the season ranked sixth in the NorCal preseason poll; FCC will host the State Final Four for a third consecutive year in May.
The team brought back Jorge Alvarado (7-2, 2.09 last season), preseason NorCal All-America right-hander and Connor Brogdon (9-4, 1.57 ERA in 2014) sophomore right-hander. They will lead a staff that was as dominant as any at times last season. With a team ERA of 2.28, best for 5th in the state last year.
"To see them work hard and achieve their goals and realize that the team comes before them," Scott said. "The reward is to see the positive results of hard work."
In his 27th season and a career record of 887-326, Scott said the challenge is to get everyone to play as a group and to realize that they are all equal and that they all need to pull their own weight.
"The ultimate goal is to win the state championship," he said. "We've been to the state championship eight or nine times since I've been coaching here."
This year, they are looking to take the crown for the 34th time in school history.
"We've worked harder than years before," Scott said. "This year's team is going to win games by trying to rely on small ball, which is bunting, running and playing good defense, not so much long home runs. Similar to how the San Francisco Giants played this year,"
Deondre Howard, one of the 23 freshman playing for Scott this year, said, "I'm a team guy, so anything the coach tells me to do, I'm going to do it."
Returners like pitcher Shane Desmond will be comed upon to be leaders this season
"We have to try and work on a few things at practice, execute and take it day by day," said Desmond.
About the Contributors
David Chavez, Reporter
David Chavez is 25 and is in his sixth semester taking classes at Fresno City College. He is a journalism student and he plans to finish with a bachelor's...