Clubs New and Old Rush to Sign Up Students
Fresno City College Student Activities hosted its first spring semester 2018 Club Rush on Jan. 24, to provide information about various clubs on campus.
Booths with tables were set up around the courtyard in front of the library with students passing by to stop and talk to the different club representatives.
One of the new clubs this semester is the Law Pathway Club. Its goal is to address all the steps for student law majors to follow when getting an education, said LPC President Eulalio Rosales.
The club will have local attorneys, judges or any other professionals in the law field answer questions club members might have.
Rosales felt optimistic about students signing up for the Law Pathway Club and looks forward to meetings which are every first and third Wednesday of the month at noon in Social Sciences Building Room 110.
The Veterans Club also participated, representing its goal to help raise awareness about the resources available to the 400 FCC veteran students, according to its president, Willie Coleman. The Veterans Club has partnerships with the Veterans Affairs Central California Health Care System in Fresno, the Clovis Veterans Memorial District and American Legion Post 509.
Veterans are currently the only members in the club, however, there is no requirement to have served in the military to become a member, said Coleman.
"I would like everyone who's a veteran or not, but most particularly veterans, to come out to our meetings," said Coleman.
The club's next meeting is Feb. 3, from 11 a.m. to noon. at the Veterans Resource Center on campus.
The next Club Rush will be March 15 from 10 a.m. to 2 p.m.
About the Contributor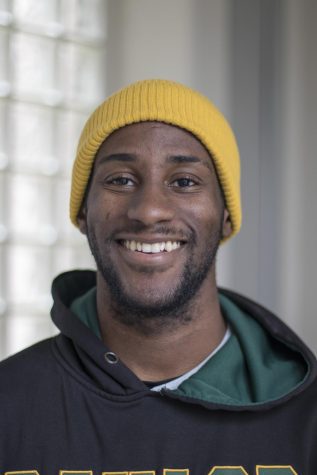 Omari Bell, Social Media Editor
As a writer, photographer, and student-athlete, Omari Bell is one of many to admit, "I do a little bit of everything and a lot of nothing." Born and...