Tale of Two Cites: World Series Preview
World Series Goes Hollywood Pt. 2
By The Numbers:
Won NL West (92-71, def. Rockies in tiebreaker game, 5-2)
NLDS: Defeated Braves, 3 games to 1
NLCS: Defeated Brewers: 4 games to 3
Dodgers World Series championships (6): 1955, 1959, 1963, 1965, 1981, 1988
Stats:
Batting average:(.250 – 14th)
OPS:(.774 – 3rd)
Home Runs:(235 – 2nd)
ERA:(3.38 – 2nd)
Strikeouts:(1,565 – 3rd)
Batting average against:(.230 – 4th)
Rotation ERA:(3.19 – 2nd)
Bullpen ERA:(3.72 – 8th)
The Los Angeles Dodgers are back in the World Series for a second year in a row after beating the Milwaukee Brewers four games to three in the National League Championship Series. The Dodgers finished the year with a 92-71 record and winning the NL West division for the sixth year in a row. It was a tough road for the Dodgers to even make it back when things started rough.
Before the All-Star break the Dodgers were off to a rough start offensively but pitching helped the team stay competitive in games and hold off the Colorado Rockies and Arizona Diamondbacks to stay atop 1st place with a 53-43 record. After acquiring All-Star shortstop Manny Machado and bolstering their bench with utility players Brian Dozier and David Freese via trades after the All-Star break, the Dodgers fought back against Arizona and Colorado after playing an extra game against the Rockies to take the divisional crown.
3 Keys to Victory
Turner and Machado: Dynamic Duo

– The left infield combination of Machado and Turner will be a big reason on how the Dodgers will win or lose this series. Machado comes into the World Series with a .244 batting average with three home runs while Turner has a .273 average with only one home run. Dodgers will need Machado and Turner to exert their dominance at the plate to keep the fire going and a possible Puig antic once or twice during the series.  

Can They Survive on the Mound?

– The elephant in the room is going to be how Clayton Kershaw will perform in the biggest stage of baseball when he's on the mound considering his bipolar postseason performances (9-8, 4.09 ERA). Other than Kershaw, other starters Hyun-Jin Ryu and Walker Buehler have never been to the World Series and look to face the best team in baseball record wise. Will this starting lineup be able to match the hitting prowess of Mookie Betts, JD Martinez and Jackie Bradley Jr.?

Play Small Ball-

The "Boys in Blue" lead the National League in home runs with 235 and relied on their power to win games. After facing teams with strong bullpens, like the Milwaukee Brewers,  that held their power hitters in check and the Dodgers needed to change their way of winning games. If they want to beat a strong pitching team like the Red Sox, the team will need to make contact and not rely on hitting the ball out of the park.
Sox Look to Cap off  Historic Season with a World Series Win
BY THE NUMBERS:
Won AL East (108-54)
ALDS: Defeated Yankees, 3 games to 1
ALCS: Defeated Astros, 4 games to 1
Red Sox World Series championships (8): 1903, 1912, 1915, 1916, 1918, 2004, 2007, 2013
Stats:
Batting average: Red Sox (.268 – 1st),
OPS: Red Sox (.792 – 1st),
Home runs: Red Sox (208 – 9th)
ERA: Red Sox (3.75 – 8th)
Strikeouts:  Red Sox (1,558 – 4th)
Batting average against:   Red Sox (.237 – 8th)
Rotation ERA: Red Sox (3.77 – 8th)
Bullpen ERA: Red Sox (3.72 – 9th)
Coming off a historic season which saw the (108-54) Boston Red Sox winning more games in the regular season than ever before, the Sox look to capture their ninth World Series victory against the Los Angeles Dodgers. Given their success during the regular season, excited Red Sox fans may very well get their wish of a fourth World Series title in 14 years.
        The Red Sox relied on a high powered offense all of the regular season. With first place rankings in batting average (.268) hits (1509) doubles (355) and runs per game (5.41) the Sox are what many consider a modern dream team, concentrating on offense as opposed to a lights out pitching staff. While the likes of Chris Sale (12-4) and David Price (16-7) are formidable, the Red Sox look to rely on their potent offense to push them to their ninth World Series title.
3 Keys to Victory
Betts and Martinez: Swing Partners

– What the Sox lacked in pitching, they more than made up for in their offensive production. Mookie Betts and JD Martinez are in their own competition for a potential AL MVP award, but they make a dynamic duo in their matchup with the Dodgers. Martinez has been spectacular this postseason with a .320 average, 2 home runs and 9 RBI's. Betts however needs to show up to play, batting only .205 with no home runs and 3 RBI's this postseason.

Beat the Best to be the Best

– Compared to his past performance, Clayton Kershaw has been impressive this postseason, posting a 1-1 record with one major blemish against Milwaukee in the NLCS. Coming into the World Series with a 4.09 ERA, he has allowed only one home run, while allowing five earned runs total. The Red Sox need to find a way to hit the pitcher once considered the "best in the league." Fortunately, leave it to Martinez and Betts, who are batting .336 and .368 respectively.

Hit, hit and hit again

– The stats don't lie; the Red Sox were undoubtedly the best offensive team in baseball. While the Dodgers had more regular season home runs (235 compared to Boston's 208) the Red Sox outdueled the Dodgers in key categories, batting for a higher average, with more doubles, hits and runs per game than their NL counterpart. The Sox need to take advantage of Fenway Park – which many regard as a "hitters park" – and pounce on the Dodgers early and often. Staying on the gas offensively is Boston's best chance to win the series.
Update: Boston Leads the Series 2-0
About the Writer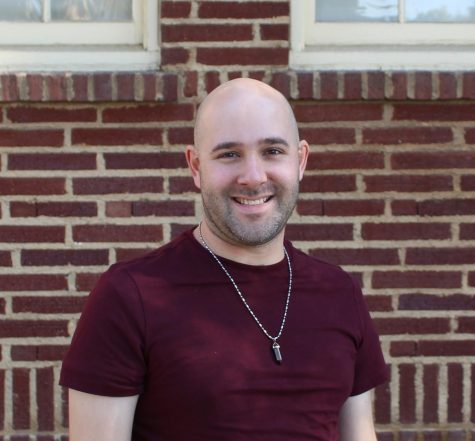 Ben Hensley, Editor-in-Chief
Ben Hensley is a fifth semester journalism student at Fresno City College. Having been with the Rampage for all five semesters, Hensley has progressed...