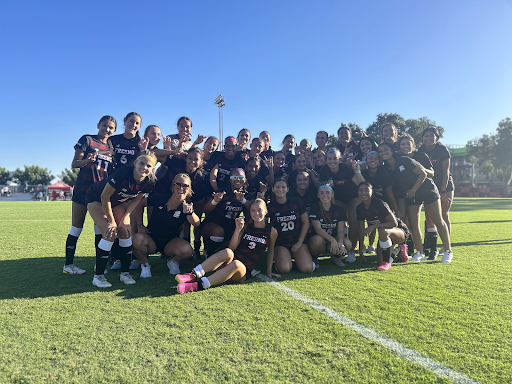 The Fresno City College Women's Soccer Team had their first home game of the season on Aug. 29 against Santa Rosa College Bears. 
Even though the sun was scorching hot, with the weather hitting close to the hundreds this did not stop the Rams from starting the game off strong. Natalie Ochoa kicked her first goal 15 minutes into the game, dominating the field from the start.
Continuing their momentum the Rams scored again 33 minutes in the game with the help of Alyssa White. 
Ochoa, yet again making her second goal at 42 minutes. Not even at half time, with the great effort of her teammates she was able to sneak past the Bears defense and score.
Frankie Lee was the last teammate who scored a goal for the Rams. 
Defeating the Bears 4-1, the Rams won their first home game of the 2023 campaign. 
Towards the end of the game Ashtyn Bracamonte, the assistant coach for the FCC Women's Soccer Team, is impressed with her players for taking charge and dominating.
"I am so proud of all the girl's, they really are on point," Bracamonte said. "The team has been working really hard for this game, I couldn't express how much it showed today."
The player to watch was Ochoa, scoring two of the squad's four goals. 
The Rams' next game is at home where they will take on Folsom Lake on Sept. 1.
Story continues below advertisement