Fight for the right
Story By: Lauren Baker, Arts & Entertainment Editor, Art Director
April 2, 2014
Club leads AB540 students to share their stories and confront the issue of immigration
"The immigrants are marching here, no papers, no fear! Up! Up! With liberation! Down! Down with deportation!" These were the chants that could be heard in the Free Speech Area on Mar. 25, 2014 as students gathered together for the "Coming Out of the Shadows" event to rally against the deportation of undocumented students.
The song "El Hielo" which translates to "ice" played as students put up posters with messages such as "undocumented and unafraid" on display. The song however, is a play on words as they are not singing about the "ice" you may be thinking of. The song is about the daily lives and struggles of a people fighting to keep their families together, that feel they are being oppressed by Immigrations and Customs Enforcement, or "ICE."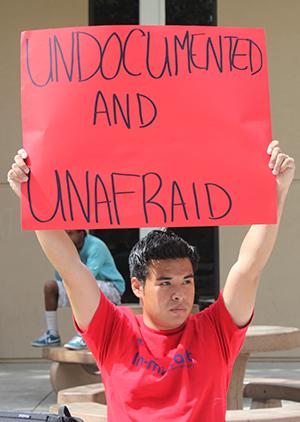 ICE describes their work as "identifying and apprehending removable 'aliens.' Detaining these individuals when necessary and removing these 'illegal aliens' from the U.S." While certainly there are jobs to be done, there's a level of humanity that's absent from this statement. These students, people, families, are being viewed as a burden taking up space, treated as outsiders rather than recognized  for their contributions to our country.
"We're all people, human beings, on the same planet, just from different parts of it," said Students Without Borders secretary Angel Sanchez.
Many of these students have lived in California most of their lives, migrating to the United States around preadolescent ages. Despite growing up here and being exposed to American culture, these students still faced oppression and hardships.
Fresno State student Gelasio Rodriguez, who was the first to share his story at the event, said that even though he has spent most of his life here in California, he was still treated differently than others.
"I've lived in the Central Valley for 13 years. My mother moved us here in September 2000, a single mother of 10 children by herself from Mexico," Rodriguez said. "You don't understand what's going on as a small child. You think every place you go is the same, but that's not the case. Some of us may not know the language as well as we should, but we understand the bias and the judgement."
It's easy for the average FCC student to take their education and everything that comes with it for granted, specifically those who were born here and have had minimal struggles in attending college. For some of these undocumented students, obtaining even a Board of Governors Fee Waiver is difficult.  Sanchez said he had to work hard to pay for his education himself.
"I had to sit out a semester so I could work and earn the money to pay for my tuition fees," Sanchez said. "Fresno State was my first choice, but I just couldn't afford it. We [undocumented students] are only just getting financial aid because of the 'California Dream Act.' Before that, many of us didn't qualify even though we were doing our best to stay in school."
Often, a common opinion is spread around that immigrants who come to this country illegally do nothing but magnify  pre-existing problems or take away opportunities from those who were born here.
"We do not take away opportunities from anyone," Sanchez said. "There are many students that don't have our problems that waste their financial aid and education. Many of my friends who have had to struggle to go to are now working professionals while those other students are still here."
However, not every student that's undocumented has to go without a college education. There are solutions out there for those who seek them. Assembly Bill 540 benefits are available to those undocumented students who can't afford tuition but have completed three or more years of high school or have a GED. You must also file as an "affidavit," which is a document that "verifies that the student meets educational requirements and certifies the intent to establish legal residency," according to the AB-540 website. For more information, visit AB540.com.
But that's not all. The number of resources on campus for students who are undocumented and looking for support. The Student Without Borders club meets every Tuesday in the Business   Education Building at noon, and seeks to provide encouragement and tools for success. SWB treasurer Paola Guerrero states that being a part of a campus organization like this has its benefits. "Normally, platforms like this aren't provided for these students to express themselves. It's not often you get asked those personal questions about things that affect your whole experience. We provide that outlet; for people to connect and gain positive experiences."
To begin making progress towards a common goal as a nation, we have to start in small strides, state by state. California is home to more immigrants than any other state in the U.S. America is and always has been a land of opportunity for those that seek it.
This nation of ours was cultivated by immigrants and has since been a melting pot to all those with dreams of building a better life for themselves and their families. What are we if not a patchwork quilt of cultures and creeds?
"I don't understand how brothers and sisters can sit around and judge each other for being different," said Rodriguez. "We are all people, and should be treated equally."