Fresno City College's Ram Pantry to Host Holiday Themed Events
Fresno City College's Ram Pantry will be hosting a themed event titled, "The Luck of the Irish," on March 16 from 9 a.m. to 12 pm and March 17 from 9 a.m. to 4 p.m.
At "The Luck of the Irish" event, students will be able to pick groceries as well as goodies such as candies, treat bags, and more. 
Food from the Ram Pantry is mainly ordered from local vendors and occasionally, local organizations and community members make donations, according to Maile Martin, Senior Program Specialist of Student Activities. 
FCC's Ram Pantry has been hosting the themed events since the fall 2020 semester and plans to continue doing so to support students. 
According to Martin, students enjoy everything the Ram Pantry and Student Activities do and they appreciate the opportunity to receive free groceries during this difficult time.
She also says the events give students and their children a fun experience to look forward to. 
 Alicia Garza, Student Activities aid and kinesiology major, says she really enjoys the themed events.
"It's very creative, you know. We're going outside the box and making sure that each and every time we do, something gets different from the last," she said.
For Garza, the most amazing part is seeing how excited students and their kids are when they come to the events. 
The next themed event Ram Pantry will host is the "Spring Eggstravaganza" on March 24 from 9 a.m. to 4 p.m. and March 25 from 9 a.m. to 12 p.m.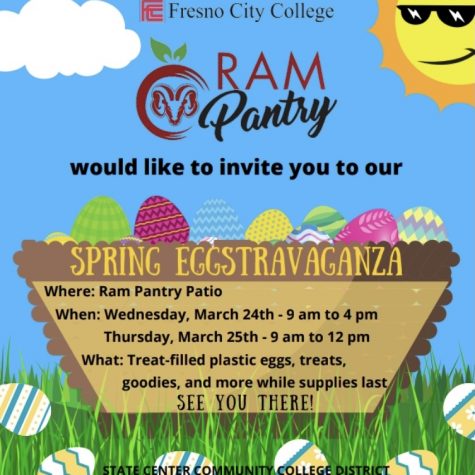 Student Activities has been working on "The Luck of the Irish" and "Spring Eggstravaganza" events since January of 2021 and are excited to host the events this month.
Currently, the Ram Pantry is held at the back patio of the bookstore and all safety guidelines such as social distancing and wearing a mask are enforced. 
Since students are not on campus, Student Activities and the Ram Pantry have been promoting the themed event via Facebook, Instagram, Twitter, and FCC's event calendar.